Wayman Tisdale Watch: Jabari Parker enters postseason at No. 1
In the final Wayman Tisdale Watch of the season, we reveal who finishes the regular season at No. 1.
• 4 min read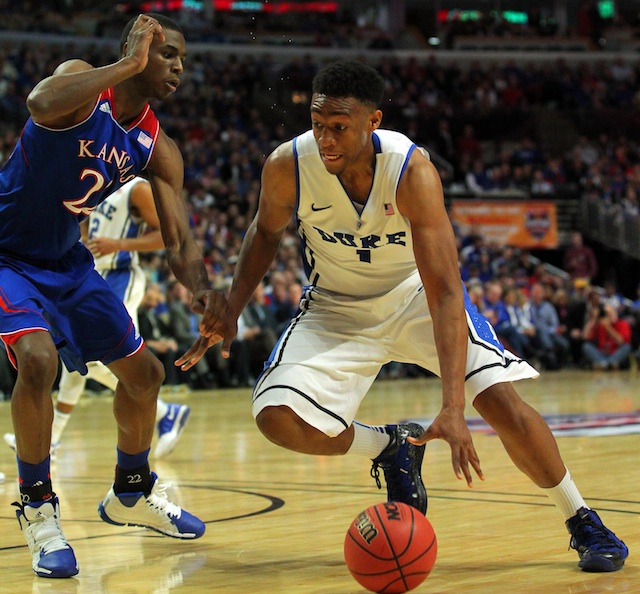 Latest in hoops: Top 25 (and one) | Bracketology | Bubble Watch
As we wrap up the regular season and get ready for the major conference tournaments and then the NCAA Tournament, this will be the final Wayman Tisdale Watch of the season. And although much has changed over the past four months, the debate at the top remains fairly similar from November and December.
Jabari Parker or Andrew Wiggins?
Entering the season, there wasn't much debate as to who was the most hyped and most talented freshman in the country. Wiggins was the No. 1 recruit in the country, the projected No. 1 pick in June's NBA draft -- but he was entering a team that had plenty of other talented weapons and wasn't built for big numbers off the bat. Parker was one of the most complete offensive players in the country from day one, and his numbers throughout the season proved that time and time again.
They also had a head-to-head battle back in November, when Parker finished with 27 points and nine rebounds -- while Wiggins had 22 points, eight rebounds, and the win.
And now, with the regular season over for both players, it comes down to Parker and Wiggins for the No. 1 spot in the Wayman Tisdale Award Watch.
From my end, the edge goes to Parker. Outside of a slump during the early part of conference play, Parker has been fantastic, especially on the offensive end. He finished the season with six straight double-doubles, getting past the freshman wall after some struggles. Parker was nearly impossible to guard throughout the season, showing the ability to post up smaller defenders, finish off the dribble or in transition, and knock down shots from the perimeter.
Wiggins made a tremendous final statement over the weekend, scoring 41 points against West Virginia -- but Parker responded with 30 points, 11 rebounds and a win over North Carolina. Wiggins is clearly the better defender and his play during the latter half of the Big 12 season was impressive, but Parker has been the better player from start to finish this season. 
Wiggins is still the better NBA prospect and has a higher ceiling, but for their one year in college, Parker gets the nod.
Wayman Tisdale Award Watch
 Stats: 19.2 ppg, 9.0 rpg, 48.7 FG%, 37.1 3PT%
 Comment: Parker finished the season with a bang, scoring 30 points on 10 of 17 shooting, while also grabbing 11 rebounds. He has notched six straight double-doubles to end the season, becoming more active on the glass and on the defensive end -- while also maintaining his complete offensive repertoire. He could be the type of player to carry Duke to a Final Four run this season. 
---
 Stats: 16.8 ppg, 5.9 rpg, 45.2 FG%
 Comment: Wiggins' performance on Saturday afternoon is what people have waiting to see all season. He went for 41 points in the loss to West Virginia, making 12 of 18 shots from the field, grabbing eight rebounds, blocking four shots, and racking up five steals. It was the type of game that makes people discuss Wiggins' potential and ceiling in such high regard. With Joel Embiid out, Wiggins might need games like that more often.
---

 3. Tyler Ennis
 Stats: 12.4 ppg, 3.4 rpg, 5.5 apg, 2.1 spg, 37.1 3PT%
 Comment: Ennis was one of the more impressive freshmen throughout the season, helping lead Syracuse to a 25-0 start -- and even taking the No. 1 spot in these rankings momentarily. However, as the Orange struggled down the stretch, Ennis was also not as his best. There was a six-game span in which Ennis scored single-digits in four games, while also turning it over too much. However, his overall poise and confidence at the point guard position was eye-opening.
---
 Stats: 15.4 ppg, 10.5 rpg, 52.0 FG%
 Comment: After busting out of the gates with a bang at the start of the season, Randle went through ups and downs -- much like Kentucky's season as a whole. There were times he couldn't get touches in good position, and then tried to do too much off the dribble and starting from the perimeter. Overall, though, Randle's inside production and ability to notch double-doubles with ease was impressive. He simply overpowered defenders most of the time.  
---

 5. Joel Embiid
 Stats: 11.2 ppg, 8.1 rpg, 2.6 bpg, 62.6 FG%
 Comment: Embiid will be one of the biggest storylines in college basketball over the next couple of weeks, due to the back injury that will keep him out of the Big 12 tournament and the early stages of the NCAA Tournament. With that said, Embiid's development was one of the highlights of the 2013-14 season, even emerging as the favorite to be the No. 1 draft pick during Big 12 play. He is a game-changer at both ends of the floor, and is only getting better.   
---
Next in line: Aaron Gordon, Arizona; Marcus Foster, Kansas State; Jordan Mickey, LSU; Isaiah Taylor, Texas; Noah Vonleh, Indiana; Bobby Portis, Arkansas; James Young, Kentucky; Nigel Williams-Goss, Washington; E.C. Matthews, Rhode Island; Andrew Rowsey, UNC-Asheville, Jared Brownridge, Santa Clara; Martez Harrison, UMKC; QJ Peterson, VMI; Vincent Hunter, UTEP
Freshman leaders: Points: James Daniel, Howard (21.7 ppg); Rebounds: Julius Randle, Kentucky (10.5 rpg); Assists: Khalil Felder, Oakland (6.4 apg). 
Wayman Tisdale Freshman of the Week winners:
Nov. 12: Julius Randle, Kentucky
Nov. 19: Jabari Parker, Duke
Nov. 26: Jabari Parker, Duke
Dec. 3: Tyler Ennis, Syracuse
Dec. 10: Chris Perry, South Florida
Dec. 17: Jordan Woodard, Oklahoma
Dec. 24: Jabari Parker, Duke
Dec. 31: James Young, Kentucky
Jan. 7: Marcus Foster, Kansas State
Jan. 14: Wayne Selden, Kansas
Jan. 21: Joel Embiid, Kansas
Jan. 28: Andrew Wiggins, Kansas
Feb. 4: Jordan Mickey, LSU
Feb. 11: Marcus Foster, Kansas State
Feb. 18: Sindarius Thornwell, South Carolina
Feb. 25: Julius Randle, Kentucky
March 4: Aaron Gordon, Arizona
March 11: Andrew Wiggins, Kansas
Oklahoma's star freshman has a father who has been there and done that

Kentucky now is at risk of slipping out of the Top 25 (and one)

Cherry's commitment gives ASU a top-20 recruiting class and its highest rated pledge since...
Matt Norlander is on a 11-7 run in college basketball picks and shares his best bets for W...

Kentucky losing this game probably cost it a shot at earning a high NCAA Tournament seed

Freshman had 12 turnovers and 20 points; the Wildcats rattled him and kept OU on its heels