Wayman Tisdale Watch: James Young wins FOW; Jabari Parker No. 1
James Young becomes the second Kentucky player to win Freshman of the Week honors, while Jabari Parker stays at No. 1 in the rankings.
• 4 min read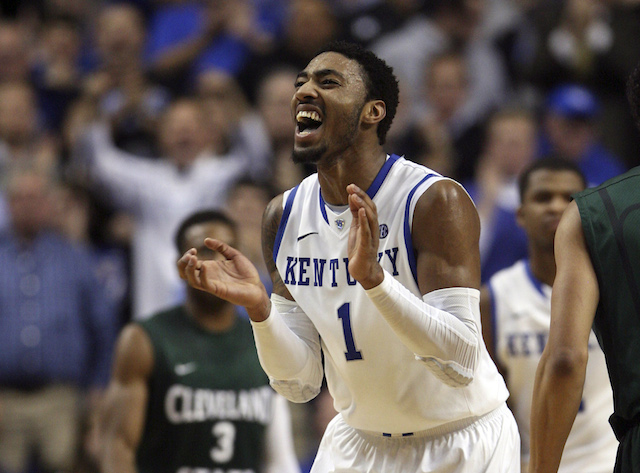 You might notice a bit of a change in our Freshman Watch column this season. We have teamed up with the Wayman Tisdale Award, and so our Freshman of the Week is now the Wayman Tisdale National Freshman of the Week. And our Freshman of the Year rankings are now the Wayman Tisdale Award Watch. What is the Wayman Tisdale Award? It's selected annually by the United States Basketball Writers Association and given to the best freshman in the country. The award will be announced in March, and handed out in April in Oklahoma City.
James Young might not have been the most hyped recruit for Kentucky in the 2013 class, with top-five prospects Julius Randle and Andrew Harrison leading the way, and Aaron Harrison also getting plenty of publicity.
On Saturday against Louisville, though, Young was the catalyst for Kentucky's 73-66 victory. He finished with 18 points, 10 rebounds and four assists in the victory, knocking down three 3-pointers.
It was Young's first career double-double, reaching a career-high in both rebounds and assists. He also defended effectively along the perimeter, not allowing Louisville's wings to get hot from 3-point range. With the game tied at 53, Young hit a 3-pointer that helped spur the Wildcats to a 13-3 run that essentially put the game out of reach. He started slow, but his outside shooting – especially once Randle left in the second half – was huge for John Calipari's troops.
Kentucky's win over Louisville could get the Wildcats going heading into SEC play, but it also broke Young out of his slump. He had been struggling from the field, but the smooth-shooting lefty is going to be key going forward for Kentucky. He has deep range on his outside shot, and has knocked down three or more 3-pointers in six separate games this season. Providing a consistent option from the perimeter is essential for Young, although getting involved on the glass and on the defensive end is also an asset.
On the season, Young is now averaging 13.8 points and 4.2 rebounds, while knocking down 33.7 percent of his 3-point attempts.   
Other standout freshmen performances this past week included: Jabari Parker, Duke (23 points, eight rebounds vs. Eastern Michigan); Tyler Ennis, Syracuse (20 points, four rebounds); Andrew Harrison, Kentucky (18 points, four rebounds); Bobby Portis, Arkansas (16 points, nine rebounds); Jon Severe, Fordham (26.0 ppg, 4.0 apg in two games); Nathan Adrian, West Virginia (16 points in 15 minutes vs. William & Mary); Nigel Williams-Goss, Washington (14.5 ppg, 5.5 rpg, 5.0 apg in two games); Keon Johnson, Winthrop (24 points vs. Hampton).
Past winners:
Nov. 12: Julius Randle, Kentucky
Nov. 19: Jabari Parker, Duke
Nov. 26: Jabari Parker, Duke
Dec. 3: Tyler Ennis, Syracuse
Dec. 10: Chris Perry, South Florida
Dec. 17: Jordan Woodard, Oklahoma
Dec. 24: Jabari Parker, Duke
Wayman Tisdale Award Watch
 Stats: 22.2 ppg, 7.8 rpg, 53.9 FG%, 46.5 3PT%
 Comment: Parker won his third Freshman of the Week honor last week, and while he didn't get his fourth this past week, it doesn't mean he slowed down. He went for 23 points and eight rebounds in a win over Eastern Michigan, his third consecutive game with at least 21 points. ACC play starts on Saturday for the Blue Devils.
---
 Stats: 18.1 ppg, 10.6 rpg, 56.4 FG%
 Comment: Had Randle not left Saturday's game against Louisville after cramping up, he likely would have been the National Freshman of the Week. He had 17 points and three rebounds in just 21 minutes against the Cardinals, dominating around the rim and finishing consistently. He shot 7-for-8 from the field and was in store for a big day.
---

 3. Tyler Ennis
 Stats: 12.8 ppg, 5.1 apg, 2.7 spg, 40.0 3PT%
 Comment: Ennis had a terrific case for Freshman of the Week honors as well, and he inched closer to the No. 2 spot in the rankings. He had 20 points and four rebounds against Villanova, showing composure and maturity beyond his years. Moreoever, he had zero turnovers in 37 minutes. His season-high for turnovers in a game is two; that's insane.
---
 Stats: 15.5 ppg, 5.5 rpg, 46.6 FG%
 Comment: Wiggins was off last week, although he played on Monday against Toledo and finished with 20 points (that will count toward next week's rankings). The Jayhawks have another stiff test coming up on Sunday, when San Diego State comes to town. The Aztecs have the length and size up front to cause problems for Wiggins.
---

 5. Aaron Gordon
 Stats: 12.5 ppg, 7.6 rpg, 50.0 FG%
 Comment: Coming off a breakout game against Southern, in which Gordon had 21 points on 11 shots, we expected to see another big-time effort against Northern Arizona. However, Gordon was 3-for-8 from the floor and finished with nine points and five boards. He will need to be a consistent offensive performer once Pac-12 play starts Thursday.
---
Next in line: Jordan Mickey, LSU; Joel Embiid, Kansas; Eric Mika, BYU; Aaron Harrison, Kentucky; Noah Vonleh, Indiana; Nigel Williams-Goss, Washington; Bobby Portis, Arkansas
Freshman leaders: Points: Jabari Parker, Duke (22.1 ppg); Rebounds: Julius Randle, Kentucky (10.6 rpg); Assists: Kareem Canty, Marshall (7.3 apg). 
The Buckeyes and Boilermakers continue to assert their dominance in the Big Ten

The 5-star phenom was thought to be headed to Clemson, but was swayed to the Blue Devils

The nation's No. 3 player will commit Saturday and here's his impact on each of his finali...
Clemson, Kentucky, South Carolina, North Carolina, Duke and Kansas are all in the running

Oklahoma loses its second in a row despite Young's career-high 48 points

After considering retirement, 'TV Teddy' didn't turn his back on UNC's Joel Berry this tim...