Wayman Tisdale Watch: Joel Embiid takes honor, moves to No. 4
Joel Embiid was the talk of the freshmen last week, winning Freshman of the Week honors and moving to No. 4 in the year-to-date rankings.
• 4 min read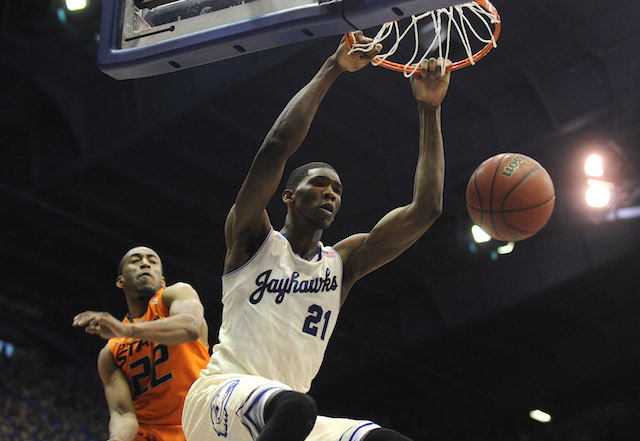 You might notice a bit of a change in our Freshman Watch column this season. We have teamed up with the Wayman Tisdale Award, and so our Freshman of the Week is now the Wayman Tisdale National Freshman of the Week. And our Freshman of the Year rankings are now the Wayman Tisdale Award Watch. What is the Wayman Tisdale Award? It's selected annually by the United States Basketball Writers Association and given to the best freshman in the country. The award will be announced in March, and handed out in April in Oklahoma City.
If Joel Embiid is the No. 1 pick in June's NBA draft, this past week might be the stretch that cemented his selection. After showing flashes of his ridiculous ceiling and dominating on occasion, Embiid really put it together against Iowa State and Oklahoma State last week. Coming on the heels of Wayne Selden winning the Wayman Tisdale National Freshman of the Week award, Embiid makes it two in a row.
This past week, the talk of college basketball was Embiid. He started with a dominant second half against Iowa State, going for 16 points, nine rebounds and five blocks. He completely controlled the game at both ends of the floor, going 7-for-8 from the field; Iowa State had no answer for him. There was one stretch where Embiid sandwiched a blocked shot between two finishes at the rim; it was an eye-opening string of plays for the Cameroon native.
Up next was a showdown with Oklahoma State, widely considered Kansas' biggest competition for the Big 12 title. And Embiid showed up. He finished with 13 points, 11 rebounds and eight blocks, shooting 5-for-6 from the field. For the week, Embiid averaged 14.5 points, 10.0 rebounds and 6.5 blocks, while shooting 12-for-14 from the field.
There are few players nationally who change the game at both ends as much as Embiid. Despite only playing for three years, Embiid has advanced post moves on the low block. He can score consistently with his back to the basket, with tremendous footwork and IQ inside. Turnovers have been something of an issue, but that can be rectified with more patience. Defensively, his length and timing make him a huge asset when it comes to protecting the rim. He has been in foul trouble too often, but again, that will change as he gets more experienced. 
On the season, Embiid is averaging 11.1 points, 7.4 rebounds and 2.8 blocks per game. He is shooting an outstanding 67.9 percent from the field, and 66.7 percent from the free-throw line.
Other standout freshman performances this past week included: Que Johnson, Washington State (19.5 points in two games); Andrew Harrison, Kentucky (26 points vs. Tennessee); Jabari Parker, Duke (23 points, seven rebounds vs. NC State); Andrew Wiggins, Kansas (17 points, 19 rebounds vs. Iowa State); Devin Wilson, Virginia Tech (20 points, seven assists vs. Notre Dame); James Daniel, Howard (33 points vs. Maryland-Eastern Shore). 
Past winners:
Nov. 12: Julius Randle, Kentucky
Nov. 19: Jabari Parker, Duke
Nov. 26: Jabari Parker, Duke
Dec. 3: Tyler Ennis, Syracuse
Dec. 10: Chris Perry, South Florida
Dec. 17: Jordan Woodard, Oklahoma
Dec. 24: Jabari Parker, Duke
Dec. 31: James Young, Kentucky
Jan. 7: Marcus Foster, Kansas State
Jan. 14: Wayne Selden, Kansas 
Wayman Tisdale Award Watch
 Stats: 19.1 ppg, 7.3 rpg, 48.6 FG%, 40.9 3PT%
 Comment: Parker snapped out of his slump over the weekend, going for 23 points and seven rebounds in a blowout win over North Carolina State. He was more aggressive, getting to the free-throw line 10 times, and didn't just settle for jumpers. Earlier in the week, he had eight points against Virginia.
---

 2. Tyler Ennis
 Stats: 11.9 ppg, 5.5 apg, 2.7 spg, 40.0 3PT%
 Comment: Ennis just keeps being more impressive. In two games last week, he averaged 14.0 points, 4.0 assists – and had just two total turnovers. He also shot 50 percent from 3-point range in the two games. Ennis now has the mid-week off, before a road trip to Miami and Wake Forest.  
---
 Stats: 16.9 ppg, 10.5 rpg, 54.1 FG%
 Comment: After Randle notched back-to-back single-digit scoring performances two weeks ago, he bounced back on the offensive end last week. He had 20 points and 14 rebounds in a loss to Arkansas, and then had 18 points and four assists in a win over Tennessee. Home games against Texas A&M and Georgia await.
---

 4. Joel Embiid
 Stats: 11.1 ppg, 7.4 rpg, 2.8 bpg, 67.9 FG%
 Comment: Embiid makes his debut in the top five after winning the Freshman of the Week award and dominating in his two games. As mentioned above, he averaged 14.5 points, 10.0 rebounds and 6.5 blocks. (His Monday game against Baylor will count toward next week's rankings). 
---
 Stats: 15.2 ppg, 6.1 rpg, 43.9 FG%
 Comment: Last week was basically the epitome of what Wiggins has been this season: up and down. He started out with a tremendous performance against Iowa State, finishing with 17 points and 19 rebounds, also dishing out three assists. But he followed that up with a quiet three-point, two-rebound game against Oklahoma State.
---
Next in line: Aaron Gordon, Arizona; Jordan Mickey, LSU; Bobby Portis, Arkansas; Noah Vonleh, Indiana; Marcus Foster, Kansas State; Josh Hart, Villanova; Nigel Williams-Goss, Washington
Freshman leaders: Points: Jon Severe, Fordham (20.9 ppg); Rebounds: Julius Randle, Kentucky (10.5 rpg); Assists: Kareem Canty, Marshall (6.6 apg). 
The selection committee will again reveal what it is thinking ahead of Selection Sunday

Teams not in major conferences with a shot at an at-large NCAA Tournament bids

The nation's No. 3 player will commit Saturday and here's his impact on each of his finali...
Gary Parrish and Matt Norlander also preview the weekend and Zion Williamson's announcemen...

The Sun Devils started 12-0, but since then are 2-4 after Wednesday's loss to Stanford

Andrew Jones is Texas' second leading scorer