Wayman Tisdale Watch: Parker still No. 1 after third weekly honor
Duke's Jabari Parker is the Freshman of the Week for the third time this season, and also stays at No. 1 in the Wayman Tisdale Award rankings.
• 4 min read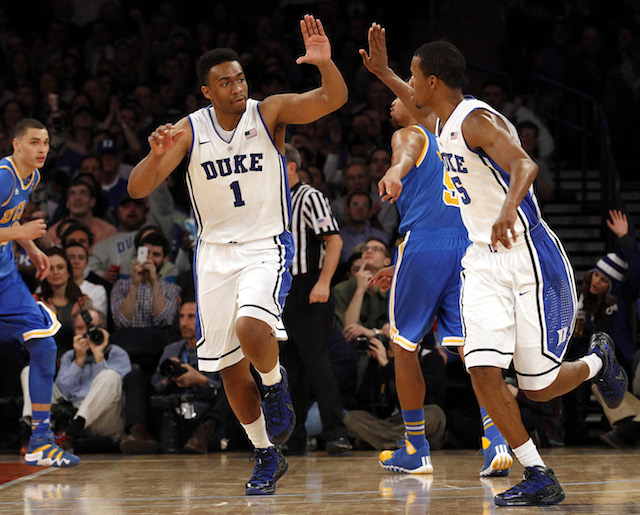 You might notice a bit of a change in our Freshman Watch column this season. We have teamed up with the Wayman Tisdale Award, and so our Freshman of the Week is now the Wayman Tisdale National Freshman of the Week. And our Freshman of the Year rankings are now the Wayman Tisdale Award Watch. What is the Wayman Tisdale Award? It's selected annually by the United States Basketball Writers Association and given to the best freshman in the country. The award will be announced in March, and handed out in April in Oklahoma City.
For the third week this season, Duke forward Jabari Parker was the top-performing freshman in the country.
The 6-foot-8 Simeon (Ill.) product started out by going 7-for-12 from the field against Gardner-Webb, scoring 21 points and grabbing six rebounds. But it was his performance against UCLA that won him Wayman Tisdale National Freshman of the Week honors. 
Parker went for 23 points, 10 rebounds and five assists, knocking down 7-for-13 from the field, 4-for-8 from 3-point range, and 5-for-5 from the free-throw line. He made multiple big shots in the second half against the Bruins, helping Duke turn a game that was tied at halftime into a 17-point win. For the week, he averaged 22.0 points, 8.0 rebounds and 2.5 assists – while shooting 50 percent or better from both the field and the 3-point line. He also was perfect from the charity stripe in two games, hitting all 11 of his attempts.
Parker has scored at least 15 points in every game this season, eclipsing the 20-point mark in nine of the 11 contests.
Duke is now 9-2 on the season, with the lone losses coming at neutral sites against Kansas and Arizona. Without factoring NBA potential into the discussion, it's almost impossible to say that Parker hasn't been the most impressive freshman in the country. While he has struggled on the defensive end, Parker is arguably the most complete offensive player in the country. He can score in so many different ways, and after going three games without making a 3-pointer, Parker brought that back this week as well. His ability to score at all three levels is sublime, as is his knack for going coast-to-coast after rebounds. 
On the season, Parker is now averaging 22.1 points and 7.8 rebounds, while shooting 55 percent from the field and 47.5 percent from 3-point range.  
Other standout freshmen performances this past week included: Aaron Harrison, Kentucky (23 points, six rebounds, seven assists vs. Belmont); Julius Randle, Kentucky (29 points, 10 boards vs. Belmont); Joel Embiid, Kansas (17 points, eight boards vs. Georgetown); Devin Williams, West Virginia (20 points, 12 boards vs. Purdue); Jonathan Stark, Tulane (19.3 points in three games); Dontel Highsmith, Northern Illinois (27 points vs. UC-Riverside); Jon Severe, Fordham (32 points vs. Monmouth); Rashad Muhammad, San Jose State (28 points vs. UC-Davis); Bobby Portis, Arkansas (30 points, 15 boards in two games), Aaron Gordon, Arizona (21 points vs. Southern).
Past winners:
Nov. 12: Julius Randle, Kentucky
Nov. 19: Jabari Parker, Duke
Nov. 26: Jabari Parker, Duke
Dec. 3: Tyler Ennis, Syracuse
Dec. 10: Chris Perry, South Florida
Dec. 17: Jordan Woodard, Oklahoma
Wayman Tisdale Award Watch
 Stats: 22.1 ppg, 7.8 rpg, 55.0 FG%, 47.5 3PT%
 Comment: A third Freshman of the Week honor for Parker this week, averaging 22.0 points and 8.0 rebounds in two games, while leading Duke to wins over Gardner-Webb and UCLA. He continues to prove himself as one of the premier offensive players in the country – but his defense might be his only weakness.
---
 Stats: 18.2 ppg, 11.3 rpg, 54.4 FG%
 Comment: Randle had been up and down for the past couple of weeks, struggling to get the ball in good position and not finishing consistently against length. That all changed on Saturday, when Randle went for 29 points and 10 rebounds in a win over Belmont. He was 8-for-10 from the field and 13-for-19 from the foul line.
---

 3. Tyler Ennis
 Stats: 12.1 ppg, 5.4 apg, 2.8 spg, 43.5 3PT%
 Comment: Another week, another win for Syracuse, which now sits at 11-0 heading into a showdown against Villanova on Saturday. And the catalyst was once again Ennis, who had 10 points, nine assists and five steals in the 21-point victory. Ennis is averaging just 1.2 turnovers on the season. 
---
 Stats: 15.5 ppg, 5.5 rpg, 46.6 FG%
 Comment: Wiggins only played one game last week, and while Kansas cruised to a 22-point win, it wasn't a vintage game for the Canadian. He knocked down two 3-pointers, but scored just 12 points for the game. He did dish out four assists and grab three steals though. That assertiveness needs to return for the Big 12.
---

 5. Aaron Gordon
 Stats: 12.8 ppg, 7.8 rpg, 50.8 FG%
 Comment: Although it came against Southern, it was nice to see Gordon have something of a breakout game offensively. He scored 21 points, making 8-for-11 from the field, while also grabbing four rebounds. In his last two games, he's shot 15-for-22 from the field and averaged 17.5 points. His free-throw shooting is a concern, though: 43.9 percent.
---
Next in line: Jordan Mickey, LSU; Joel Embiid, Kansas; Eric Mika, BYU; Aaron Harrison, Kentucky; Noah Vonleh, Indiana
Freshman leaders: Points: Jabari Parker, Duke (22.1 ppg); Rebounds: Julius Randle, Kentucky (11.3 rpg); Assists: Kareem Canty, Marshall (7.3 apg). 
Bill Self certainly isn't ready to crown his Jayhawks yet: 'Oh, hell no'

Wall is preparing for life after basketball and wants to finish his business degree

Here are teams in the midst of big turnarounds who could be big threats in the Big Dance
Our advanced computer model simulated Monday's Minnesota-Wisconsin game 10,000 times

The latest coaches poll has Michigan State at the top followed by Virginia and Villanova

Zack Cimini nailed 67 percent of his college basketball picks and released a play for Okla...