Wayman Tisdale Watch: Sindarius Thornwell honored; Parker on top
His team had been struggling for most of the season, but Sindarius Thornwell helped South Carolina win two games last week.
• 5 min read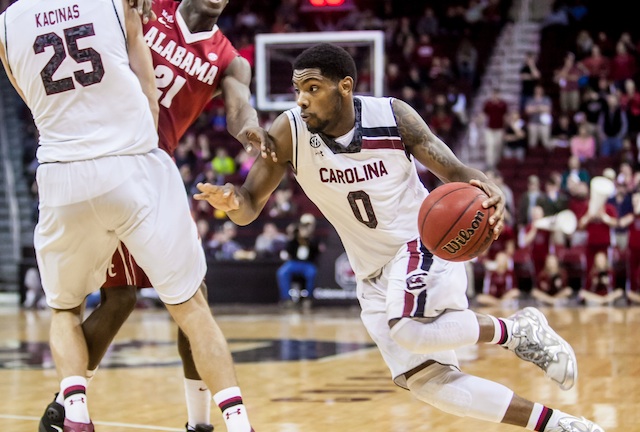 You might notice a bit of a change in our Freshman Watch column this season. We have teamed up with the Wayman Tisdale Award, and so our Freshman of the Week is now the Wayman Tisdale National Freshman of the Week. And our Freshman of the Year rankings are now the Wayman Tisdale Award Watch. What is the Wayman Tisdale Award? It's selected annually by the United States Basketball Writers Association and given to the best freshman in the country. The award will be announced in March, and handed out in April in Oklahoma City.
Over the past several weeks, the Freshman of the Week has been a player who had a big week statistically – but also a player who led his team to a resume-building win or dominated in a couple of games that will look good on Selection Sunday. Sometimes, though, a player performs so well that it doesn't matter whether his team is heading to the NCAA tournament.
And that's why we're going with South Carolina's Sindarius Thornwell this week. The Gamecocks have been struggling this season, sitting at just 1-9 in the SEC heading into last week. However, Thornwell totaled 41 points as South Carolina won back-to-back SEC games for the first time in three seasons.
It started with a very good all-around effort against Vanderbilt on Thursday afternoon, as Thornwell finished with 19 points, six rebounds and six assists in the 65-59 victory. He attacked the rim effectively, growing into his role as a playmaker and creator.
Over the weekend, the Lancaster, S.C. native was even better. He had 22 points, four rebounds and four assists in a 67-66 victory over Alabama, shooting 6-for-11 from the field and 9-for-10 from the free-throw line. And there was this note from the SEC on Monday: Thornwell either scored or assists on 15 of South Carolina's final 17 points against Alabama.
Thornwell came into college as one of the more aggressive scoring guards in the country, and the 6-foot-5 guard was ready to shoulder most of the offensive load for South Carolina. As the season has progressed, though, Thornwell has become more consistent as a distributor as well as a scorer. He has at least four assists in eight of his last nine games, while still showing plenty of ability as a scorer off the dribble. His future looks bright.
On the season, Thornwell is averaging 13.9 points, 4.0 rebounds and 2.8 assists. He is shooting 41.2 percent from the field and 34.7 percent from 3-point range.
Other standout freshman performances this past week included: Jabari Parker, Duke (23 points, eight rebounds vs. Maryland); Rysheed Jordan, St. John's (17.0 ppg in two games); E.C. Matthews, Rhode Island (27.0 ppg, 8-for-10 3PT in two games); Marcus Foster, Kansas State (19.0 ppg, 6.0 apg in two games); Damian Jones, Vanderbilt (13.0 ppg, 11.5 rpg, 4.0 bpg in two games); Bobby Portis, Arkansas (15.0 ppg, 8.0 rpg in two games); Kahlil Felder, Oakland (15 points, 10 rebounds, 11 assists vs. Detroit); Andrew Rowsey, UNC Asheville (41 points vs. Radford).
Past winners:
Nov. 12: Julius Randle, Kentucky
Nov. 19: Jabari Parker, Duke
Nov. 26: Jabari Parker, Duke
Dec. 3: Tyler Ennis, Syracuse
Dec. 10: Chris Perry, South Florida
Dec. 17: Jordan Woodard, Oklahoma
Dec. 24: Jabari Parker, Duke
Dec. 31: James Young, Kentucky
Jan. 7: Marcus Foster, Kansas State
Jan. 14: Wayne Selden, Kansas
Jan. 21: Joel Embiid, Kansas
Jan. 28: Andrew Wiggins, Kansas
Feb. 4: Jordan Mickey, LSU
Feb. 11: Marcus Foster, Kansas State
Wayman Tisdale Award Watch
 Stats: 19.3 ppg, 8.5 rpg, 47.8 FG%, 36.5 3PT%
 Comment: Duke's showdown with North Carolina was postponed due to snow, so the Blue Devils and Parker had just one game last week. Parker struggled with his shot, but made two 3-pointers en route to a 23-point, eight-rebound performance. He was 9-for-10 from the free-throw line. He has three games this week.
---

 2. Tyler Ennis
 Stats: 11.8 ppg, 3.2 rpg, 5.6 apg, 2.1 spg, 36.5 3PT%
 Comment: Ennis had one of the highlights of the season last week, hitting a 35-footer at the buzzer to keep Syracuse unbeaten against Pittsburgh. He finished with 13 points and five assists that game, but struggled with four turnovers in the weekend win over NC State. He's 11-for-34 in the last four games.
---
 Stats: 16.1 ppg, 5.8 rpg, 44.3 FG%
 Comment: Wiggins had a consistent week scoring the ball, going for 16 points and five rebounds against Kansas State, and then following it up with 17 points, four rebounds and four assists in an easy win over TCU. Wiggins is far more comfortable than he was earlier in the season, and it's showing in his consistency. 
---
 Stats: 15.7 ppg, 10.0 rpg, 52.9 FG%
 Comment: Randle had back-to-back double-doubles last week, going for 12.5 points and 12.5 rebounds in two games. He wasn't able to really get going offensively in either game, but the little things he did against Florida showed development and maturation. He hustled after loose balls, hedged on ball-screens effectively, and was very good defensively.
---

 5. Joel Embiid
 Stats: 10.7 ppg, 7.8 rpg, 2.5 bpg, 61.2 FG%
 Comment: Embiid is slipping, and he was even before he sat out over the weekend with knee and back injuries. He should return this week, though. Embiid has played 18 or fewer minutes in his last three games, and scored in single-digits in three of his last four games. He needs to regain the dominance of which he's shown flashes.
---
Next in line: Jordan Mickey, LSU; Aaron Gordon, Arizona; Marcus Foster, Kansas State; Bobby Portis, Arkansas; Noah Vonleh, Indiana; James Young, Kentucky; Isaiah Taylor, Texas; Nigel Williams-Goss, Washington
Freshman leaders: Points: James Daniel, Howard (21.3 ppg); Rebounds: Julius Randle, Kentucky (10.0 rpg); Assists: Khalil Felder, Oakland (6.0 apg).  
All this week, you can vote your choice for college basketball's top freshman by using the hashtag #TopFrosh. Eligible players in the voting, being conducted by CBS Sports Network, are Parker, Ennis, Wiggins, Randle, Embiid and Gordon. Voting will continue throughout CBS Sports Network and CBS Sports' Saturday broadcast schedule, with the winner announced during CBS Sports Network's broadcast of the UNLV/Boise State contest at 8 p.m. ET.
The game will be finished on Thursday at noon at Providence's on-campus basketball gym

The five-star forward put on a dunking and blocking clinic in high school's state quarterfinal...

Pitino dug in and maintained he ran a 'clean program' after the NCAA stripped UL of its 2013...
Bagley is still recovering from a knee injury he suffered during the Blue Devils' loss to...

Izzo was emotional as he coached the seniors on their final home game in East Lansing

The Shockers look to build on their four game winning streak as they return home to face T...