Wayman Tisdale Watch: Wayne Selden breaks out, Ennis closes gap
Jabari Parker clings to the No. 1 spot as Tyler Ennis makes a push. This past week, though, Kansas guard Wayne Selden wins Freshman of the Week.
• 4 min read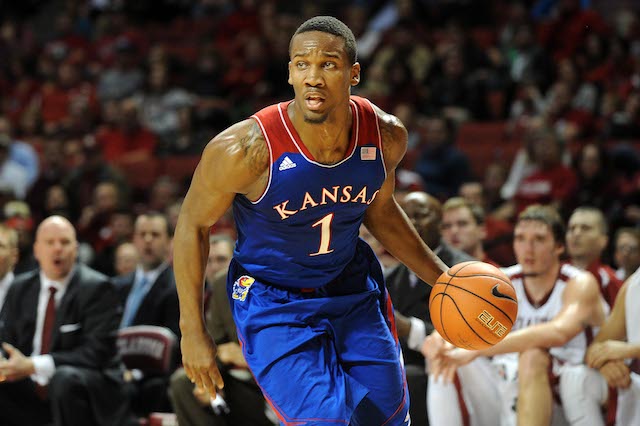 More NCAA Hoops: Daily Top 25 (And One) | Bracketology | Kansas Team Home
You might notice a bit of a change in our Freshman Watch column this season. We have teamed up with the Wayman Tisdale Award, and so our Freshman of the Week is now the Wayman Tisdale National Freshman of the Week. And our Freshman of the Year rankings are now the Wayman Tisdale Award Watch. What is the Wayman Tisdale Award? It's selected annually by the United States Basketball Writers Association and given to the best freshman in the country. The award will be announced in March, and handed out in April in Oklahoma City.
Wayne Selden was a five-star recruit coming out of high school, but he entered his college career at Kansas with some mixed expectations. For one, he wasn't Andrew Wiggins, so he wasn't the main attraction – and he didn't have the mystery of Joel Embiid, either. However, scouts in the preseason constantly touted the praises of Selden. It was unclear what sort of season Selden was poised to have as a frosh.
This past week, we saw why Selden was such a productive and attractive prospect as a high schooler. He helped lead Kansas to two wins to start Big 12 play, averaging 22.0 points, 3.0 rebounds and 2.0 assists – while also knocking down 8-for-15 from 3-point range. That last part might have been the most important stat; the Jayhawks need his perimeter shooting. 
Up first was a road trip to Oklahoma, where Selden was on fire from behind the arc. He made five 3-pointers en route to 24 points in the 90-83 victory over the Sooners. Considering he had averaged 7.7 points in the three games prior, Selden's breakout game couldn't have come at a better time. And then he followed it up with 20 points, four rebounds and three assists in a blowout of Kansas State. Overall, he made 16-for-27 from the field. 
Selden has been up and down for most of the season, but he could be hitting his stride as Big 12 play gets underway. He's shown flashes of his high school hype, going for 15 points, six rebounds and four assists earlier this season against Duke, while also scoring in double-figures on three other occasions this season. His physicality and athleticism make him a nuisance to stop when driving to the rim, and his outside shot is beginning to fall consistently. Back in his early high school days, Selden mostly just bullied his way to the rim and finished. Now, he's expanded his game and become far more dangerous.
On the season, Selden is now averaging 10.3 points, 2.8 rebounds and 2.1 assists. He is shooting 49.6 percent from the field, 42.6 percent from 3-point range, and 51.3 percent from the free-throw line.
Other standout freshman performances this past week included: Amida Brimah, Connecticut (20 points, eight rebounds, five blocks vs. UCF); Sindarius Thornwell, South Carolina (17.5 points in two games); James Young, Kentucky (26 points, 10 rebounds, five assists vs. Mississippi State); Damian Jones, Vanderbilt (17.0 points, 8.0 rebounds in two games); Josh Williams, Lipscomb (31.0 points in games vs. Jacksonville and East Tennessee State); Jon Severe, Fordham (27.0 pints in two games); Q.J. Peterson, VMI (30 points vs. Longwood); Jordan Mathews, California (32 points at Oregon).
Past winners:
Nov. 12: Julius Randle, Kentucky
Nov. 19: Jabari Parker, Duke
Nov. 26: Jabari Parker, Duke
Dec. 3: Tyler Ennis, Syracuse
Dec. 10: Chris Perry, South Florida
Dec. 17: Jordan Woodard, Oklahoma
Dec. 24: Jabari Parker, Duke
Dec. 31: James Young, Kentucky
Jan. 7: Marcus Foster, Kansas State
Wayman Tisdale Award Watch
 Stats: 19.5 ppg, 7.6 rpg, 49.6 FG%, 40.4 3PT%
 Comment: Parker continues to struggle, but maintains his grip on the No. 1 spot due to his season-long production. This past week, Parker shot just 9-for-25 from the field, totaling 27 points and 13 rebounds. Over the past four games (prior to Monday's game), Parker is shooting 16-for-48 from the field, and 3-for-14 from 3-point range. 
---

 2. Tyler Ennis
 Stats: 11.6 ppg, 3.3 rpg, 5.7 apg, 2.6 spg, 38.2 3PT%
 Comment: After his fourth straight game (prior to Monday's contest) with at least seven assists, Ennis moves up to the No. 2 spot -- and the gap between he and Parker isn't thar large. In his two games last week, Ennis averaged 11.5 points, 3.0 rebounds and 7.0 assists. His four turnovers against North Carolina were a season-high. 
---
 Stats: 16.7 ppg, 10.9 rpg, 54.0 FG%
 Comment: After a bit of a layoff since the Louisville game, Randle was dominant on the glass in his two games last week. He grabbed 14 rebounds against Mississippi State, then snared 11 against Vanderbilt. But Randle's offense never got going, as he shot 6-for-17 last week for just 15 points. He drops from No. 2 to No. 3.
---
 Stats: 15.7 ppg, 5.4 rpg, 44.6 FG%
 Comment: Another up and down week for Wiggins, who continues to show flashes of his potential before disappearing for stretches. He had 22 points on 13 shots against Kansas State, knocking down three 3-pointers. Against Oklahoma, however, Wiggins only shot 2-for-9 from the field and finished with nine points. (His performance against Iowa State counts toward next week.)
---

 5. Aaron Gordon
 Stats: 12.2 ppg, 7.9 rpg, 50.0 FG%
 Comment: Gordon has now scored in double-figures in three straight games, and is beginning to play a little more assertively on the offensive end. This past week, he averaged 11.0 points and 7.0 rebounds. Gordon's defense and ability to guard multiple positions continues to stand out, as well. He goes against Arizona State on Thursday.
---
Next in line: Joel Embiid, Kansas; Jordan Mickey, LSU; Bobby Portis, Arkansas; Marcus Foster, Kansas State; Noah Vonleh, Indiana; Josh Hart, Villanova; Nigel Williams-Goss, Washington 
Freshman leaders: Points: Jon Severe, Fordham (21.4 ppg); Rebounds: Julius Randle, Kentucky (10.9 rpg); Assists: Kareem Canty, Marshall (6.5 apg).  
Andrew Jones is Texas' second leading scorer

Oklahoma's star freshman has a father who has been there and done that

Kentucky now is at risk of slipping out of the Top 25 (and one)
Cherry's commitment gives ASU a top-20 recruiting class and its highest rated pledge since...

Matt Norlander is on a 11-7 run in college basketball picks and shares his best bets for W...

Kentucky losing this game probably cost it a shot at earning a high NCAA Tournament seed