Weekend Look Ahead: The Big Ten is gonna consistently be a blast
Remember when players could shoot 3-pointers at the buzzer, make them and win? Those were the days, huh? (Yes, Colorado got screwed Thursday night.) But this is no place to look back. This is the Weekend Look Ahead ...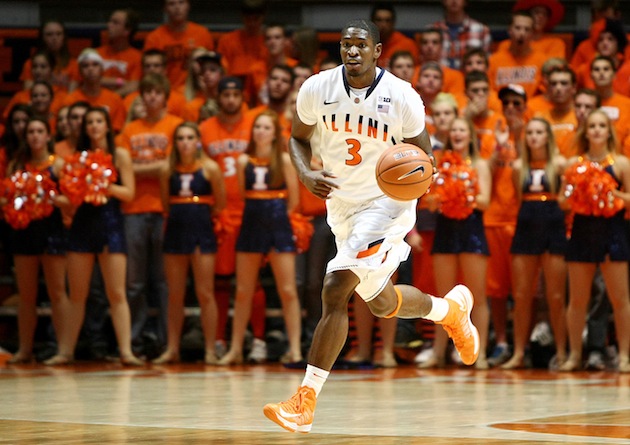 Brandon Paul will look to bounce back as Illinois welcomes No. 8 Ohio State to town. (US Presswire)
Remember when players could shoot 3-pointers at the buzzer, make them and win? Those were the days, huh? (Yes, Colorado got screwed Thursday night.) But this is no place to look back. This is the Weekend Look Ahead ...
Top game: Proof that the Big Ten is strong at the top comes in many forms -- one of which is the fact that the next six weekends will feature a game between two Big Ten schools currently ranked in the top 20 of the AP poll. No other league can make that claim. A tilt between No. 8 Ohio State and No. 11 Illinois at Assembly Hall on Saturday gets the nice run started. As I said on Courtside with Seth Davis earlier this week, at least five different teams could win this league, and nobody should be surprised if the team that finishes fifth ends up in the Final Four.
Another interesting matchup: The weekend's only other matchup of Top 25 teams -- by the way, this really isn't a great weekend for wonderful matchups in general -- is a game between No. 22 Oklahoma State and No. 25 Kansas State. Or, as Gonzaga fans call it, a game between one team the Zags beat in December and another team the Zags beat in December. (FYI: Gonzaga is 5-0 against the Big 12 this season. Mark Few's team beat West Virginia 84-50, Oklahoma 72-47, Kansas State 68-52, Baylor 94-87 and Oklahoma State 69-68. That's five wins by an average of 17 points, which is obviously great. The Zags have basically treated the Big 12 like it's the WCC.)
Yet another interesting matchup: Last we saw the Kansas Jayhawks they were making 15 of 24 3-point attempts in an 89-57 whipping of American that doubled as their 29th consecutive home victory. It was an effort coach Bill Self called "unbelievable" because, well, because it was unbelievable. Or, at the very least, impressive. And I can't wait to see if the sixth-ranked Jayhawks can keep it going Sunday when they host Temple -- the same Temple team that upset Syracuse last month -- at Allen Fieldhouse in their final non-league game before the start of Big 12 play.
Probably will be a blowout: Top-ranked and undefeated Duke is the ACC's best team. Unranked and often-defeated Wake Forest is the ACC's worst team. Those two schools open the ACC schedule Saturday at Cameron Indoor Stadium. (Come on, ACC schedule-makers. You can do better than this, can't you?)
Definitely could be an upset: Buzz Williams was suspended for Marquette's Big East opener against Connecticut because one of his former assistants committed recruiting violations. Seriously, that's why Williams was suspended -- even though Marquette athletic director Larry Williams acknowledged there was never any indication that Williams had anything to do with or even knew about the violations. What a weird way to treat a coach who has made consecutive Sweet 16s, huh? Anyway, Williams will return Saturday when his unranked Golden Eagles host No. 15 Georgetown. The guess here is that his return will result in a victory that pushes Marquette to 11-3 overall, 2-0 in the Big East.
Player trying to keep rolling: Jack Cooley is averaging 15.2 points and 11.3 rebounds this season, 19.0 points and 13.5 rebounds in Notre Dame's past two games. So he's been solid all year and great recently. If I can type that same sentence after Saturday's game with Seton Hall, the 21st-ranked Irish will have an 11-game winning streak.
Player trying to get rolling: Arizona is only still undefeated because the officials blew a call at the end of regulation late Thursday and concluded Sabatino Chen's game-winning 3-pointer was launched after the buzzer even though it was launched before the buzzer. Colorado should be 11-2, Arizona 12-1. But Colorado is instead 10-3 while Arizona is 13-0, and, either way, when is Nick Johnson gonna get back to playing well? Yes, the Arizona sophomore got that game-saving block at the buzzer in that win over San Diego State on Christmas night, and that was nice. But he's missed 19 of the past 24 shots he's taken, including 10 of his past 12 3-point attempts. Sean Miller needs Johnson to be better -- starting Saturday at home when the third-ranked Wildcats meet Utah in a game that shouldn't require any assistance from the referees.
Three things you should know before you go
The only four teams currently in the top 10 of both the RPI and KenPom are Duke, Kansas, Michigan and Louisville. Duke is No. 1 in RPI, No. 2 in KenPom. Kansas is No. 2 in RPI, No. 5 in KenPom. Michigan is No. 3 in RPI, No. 8 in KenPom. Louisville is No. 8 in RPI, No. 3 in KenPom.
UCLA freshman Shabazz Muhammad has scored at least 13 points in all 11 games he's played since becoming eligible on Nov. 19. He got 16 points and six rebounds in Thursday's win over California. Next up is Saturday's game against Stanford.
Memphis junior Tarik Black did not practice Thursday and is not expected to play tonight at Tennessee, meaning Memphis and Tennessee will both likely be down a frontcourt player. Black has a groin injury. Meantime, Tennessee senior Jeronne Maymon is still battling knee problems and hasn't played at all this season. It's unclear if he'll try to start playing next week or take a medical redshirt.
Final thought: Speaking of Memphis-Tennessee, tonight's game at Thompson-Boling Arena was long supposed to be the last in this rivalry because Memphis coach Josh Pastner has no interest in continuing it. He reiterated that point as recently as Wednesday.
"We will not play Tennessee anymore as long as I'm the head coach," Pastner said, and never mind that this is a mostly unpopular position for the Memphis coach with Memphis fans. Pastner didn't care. He doesn't want to play UT so he said he wouldn't play UT, and he added that he and first-year athletic director Tom Bowen were "on the same page with it," which is why Pastner was surprised when UT athletic director Dave Hart told the Knoxville News-Sentinel less than 24 hours later that he's actually had "multiple conversations" with Memphis about continuing the series "over the last few days."
Translation: Bowen's been working behind Pastner's back. On the basketball schedule. Even though he's not the basketball coach. And trust me when I tell you that this doesn't happen with other nationally relevant basketball programs, and I really can't believe it's now happened twice at Memphis in the past six months. In case you forget, Bowen committed last July to playing Ole Miss in basketball even though Pastner didn't want to play Ole Miss and wasn't aware of the commitment, and now Bowen has been operating the same way with Tennessee while making Pastner again look foolish publicly.
"I will always back my boss," Pastner said Thursday afternoon when I asked whether he was frustrated about being undercut by his athletic director twice on non-league scheduling in a very public way, and, you know, what else could he say?
He's a nice guy.
He'll always say the right things.
But the truth is that Pastner has now at least twice been wronged by an athletic director who took over in June but still hasn't quite grasped the job that he accepted. Bowen has never worked at a school or in a city where basketball matters like it does at and in Memphis. So maybe that's why he thinks it's OK to go behind his basketball coach's back and commit to non-league games his basketball coach doesn't want to play. But it's not OK. And it's far from normal. And it's why Pastner should be furious, embarrassed and trying to figure out a way to leverage his reputation as an elite recruiter into a job with a boss who respects him a little more than this one apparently does.
The FBI investigation took another high-profile twist

The Zags are ranked No. 9 in the CBS Sports Top 25 (and 1)

Davis is averaging 8.8 points and 2.4 rebounds per game this season
CBS Sports reached out to coaches across the country to get their reaction to Friday's huge...

Our advanced model simulated Saturday's Creighton vs. Villanova game 10,000 times

The ex-UCLA star says college players are getting paid under the table, so it's time to legalize...