Weekend Look Ahead: Yes, UK-UL is college basketball's best rivalry
The final weekend of 2012 has arrived. It's stacked with interesting college basketball games. Let's preview what's to come in the Weekend Look Ahead.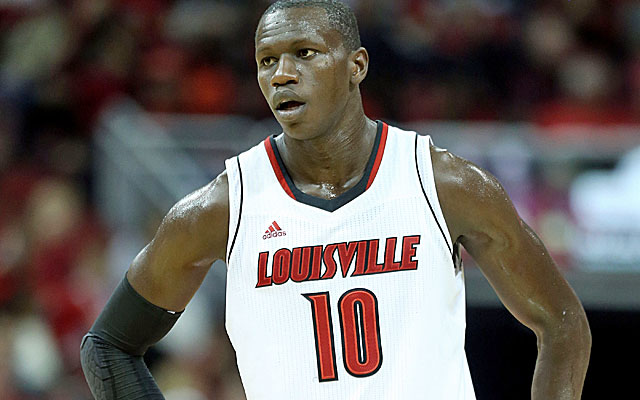 Louisville center Gorgui Dieng will make his return against Kentucky on Saturday. (Getty Images)
The final weekend of 2012 has arrived.
It's stacked with interesting college basketball games.
Let's preview what's to come in the Weekend Look Ahead.
Top game: Folks still suggest Duke-North Carolina is college basketball's best rivalry, but that's not true anymore. At least not at the moment. Not as long as John Calipari is at Kentucky and Rick Pitino is at Louisville. Because the personal rivalry between those two men combined with the national prominence of both programs combined with the fact that Pitino used to coach one school and now leads the other places Kentucky-Louisville above all other rivalries, and it's a rivalry that'll continue when the fourth-ranked Cardinals host the Wildcats at the KFC Yum! Center on Saturday in a game that'll be broadcast on CBS and feature the return of Louisville center Gorgui Dieng.
Yet another interesting matchup: North Carolina is 9-3 with three blowout losses and no good wins. So things really aren't going too well in the post-Kendall Marshall/Tyler Zeller/Harrison Barnes/John Henson era. Still, the Tar Heels have an opportunity to turn their season around when they host 20th-ranked UNLV on Saturday at the Dean Smith Center -- although winning will be tough unless they figure out how to contain Anthony Bennett, UNLV's 6-foot-8 freshman who is averaging 19.5 points and 8.5 rebounds.
Probably will be a blowout: Kansas has played six games against teams from outside the power-conference structure and won all by double digits and by an average 19.5 points. So what do you think's gonna happen when the sixth-ranked Jayhawks host American on Saturday? Answer: Another blowout -- this time by 20-plus points.
Definitely could be an upset: Brad Stevens has Butler relevant again and ranked 18th with wins over Indiana, UNC and Marquette. The Bulldogs are good. They're gonna be somebody's problem in March, just like always. But Memorial Gym is a tough place to play even when Vanderbilt isn't very good. So don't be surprised if Butler leaves Nashville late Saturday with a loss that would look bad but not be too surprising.
Player trying to keep rolling: Santa Clara's schedule hasn't presented many challenges. But 11-2 is still 11-2, and the Broncos are 11-2 heading into Saturday's game at top-ranked Duke -- mostly because Marc Trasolini is having a career year. The 6-foot-9 forward is averaging 16.3 points and 7.8 rebounds this season, 23.7 points and 7.7 rebounds over the past three games. He'll need to be similarly great (or even greater) for Santa Clara to have anything resembling a chance at Cameron Indoor Stadium.
Player trying to get rolling: Deshaun Thomas is terrific. That's clear. But Ohio State really does need a legitimate second scoring option to develop, if only to keep Aaron Craft from trying to be that guy. Because he can't be that guy. That's clear, too. The junior point guard is averaging a career-best 8.9 points per game but shooting a career-low 36.0 percent from the field through 11 games. Even worse is the fact that in OSU's two losses -- at Duke and to Kansas at home -- Craft is a combined 5-of-24 from the field, which is an obviously bad statistic heading into Saturday's game with Chicago State.
Three things you should know before you go
My colleague, Jerry Palm, released his latest projection of the Field of 68 on Thursday. The No. 1 seeds are Duke, Michigan, Kansas and Arizona.
Do you have any idea which player is leading the nation in rebounding? I do. His name is

O.D. Anosike

. He's a 6-foot-8 forward at Siena. He'll spend Saturday rebounding against La Salle.
We enter this weekend with just four undefeated teams remaining. They are Duke (11-0), Michigan (12-0), Arizona (12-0) and Wyoming (12-0). The unranked Cowboys are clearly the biggest surprise on that list. They're off this weekend. They play next on Wednesday against Larry Brown's SMU Mustangs.
Final thought: I spent part of Thursday in a studio with producers watching the final cut of a program that'll air on CBS immediately before Saturday's Kentucky-Louisville game. It's called 75 Years of March Madness: A Coach's Perspective. It's a roundtable featuring Tom Izzo, Billy Donovan, Bill Self, Rick Pitino, Shaka Smart, Brad Stevens, Jay Wright, John Thompson III and Steve Lavin talking about their first and favorite memories of the Final Four. There's some good stuff in there. But what I found most interesting was a segment toward the end in which Jim Nantz asked the coaches how they think college basketball might look 25 years from now, and they all agreed it would be different.
How different?
"I don't think any one of us has any clue where it will end up 25 years from now," Thompson said. "It'll look dramatically different than it does right now."
From there, a theme developed -- and it became obvious that the coaches' main concern is that the NCAA's decision to increase minimum eligibility standards for student-athletes in 2016 will remove a certain type of prospect from the equation.
"What we don't want to do is take away opportunities from kids," Smart said. But he knows that's almost certainly what's going to happen, and, I'll be honest, I can see both sides of this argument. On one hand, why should people with poor academic records be accepted on college campuses? On the other, there are countless examples of players from awful backgrounds who flourished once in college thanks to the structure of basketball and with a strong academic support system. So what's so bad about being more inclusive?
Either way, get ready for this debate to intensify going forward.
It's already obviously weighing on coaches' minds.
"How many kids are not gonna have an opportunity to be a part of this great game at this level?" Thompson said. "In an effort to get the numbers right and in an effort to make one statement, you're gonna end up cutting out a whole layer of kids."
Josh Nagel has his finger on the pulse of Big Blue and just locked in a strong pick for Tu...

The 10th-ranked Jayhawks end a four-game Morgantown losing streak with a big second half

Gary Parrish, after being questioned, explains why he writes the Poll Attacks each Monday
The Blue Devils looked like a team in need of a reboot against Miami, then they morphed into...

Providence's Ed Cooley suggests to the refs that vampires, not contact, made his player bl...

The Big 12 reprimanded WVU player Wesley Harris for hitting a Texas Tech fan who rushed the...