Weekend Observations: Kansas' Final Four hopes all on Embiid's back
Kansas probably doesn't make the Final Four if Joel Embiid isn't healthy, while Louisville looks ready to return thanks to Montrezl Harrell's emergence.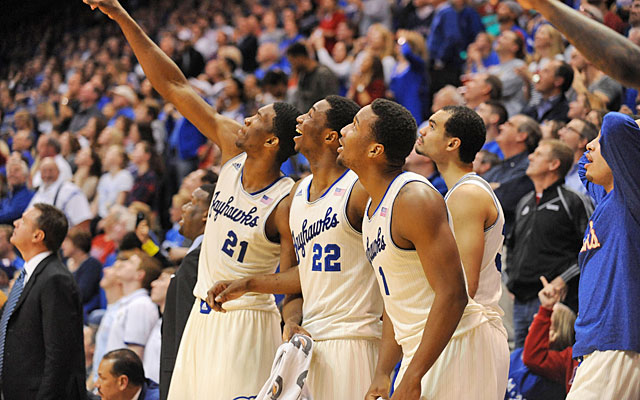 More: Bracketology | Bubble Watch | Team comparison | Top 25 (and 1)
1. Kansas can't get to the Final Four without a healthy Joel Embiid.
The Jayhawks have the highest ceiling out of any team in college basketball, but the look of this team is extremely different without its 7-foot freshman center. Embiid (11.2 points, 8.6 rebounds, 2.6 blocks) missed Kansas' past two games with a lingering back issue, and is out for the Big 12 tournament and likely the early rounds of the NCAA Tournament. The Jayhawks still have a lottery pick in Andrew Wiggins and a gifted interior scorer in Perry Ellis, but the dynamic of this team vastly changes without a rim protector like Embiid. With a front line of Wiggins, Ellis and Embiid, Kansas can pummel teams on the interior with its length and athleticism. Without Embiid, Bill Self's squad is just another team in that will enter the field of 68 with a chance to do some damage.
2. Wichita State's Fred VanVleet is a top-10 point guard nationally.
There are a lot of reasons the Shockers will enter the NCAA Tournament 34-0, but VanVleet's control over the game might be the biggest. The crafty sophomore was near flawless in Wichita State's 83-69 win over Indiana State in the Missouri Valley tournament title game Sunday -- 22 points, five rebounds, five assists, one turnover. Several times during the second half the Sycamores made a surge to get within striking distance but each time Indiana State threatened, VanVleet was at the epicenter of a huge response for the Shockers. Whether it's a timely 3-pointer, a nifty drive or a classic assist, the floor general knows exactly what his team needs whenever it needs it. Through 34 games, VanVleet has an assist to turnover ratio of 3.89 to 1 -- that's ridiculous.
3. The emergence of Montrezl Harrell makes Louisville a contender to reach its third consecutive Final Four.
The Cards are trending upward at the right time of year and Harrell is a major reason why. The 6-8 sophomore is Louisville's only capable interior scorer and has been on an absolute tear over the past few weeks. Harrell is averaging 21.2 points and 9.4 rebounds over his past five games and is playing well as any big man in America. Rick Pitino's teams have historically made a big jump in February and this squad is no different. Aside from a bad stretch in the final minutes at Memphis, Louisville has answered just about every challenge during the past few weeks in impressive fashion. If Harrell can continue to dominate the paint and the Cards can continue to get timely 3-point shooting from Luke Hancock (seven made 3-pointers in his past two games), a third consecutive appearance in the Final Four is very much in play for Louisville.
4. New Mexico still has the requisites to be a dangerous postseason team despite losing Saturday night at San Diego State.
The Lobos let a 16-point second-half lead dissipate and lost to the Aztecs in a defeat that cost them the Mountain West regular-season title. But even after that loss, New Mexico is still a team that's built to win multiple games in the NCAA Tournament. On Saturday, the Lobos were slicing up the San Diego State defense for the majority of the game. Then Steve Fisher switched to a 1-3-1 zone with Dwayne Polee at the top. The Aztecs' length rattled New Mexico's offense, but this team has the experience, savvy and skill to perform on the sport's greatest stage. Craig Neal's squad won't have to deal with an atmosphere during the field of 68 like Viejas Arena and the core of the Lobos -- Hugh Greenwood, Kendall Williams, Cameron Bairstow, and Alex Kirk -- all went through the tremendous disappointment last year of losing to Harvard in the Round of 64. This is a seasoned team with an unknown star in Bairstow. The rugged senior is pound for pound the best power forward in college basketball and is averaging 20.3 points, 7.2 rebounds and 1.5 blocks. Bairstow is the type of player that could blossom nationally during March. If you haven't seen him, you're missing out on one of the best players in the country.
5. The Big East tournament will begin this week with only two teams -- Villanova and Creighton -- locks for the NCAA Tournament.
And that's pretty amazing. The new formation of the Big East began this season with hopes of being a five- or six-bid league, but after the regular season the entire conference is a major mystery after the Wildcats and Bluejays. Xavier, Providence, St. John's and Georgetown are all very much on the bubble and unless one of those four teams wins the Big East tournament and earns the conference's automatic bid, it's hard to see anyone in that quartet feeling safe until it hears its name on Selection Sunday. The Big East has had some bad luck this year with injuries and some off-court issues which affected the available personnel on certain teams, but after Villanova and Creighton there's no guarantees that anyone will enter Madison Square Garden on Thursday feeling that they're safely in the field of 68. The Red Storm will play the Friars in Thursday's quarterfinals in what is a virtual "do or die" game for both teams, while Xavier will take on a Marquette team coming off back-to-back double-overtime losses by a combined two points. Expect to see some desperate teams this week at the World's Most Famous Arena.
Here's how the top teams are trying to stay elite as recruiting heats up

There's never been anything like Wednesday night's LaMelo Ball-Zion Williamson showdown

The best basketball player in the world showed up too late to the biggest game in Las Vega...
Thousands of fans were turned away (even LeBron!) from the LaMelo Ball-Zion Williamson sho...

"Four Sides of the Story" also takes a look at Tiger Woods' first PGA tournament and the role...

Indiana's Archie Miller and Mizzou's Cuonzo Martin have been killing it on the recruiting...