Weekend Visitation: Big Blue Madness attracts elite prospects
This is a monster weekend for recruiting visitors, as Kentucky, Kansas and many other powerhouses are bringing in big-time targets.
• 4 min read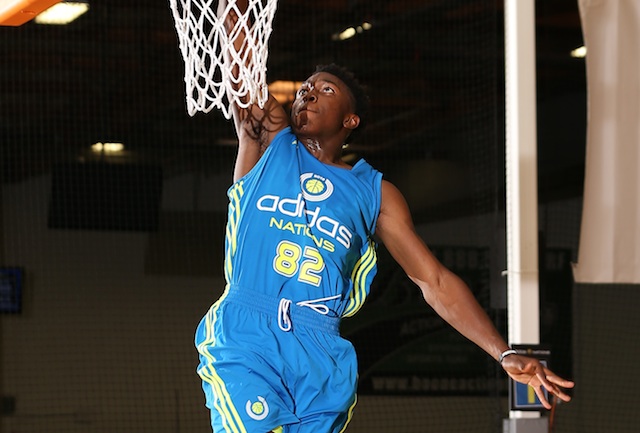 Weekend Visitation is back! After a one-week hiatus due to prior engagements (kind of a pun, I was a groomsman in a wedding), an absolutely monster weekend of visits has brought it out of hiding. Simply put, this might be the biggest weekend of the year for official visits – with the main reason being a couple of schools having Midnight Madness festivities, and others just planning a big weekend.
Big Blue Madness brings elite prospects to Lexington
As I write this, I'm waiting to board a flight to Lexington, Ky., where I will attend Kentucky's Midnight Madness – aka Big Blue Madness. I'm certainly not the only one coming through this weekend, with John Calipari bringing in a long list of elite recruits to campus. It starts with five-star forwards Stanley Johnson and Trey Lyles, two of the primary targets for the Wildcats. Johnson is considered to be a 50/50 proposition for both Kentucky and Arizona, although he's essentially the lone small forward target for Kentucky after Kelly Oubre chose Kansas. Meanwhile, Lyles is thought to favor Kentucky over Louisville. Four-star guard James Blackmon is on the visit list, and a decision from the former Indiana commit could be coming soon. Kentucky and Michigan are the leaders, although Indiana is also still on the list. 2014 commits Karl Towns and Tyler Ulis are also going to be on campus, along with big-time 2016 prospects Harry Giles, Josh Langford and Jayson Tatum.
Okafor-Jones package deal trips to Kansas together
Kansas had its Late Night in the Phog event earlier this month, but its biggest recruiting weekend could come over the next couple days. For a long time, Duke was considered the likely landing spot for top-five prospects Tyus Jones and Jahlil Okafor – but that has changed in the past several weeks. Jones is still leaning toward Duke, but Kansas has made up a ton of ground for Okafor and could have the edge right now. While other schools are trying to split up the duo, Kansas wants both, and this weekend will go a long way toward determining whether that happens. If the two players want to indeed play together – as they continue to say – it could come down to Duke or Kansas.
Myles Turner highlights Ohio State visitors
It hasn't been a great couple of weeks for Ohio State in its pursuit of big men, as the Buckeyes lost out on both Goodluck Okonoboh (UNLV) and Elbert Robinson (LSU). However, Thad Matta and his staff have a chance to make up some ground for two other targets on campus this weekend: top-five prospect Myles Turner and four-star forward Payton Dastrup. Turner blew up during the spring and summer, solidifying his spot among the elite players in the class of 2014. Kansas, Duke and Texas are in good shape there. Dastrup is an interesting case, as he's likely to take his two-year LDS mission right out of high school. Essentially, he's like a 2016 prospect. BYU could have the edge.
Memphis Madness attracts Alexander and others
Cliff Alexander is thought to be a Kansas lean, with Illinois and Michigan State looking to usurp the Jayhawks. This weekend, though, Memphis will get its turn to make an impact on Alexander's recruitment. The Curie (Ill.) is one of the top five prospects in the country, and could dominate at the college level. In addition to Alexander, there are some mixed signals regarding former Louisville commit Jaquan Lyle and his Memphis Madness plans. Some say he'll be on campus, while others insist he won't be in attendance. For now, we'll say there is a chance Lyle is on campus – which would be interesting, as Lyle and Alexander have briefly discussed going to college together. Younger prospects like Skal Labissiere and Dedric Lawson are also reportedly attending Memphis Madness.
Arizona looks to make pitches to Winslow and Humphrey
Arizona has gotten off to a great start in the 2014 class, nabbing five-star forward Craig Victor and four-star point guard Parker Jackson-Cartwright thus far. The Wildcats are far from done, though, especially since they missed out on Kameron Chatman a couple of weeks ago (he chose Michigan). This weekend, longtime target Justise Winslow will have his official visit to Tucson. Duke and Arizona have been the primary battlers for Winslow, although Florida has made up a lot of ground. Four-star big man Michael Humphrey will be on Arizona's campus for the second straight weekend. He's down to the Wildcats and Stanford.
Notes: 
-- Five-star forward Kevon Looney has taken official visits to Duke, Tennessee, Michigan State and Florida – but UCLA was able to get him on campus for the upcoming weekend. He plans to decide on October 31.
-- Another player who could be making a decision in the near-future is four-star shooting guard Devin Booker. Booker has officially visited Michigan, Kentucky and Michigan, and Missouri gets its chance this weekend. Kentucky and Michigan are the favorites, but Booker's father starred at Missouri during his playing days.
-- Trevon Bluiett has quickly made moves since decommitting from UCLA, and his official visit to Michigan State ends on Friday. He officially visited Memphis last weekend, while Xavier, Purdue and Butler are also in the mix.
-- Things seem to be winding down for Phoenix forward Zylan Cheatham. He has already visited San Diego State and Washington, while Arizona State is also on his list. This weekend, New Mexico will take its best shot – as Cheatham is headed to Albuquerque. He is likely to decide in November. 
-- Duke has its "Countdown to Craziness" on Friday, and the Blue Devils are welcoming tons of younger prospects. 2016 studs Thon Maker, Seventh Woods and Ty Graves are on campus on Friday, with Kwe Parker and Dennis Smith arriving Saturday.
Zack Cimini has been on a roll in college basketball and locked in a play for Texas-West V...

Zack Cimini is on a college basketball heater and just locked in a strong pick for Saturda...

Our advanced computer model simulated Saturday's Arizona-Stanford game 10,000 times
'If you want it, you're world champs,' A-Rod told the Spartans, which isn't exactly correc...

The players have the right to appeal the decision within three business days

Young is coming off his worst game as a Sooner and will try and bounce back vs. the Cowboy...