Weekend Visitation: Duke prepares for elite recruits
Duke has its biggest recruiting weekend in a very long time, as the Blue Devils welcome three top-12 recruits to campus.
• 4 min read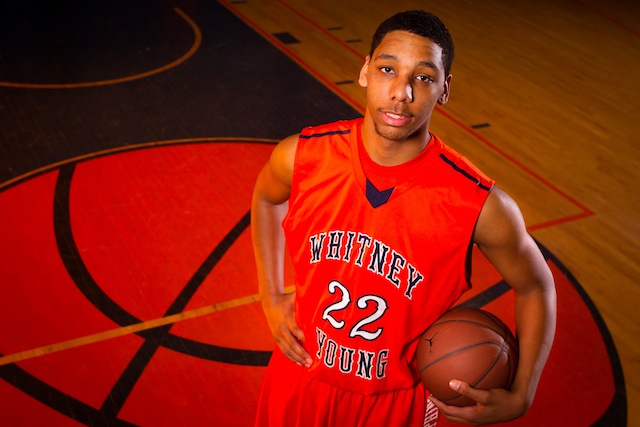 After a monster group of recruit visits last weekend, things are quieting down for the next few days -- if only slightly. Duke has one of the best groups of visitors we've seen in a long time, while several other key prospects are taking visits this weekend as well. Each Big East school is having its Midnight Madness on Friday, too. 
Duke's class could hinge on this weekend
Duke had its Midnight Madness festivities last weekend, but Friday begins its big recruiting weekend. On campus for the next three days will be elite package deal Tyus Jones (No. 5 in 247Sports Composite) and Jahlil Okafor (No. 1), along with fellow five-star prospect Justise Winslow (No. 11). For a long time, Jones and Okafor were thought to be favoring Duke, with nearly all signs seeming to point to those two ending up in Durham. Over the past couple of months, though, Kansas has made a huge push for both prospects, and some even say that Okafor is favoring the Jayhawks. With that said, the two continue to insist they are playing together in college – meaning it's likely going to come down to Kansas and Duke. The two tripped to Lawrence last weekend, and make their final official visit this weekend.
As for Winslow, the Houston native continues to go through the process. Duke and Arizona have been the main contenders for the most part, although Florida is a serious threat as well. UCLA is also in the mix.
Illinois makes pitch to Cliff Alexander
For most of Cliff Alexander's (No. 3) recruitment, Illinois has consistently stayed in the hunt. Michigan State cycled in as the main threat for a bit, Kentucky emerged as a contender before fading away, and most people still continue to think Kansas is probably the leader. The entire time, though, it's been Illinois who has been right there for the top-five big man. Alexander has taken official visits to DePaul, Arizona, Kansas and Memphis, and will get his time in Champaign this weekend. A decision is expected to come in mid-November, so Illinois has to make up plenty of ground over the next couple of days. The Fighting Illini have a bit of a momentum after nabbing Leron Black (No. 42) and Quentin Snider (No. 36) in September, and the relationship Alexander has with current freshmen Kendrick Nunn and Jaylon Tate can't hurt.
James Blackmon heads to Indiana
When four-star shooting guard James Blackmon (No. 31) decommitted from Indiana back in August, nearly everyone immediately assumed he was going to eventually end up at Kentucky. After all, his father played for the Wildcats and they offered shortly after his decommitment. More than two months later, Blackmon is still on the market – and he's heading back to Indiana this weekend. He's taken official visits to Michigan and Kentucky (last weekend), and also unofficially checked out Michigan State. Could the prolific shooter end up back in Bloomington? The Hoosiers have their second chance this weekend.
Commitments coming soon for Booker, Travis
Missouri hosted Devin Booker (No. 26) on an official visit last weekend -- and the four-star shooting guard is heading back to Columbia for an official trip. With a decision coming soon, getting Booker on campus for back-to-back weekends can't hurt. Kentucky and Michigan are in the hunt.
Reid Travis (No. 35) is only a few weeks away from making his college commitment, with many thinking Duke could be the leader. However, the Minnesota native will take a trip to the in-state Golden Gophers this weekend. Richard Pitino will put the full-court press on Travis, who also is looking at Gonzaga and Stanford.
Big East schools welcome commits and underclassmen
The "new" Big East is officially opening for business on Friday, with each school conducting its Midnight Madness festivities. Several of the schools in the league already have quite a few commits, and Seton Hall and Providence are both bringing their pledges to campus. Providence will welcome Jalen Lindsey (No. 67), Ben Bentil (No. 94) and Paschal Chukwu (No. 61), while Seton Hall has Isaiah Whitehead (No. 15), Angel Delgado (No. 44) and Khadeen Carrington. St. John's is bringing four-star junior Isaiah Briscoe (No. 18) to campus.
Notes:
-- Michael Chandler has committed to Louisville, Xavier and UCF at one time or another, but his next pledge could stick. The junior college big man is visiting Oregon this weekend, and many people think a commitment to the Ducks could be coming too.
-- Arizona is off to a good start in the 2014 class, as the Wildcats have commitments from Craig Victor (No. 29) and Parker Jackson-Cartwright (No. 56). This weekend, Sean Miller will welcome junior college guard Kadeem Allen to campus.
-- North Carolina has its Late Night with Roy on Friday, but the Tar Heels already have three five-star prospects wrapped up in Justin Jackson (No. 9), Theo Pinson (No. 19) and Joel Berry (No. 18). They will have some younger players on campus, including 2016 stud Harry Giles.
Gamecocks coach Dawn Staley says the she only wants an invite to the NCAA Tournament

Goodwin is making the most of his chance at Florida Gulf Coast after he was forced to leave...

The Wildcats' junior guard looks excellent so far
Mizzou's season hinges on when one of the top freshmen in the nation returns to the court

A JUCO player kept shooting baskets while the national anthem played and was later booted

Trump was appreciative he got the 'thank you' he wanted