Weekend Visitation: Five-stars Alexander, Oubre head to Kansas
Kansas is the major player this weekend, with official visits coming from five-star prospects Cliff Alexander and Kelly Oubre, along with stud wing Malik Pope.
• 2 min read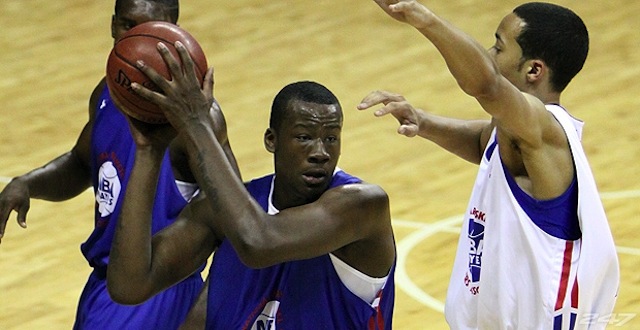 As October heats up, commitments have begun flying off the board left and right. Two more four-star players are announcing on Friday, with Donte Grantham picking Clemson over Michigan, and big man Chinanu Onuaku choosing between Louisville, Georgetown and Miami. Don't be expected if a couple more players pop over the weekend, too.
Loaded weekend at Kansas
All eyes will be on Lawrence, Kan. this weekend, as multiple five-star prospects are descending for "Late Night in the Phog." The headliner is top-five big man Cliff Alexander, who has officially visited DePaul and Arizona, and still has visits scheduled to Illinois and Memphis. Meanwhile, Michigan State is also in the mix despite not getting an official trip. Kansas is the leader. Joining him is Kelly Oubre, who has Kansas and Kentucky atop his list. He's going to be at Big Blue Madness at Kentucky in two weeks, so Kansas needs to make an impression. Malik Pope is also on the visit list, after the west coast wing tripped to San Diego State last weekend. Top-five prospect Myles Turner was supposed to visit this weekend, too, but he is attending USA Basketball tryouts instead.
Indiana has list of visitors for Hoosier Hysteria
Kansas isn't the only school getting targets on campus for Midnight Madness festivities. Indiana is conducting Hoosier Hysteria on Friday night, and Tom Crean has plenty of prospects visiting. Most of the visitors are in the younger classes, but the big fish is 2014 forward Devin Robinson. After missing out on Goodluck Okonoboh on Thursday, the Hoosiers need to bounce back in a major way. Robinson has visited Notre Dame and Oklahoma State, with trips to Florida and Connecticut still on the docket. Indiana is thought to be among the favorites for his services. Five-star junior Malachi Richardson is another big name visiting.
Booker heads to Michigan
Top-30 guard Devin Booker made some new this week by announcing that he was going to make his college decision on October 31. Then information came out that he didn't actually set an official date, and still wanted to visit Michigan and Missouri. He has already tripped to Michigan State and Kentucky. First up will be a visit to Michigan this weekend. The Wolverines have some momentum after landing Kameron Chatman earlier this week, but they need to make up ground on Kentucky for Booker.
Notes:
-- It sounds like Bonzie Colson could make a decision as early as this weekend. The New England big man has trimmed his list to Notre Dame and Florida State, and has visited both campuses.
-- UCLA made up ground for Los Angeles center Thomas Welsh by bringing him in for two visits recently, but California is also atop the list. This weekend, Colorado gets its chance to make a move.
Gary Parrish and Matt Norlander spend some time on the SEC, too

Having shocked Kansas at Allen Fieldhouse, Duke legend Bobby Hurley is coaching the Sun Devils...

Jay Wright's undefeated Wildcats are now No. 1 in the Top 25 (and one)
Coach K's Blue Devils are the fourth preseason top-10 team to lose to a sub-75 KenPom team

TCU, which downed Nevada late Friday, continues to flourish under second-year coach Jamie...

The fans rushed the floor and celebrated after Taylor University scored its 10th point of the...