Weekend Visitation: Johnson trips to USC, Alexander eliminates Mich St.
After a wild few days in recruiting, the weekend is here -- which means more official visits and unofficial trips.
• 2 min read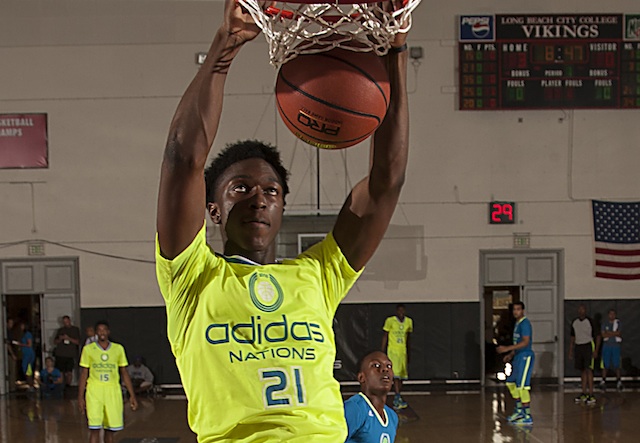 Things are really starting to sort themselves out among the top players in the class of 2014. Once Trevon Bluiett commits on Friday, that will be five top-50 players that have committed in the past three days, with Devin Robinson (Florida), Kevon Looney (UCLA), Devin Booker (Kentucky) and James Blackmon (Indiana) all making their pledges recently. There are only about 13 players in the top 100 still on the board – although eight of them are among the top 13 in the 247Sports Composite. Here are the visits to watch this weekend:
USC gets its crack at Stanley Johnson
I don't expect Stanley Johnson to make a decision until the winter, but he continues to go through his recruitment. Ranked No. 6 in the 247Sports Composite, Johnson will be one of the most sought-after prospects once the dust settles in the early signing period. He has visited Arizona and went to Kentucky's Big Blue Madness, but this weekend he stays on the West coast and visits USC.
Oregon and Florida are also on his list of finalists, but it looks like a three-team race for Johnson's services. Arizona is considered the favorite, but the Trojans can throw some doubt into that with a big weekend.
Thomas Welsh goes back to California
An interesting recruitment to handicap is Thomas Welsh, a 7-foot center from Loyola (Calif.) who is ranked No. 69 in the class of 2014. He has taken official visits to California, UCLA and Colorado already, and also took multiple unofficial trips to UCLA recently. However, the Bruins have commitments from Looney and big man Gyorgy Goloman and Colorado has one from Tory Miller. This weekend, Welsh goes on an unofficial visit to California, and the Golden Bears will look to get some momentum. A visit to Stanford could also be in the works, although the Cardinal picked up a commitment from top-100 big Michael Humphrey this week.
Cliff Alexander cancels trip to East Lansing
Cliff Alexander, the No. 3 prospect in the class of 2014, is set to make his college announcement on Nov. 15. He has taken all five of his official visits: DePaul, Arizona, Kansas, Memphis and Illinois. This weekend, the 6-foot-9 Curie (Ill.) big man was expected to go on an unofficial trip to Michigan State – but that changed on Thursday, when Alexander said he was no longer considering the Spartans and wouldn't go on any more visits. Kansas and Illinois have solidified themselves as the top two in the race. Some word behind the scenes has indicated DePaul has a shot, but it looks like the Jayhawks and Illini are in a battle. 
Van Gundy spoke out against the governing body and called the one-and-done rule 'racist'

The Spartans finished the regular season with 12 consecutive wins

The Wildcats could look like a completely different team come Selection Sunday
Southern California also helped its NCAA Tournament selection hopes

The Cornhuskers, UCLA and NC State all look to improve their NCAA Tournament resumes

Our advanced computer model simulated Sunday's Wisconsin vs. Michigan State game 10,000 ti...