Weekend Visitation: Okonoboh, Winslow take trips
Goodluck Okonoboh preps for two visits, while Justise Winslow heads West -- and much more.
• 3 min read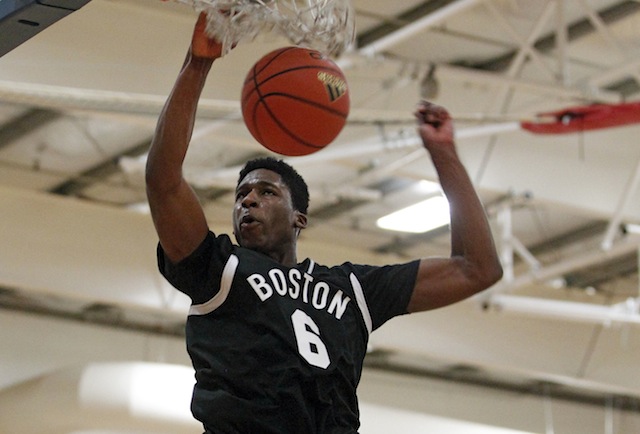 After a quiet few days of visits due to a weak college football slate, this weekend starts to heat things back up. There are several key trips taking place, although one of the key storylines involved a canceled official visit – albeit one that was fairly expected. Who is on commit watch? Here are the biggest things to keep an eye on.
Okonoboh prepares for back-to-back trips
Some thought five-star big man Goodluck Okonoboh could have committed during his official visit to Indiana two weeks ago, but he came away from Bloomington still open in his recruitment. He will now head on two straight official visits, going to Ohio State Friday though Sunday, and then immediately going to UNLV until Tuesday. Florida is also involved, while Duke's interest seems to have waned since the Blue Devils made his final list of five. Indiana head coach Tom Crean did pay Okonoboh a visit on Thursday, though. Big man Elbert Robinson will also be in Columbus this weekend. Robinson has tripped to Texas A&M, Georgia Tech, Nebraska and LSU.
Winslow heads out to Westwood
Justise Winslow, one of the top small forwards in the 2014 class, has been on the road back-to-back weekends, checking out Texas A&M when it faced Alabama two weeks ago and then tripping to Florida last weekend. Up next is UCLA, which is one of the final eight schools on his list. Arizona and Duke are thought to be the frontrunners, although the Gators potentially made up some ground during his Gainesville visit last weekend.
Onuaku makes surprising trip to Georgetown
As of Wednesday, it looked like Miami and Louisville were going to battle it out for Riverdale Baptist (Md.) center Chinanu Onuaku. Moreover, it seemed like a decision was coming soon for the top-75 prospect. Then on Thursday, he suddenly decided to make the short trip to Georgetown this weekend. Can the Hoyas change anything with Onuaku's decision? Reports have him possibly making a commitment as early as next week.
Louisville moves to contingency plan at point guard
With Quentin Snider and Jaquan Lyle both decommitting from the 2014 class, Louisville has had to move to Plan B in its hunt for a ball-handler for next season. Sam Cassell Jr. seems to be that target. The junior college prospect isn't a pure point guard, but he can play both backcourt positions. He originally signed with Maryland out of high school, but failed to qualify and is now at Chipola (Fla.). Connecticut, Missouri and Marquette are also in the mix, but Louisville will look to make its move this weekend.
Tyus Jones cancels trip to Kentucky
When a top-five prospect decides not to go on a visit to arguably the hottest program in the country, it catches everyone's attention. However, while the headline is eye-catching, it's not all that surprising. Once Kentucky received a commitment from Tyler Ulis, it no longer needed a point guard in the 2014 class – and the Wildcats also weren't considered one of the favorites for Tyus Jones' commitment. Duke is still the likely leader, although programs have tried to break up the package deal of Jones and Jahlil Okafor. Jones is set to visit the Blue Devils and Kansas in October.
Notes:
-- Can Notre Dame make a major impression on Bonzie Colson? The Fighting Irish are considered by some to be the favorite, although the New England big man has already visited Florida State and Pitt, while Connecticut and Miami are also in the mix. Michael Humphrey will also be in South Bend this weekend.
-- While Kentucky has been rumored to be the favorite for James Blackmon ever since he decommitted from Indiana, the four-star shooting guard will visit Michigan this weekend.
-- Minnesota could be the favorite for Josh Martin after his visit last weekend, but the Seatatle native will visit Pittsburgh this weekend before deciding. He also tripped to Florida State.
-- Oregon has a couple of quality prospects on campus this weekend, with Joe Burton and Ray Kasongo both making the trip to Eugene.
-- Adonys Henriquez trimmed his list to five earlier this week after visiting Butler, but some consider UCF to be the favorite. He will visit the Knights' campus this weekend.
-- Harvard has been quiet in this class, but the Crimson have a big weekend ahead. Among the visitors are Justin Gray, Andre Chatfield, and coveted forward Chris Egi.
-- Riley LaChance's stock has risen with the lack of point guard prospects on the board, and he will visit Iowa this weekend. LaChance tripped to Minnesota last weekend.
It's difficult to imagine an athletic director giving the Hall of Famer another chance

The recruiting scandal has cost Rick Pitino his job as coach of the Cardinals

Pitino's lawyer fought for his client's job Monday
These teams who have the potential to pull some upsets should they make it to the Big Danc...

Gary Parrish and Matt Norlander explain how and why UNC escaped penalty

J'Raan Brooks, a top-100 player, says he's reassessing his options