Weekend Visitation: Quiet weekend highlighted by Winslow and Florida
A light college football slate means a light official visit schedule for college hoops recruiting.
• 2 min read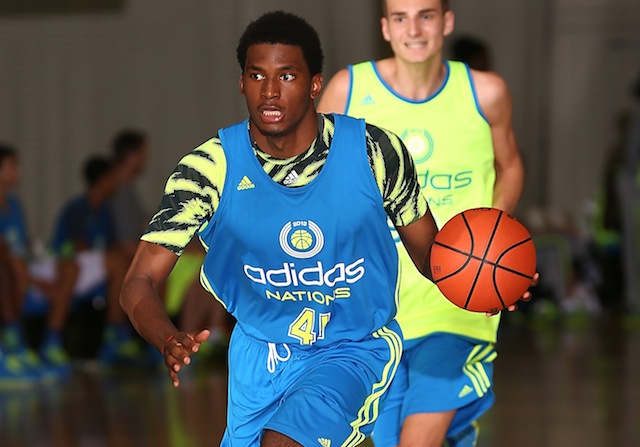 Normally, we don't make too many references to college football on this side of the aisle. It doesn't really impact what we do on a day-to-day basis. However, the thoroughly mediocre college football schedule this weekend has meant that there aren't too many key official visits taking place in basketball recruiting. With that said, there are a few noteworthy ones.
Florida looks to make impression on Winslow
Five-star small forward Justise Winslow has been quiet on the recruiting front, although Duke and Arizona have been thought to be the leaders for some time now. The Wildcats might have the edge right now, but Florida will look to put a dent in that lead this weekend. Winslow tripped to Texas A&M last weekend, and is expected to see UCLA next weekend. Four-star point guard Chris Chiozza is also making the voyage to Gainesville; he committed back in May.
Devin Robinson continues official visit jaunt
Devin Robinson is starting to sort things out with his recruitment, and the small forward is ready to head on his second official visit. Robinson, whose stock skyrocketed in the spring and summer, tripped to Oklahoma State last weekend and is now headed to Notre Dame this weekend. The Fighting Irish are squarely in the mix for Robinson, although they need to make a good impression. Robinson will be at Indiana for Hoosier Hysteria, then Florida and Connecticut in October as well. 2015 prospect Matt Ryan will also be on campus.
Connecticut continues to look for backcourt players
Connecticut has not had a good run with perimeter players in the class of 2014 since landing Daniel Hamilton in May, striking out with both Devin Watson and Quentin Snider at point guard, also losing out on wing Terry Larrier to VCU earlier this week. This weekend, the Huskies will try to make some headway with recent Louisville decommit Jaquan Lyle and junior college prospect Sam Cassell Jr. Lyle is also expected to visit Kansas and Memphis for their Midnight Madness festivities. Cassell Jr., who couldn't qualify at Maryland and instead went to Chipola (Fla.), will trip to Louisville next weekend.
Tum Tum heads to Indiana
After last week's run of point guard commitments, the stock of Lourawls "Tum Tum" Nairn went up quickly. After Tyus Jones, he might be the best lead guard left on the board – and Michigan State and Indiana have turned up the heat on him. He took an official visit to East Lansing last weekend, and now heads to Bloomington to see what the Hoosiers have to offer. Michigan State might have the edge in this one right now. 
Notes:
-- UCLA is on the hunt for a big man, and the Bruins will have a chance to outduel California and Stanford as Thomas Welsh visits this weekend.
-- Elbert Robinson has been on visits every weekend, and LSU is the one planned for the next couple days. He's tripped to Texas A&M, Georgia and Nebraska.
-- Riley LaChance is another guy whose stock is rising, and Minnesota gets him on campus this weekend.
-- After trips to Michigan and Oregon, Kameron Chatman has plans to visit USC this weekend.
-- Michael Humphrey is still pondering his choices, although he's in the midst of a long visit stretch. He's already been to Vanderbilt, and he will trip to Stanford this weekend. Notre Dame is on the docket for next weekend.
-- Creighton gets Josh Cunningham this weekend.
Southern California, ranked No. 8 in Sunday's Top 25 (and one), travels to face Vanderbilt...

Simons, 18, is a former Louisville pledge who is suddenly eligible for the upcoming draft

The Blue Devils improved to 4-0 in an easy win vs. Southern.
If LiAngelo Ball didn't come from a famous family, we might think differently of him

Ball significantly downplayed President Trump's role in helping get his son back to the U....

Discussing the one-and-done rule -- plus Michael Porter Jr.'s injury and Billy Preston's c...