What a difference a week makes for Roy Williams and North Carolina
North Carolina spent last Sunday as college basketball's biggest loser, then spent this Sunday as college basketball's biggest winner. It's one of the great things about this sport -- watching teams adapt and make people reconsider everything they thought they knew.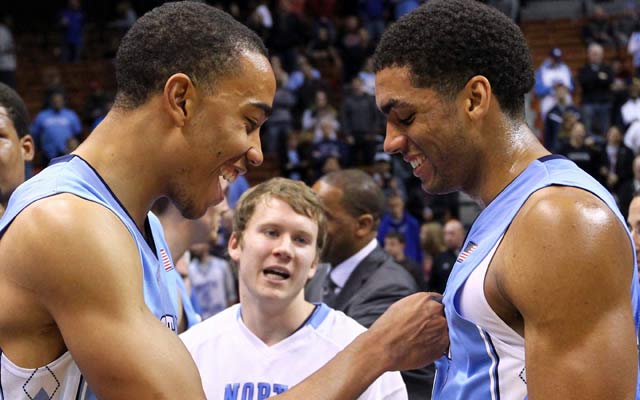 UNCASVILLE, Conn. -- The season is young and has been mostly void of headline-grabbing upsets. But North Carolina suffered one last Sunday, and the fallout was pretty wild.
Belmont?
At the Dean Smith Center?
Regardless of the circumstances, that's never supposed to happen. But it did happen. And the byproduct was six days of folks -- myself included -- questioning the Tar Heels' roster and team in general. Almost nobody chalked last Sunday up to just a bad 40 minutes of basketball because last Sunday seemed to suggest so much more. The loss -- a home loss to an OVC school! -- highlighted how limited UNC seemed to be without P.J. Hairston and Leslie McDonald, and it served as televised evidence that Roy Williams was being forced to play talented prospects out of position and walk-ons serious minutes.
Everybody drew big conclusions from that loss.
Again, myself included.
And the biggest conclusion was this: North Carolina just isn't good enough.
"Yeah, we heard that," said UNC forward J.P. Tokoto. "We definitely heard that."
And with those 175 words, I hope, you now understand the context with which the Tar Heels entered this Sunday's title game of the Hall of Fame Tipoff here at the Mohegan Sun. They were barely ranked in the AP poll, unranked in the Top 25 (and one) and expected to pose little resistance to Rick Pitino's third-ranked Louisville Cardinals, a team that entered with a 21-game winning streak dating back to last season's run to the national title. UNC was a 10-point underdog at tip, and, I suspect, lots of folks were laying those points.
But then something funny happened.
Marcus Paige continued to show he can be a serious scoring threat, Kennedy Meeks muscled his way to his first double-double, and the Tar Heels dominated Louisville in the paint while recording a 93-84 win that was, on some level, just as surprising as last Sunday's result.
"We came here," Paige said, "with the mindset that we could change our season."
And that's exactly what they did.
So now the rest of us must change (or, at the very least, reconsider) our positions on North Carolina, and this really is one of the great things about college basketball -- the sheer unpredictability of certain things, and how weird results in November can spark hope within one team without seriously damaging the other.
You mind if I take that point-by-point?
Point No. 1 -- on the sheer unpredictably of the sport: There were no tangible reasons to think North Carolina was capable of beating a team like Louisville or that Louisville was susceptible to losing to a team like North Carolina. On paper, the Cardinals seemed to have better guards and better bigs, and, statistically speaking, they absolutely had a better offense and better defense. So while I realize there are probably some UNC fans who just knew their Tar Heels would smoke Louisville, let's not lie to each other. It was illogical to predict that this game would go this way. And yet North Carolina won easily.
Point No. 2 -- on how a result like this can spark hope within one team without seriously damaging the other: College football is a sport that I enjoy immensely, as do millions and millions of others. But its greatest flaw -- and it'll still be this way, to some degree, even with a four-team playoff -- is how one bad game with a surprising result can effectively remove a school's preseason goals from the table. Alabama appears to be the nation's best team and program. But what if the Crimson Tide would've lost early at Texas A&M? Or what if the Crimson Tide lose this week at Auburn? The former likely would've ended, and the latter probably would end, their realistic hopes of becoming champions. And isn't that silly bordering on crazy and wrong?
College basketball has no such issues.
In this sport, you can lose on one Sunday to a Belmont, then spend the next Sunday beating a Louisville, and neither of those things will absolutely determine your future. The loss hurts and the win feels great, but they're both just part of a larger puzzle that won't be completely assembled until March or April. You can endure a week of being questioned by me and people like me, then make us reconsider everything we thought we knew.
It's awesome stuff.
And it's especially satisfying for those directly involved.
"It has not been fun in every way, shape and form," Williams said when asked about his offseason and the early part of this season. "But today, out on that court, watching those kids and their excitement, bumping around with them there, and then going into the locker room and celebrating ... that's what I coach for -- to have those feelings of being with a group of kids who really feel like they accomplished something. That is what I coach for."
The Sun Devils make a big jump and the Jayhawks slide after ASU pulls the big upset

Arizona's big man from the Bahamas balled out against two talented teams

Coach Shaka Smart doesn't expect him to be out for an extended period of time
Jackson isn't showing the Sun Devils much respect after beating KU

One AP voter must not know ASU is undefeated with wins over the Jayhawks and Musketeers

Duke and Kansas take a hit in the coaches poll