What-to-know tourney previews: America East Conference
Stony Brook won the league by three games, but the Seawolves have been bounced in the title game each of the past two seasons. Can the Sea Wolves finally break through?
• 1 min read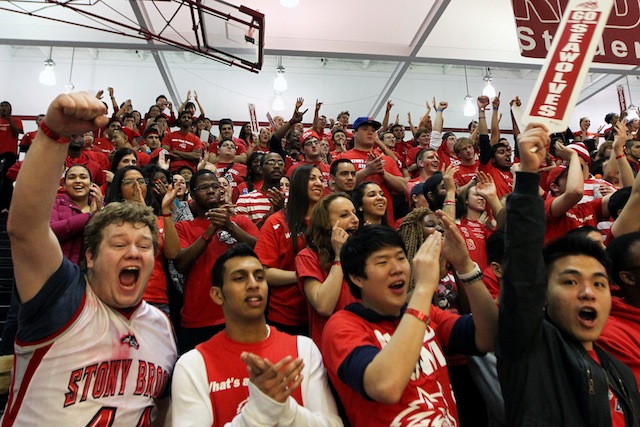 AMERICA EAST CONFERENCE TOURNAMENT BRACKET
1. Is this the year Stony Brook finally breaks through?
The Seawolves have reached the championship game of the conference tournament the past two seasons, but have fallen both times -- including last year's home defeat to Vermont. This season should be different. Stony Brook is clearly the best team in the league, with experience across the board, a leader and glue guy in Tommy Brenton, and a legitimate go-to-guy down low in Jameel Warney. They beat the teams seeded two-through-four by an average of 16 points at home.
2. Who else is in the mix?
One of the usual suspects, Vermont, made the big dance in 2010 and 2012, beating the Seawolves on the road in the title game a season ago. This season, it finished three games back of Stony Brook, but the Catamounts control pace and get to the free-throw line. They won't be afraid of any opponent. Hartford won six of its final eight games and has a stud in Mark Nwakamma, while Albany has a solid duo in Mike Black and Jacob Iati. Moreover, with homecourt advantage until the finals, the Great Danes could be a sleeper.
3. Where is Boston University?
The Terriers, which knocked out Stony Brook in 2010 and 2011 and also reached the NCAA tournament in 2011, were banned from conference championships last July. Boston University is moving to the Patriot League next season, and therefore is not allowed to participate in the America East's postseason tournament. This year, the Terriers won nine of their final 11 games and have one of the league's best scorers in D.J. Irving.
___________________________________________________________________________
Schedule: March 8-10, 16 -- quarters and semis at Albany; high seed hosts final
Title game: Saturday, March 16 at 11:30 a.m. on ESPN2
THREE BEST PLAYERS  
Tommy Brenton (Stony Brook)

Brian Voelkel

(Vermont)
Conference RPI: 22
KenPom.com rating: 21
Sagarin rating: 22
For more college basketball news, rumors and analysis, follow @EyeOnCBB on Twitter, subscribe to our RSS Feed and subscribe to our College Basketball Newsletter. You can follow Jeff Borzello on Twitter here: @jeffborzello
The Big Ten Tournament is a week earlier than usual, so the regular-season schedule may look...

Arizona, Grand Canyon and Tulane are also in Barcelona and have reported to be accounted for...

The Kansas forward is no longer accused of walking out on an $88 tab
Cavaliers basketball coach tapes statement on behalf of his university and his city

Gary Parrish and Matt Norlander discuss all things Marvin Bagley and his immediate future

Which version of Grayson Allen will show up for Duke and other questions for every ranked...