What-to-know tourney previews: Southern Conference
Davidson rolled through the Southern Conference during the regular season, going 17-1 and winning most of the games by double digits. Can anyone knock off the Wildcats?
• 2 min read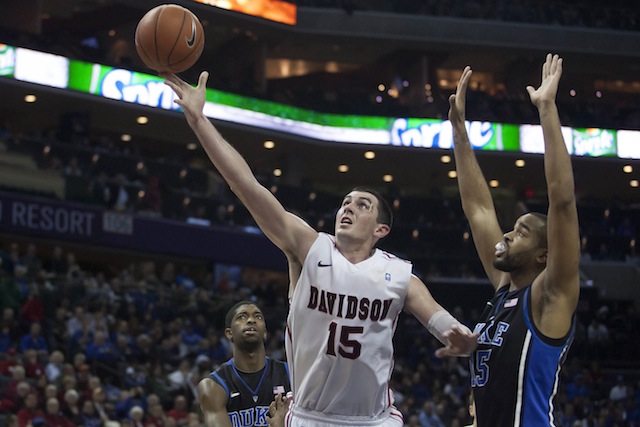 SOUTHERN CONFERENCE TOURNAMENT BRACKET
1. Will Davidson roll to the auto-bid, or will we see a similar situation to 2009 (and 2005)?
The Wildcats are the heavy favorite heading into the conference tournament, as they went 17-1 and won the league by three games. However, back in 2009, Stephen Curry and Davidson went 18-2 in Southern play -- but were bounced in the conference tournament by Charleston and relegated to the NIT. In 2005, Davidson went 16-0 and then lost in the league tourney. It would be a shame if this year's version of the Wildcats didn't make the NCAA tournament. Jake Cohen and De'Mon Brooks form a terrific forward tandem and create numerous matchup problems, and Nik Cochran and Chris Czerapowicz can really stroke the 3. Bob McKillop is an experienced head coach and will have Davidson ready.
2. When will Charleston finally take the next step and get back to the NCAA tournament?
Every season, it seems like the Cougars are going to be a serious contender for the league crown -- but they can never get over the hump and win the automatic bid. They haven't been to the NCAA tournament since 1999 despite winning six division titles and averaging nearly 12 conference wins per season since that year. This season might be tough to break through, though. The Cougars went 14-4 in league play but are a good distance behind Davidson. Andrew Lawrence is a solid guard, though.
3. Can anyone else strike fear into Davidson?
The Wildcats won their final 13 league games after falling at Georgia Southern in mid-January with only three of those games coming in single digits. They also avenged the loss to Georgia Southern by beating the Eagles by 35 in the season finale. Elon might be able to give the Wildcats a game, as the Phoenix take care of the ball and knock down 3-pointers. Lucas Troutman and Jack Isenbarger are a very solid duo.
__________________________________________________________________________
Schedule: March 8-11 in Asheville, N.C.
Title game: Monday, March 11 at 7 p.m., on ESPN2
THREE BEST PLAYERS  
Jake Cohen (Davidson)
De'Mon Brooks (Davidson)
Lucas Troutman (Elon)
Conference RPI: 27
KenPom.com rating: 26
Sagarin rating: 26
For more college basketball news, rumors and analysis, follow @EyeOnCBB on Twitter, subscribe to our RSS Feed and subscribe to our College Basketball Newsletter. You can follow Jeff Borzello on Twitter here: @jeffborzello
Neither the Bearcats nor the Bruins have a top-60 KenPom win, but that will change Saturda...

Northern Colorado will be on probation through 2020 due to academic and recruiting violati...

You might not see a projected NCAA Tournament bracket quite like this one anytime soon
The Wildcats, once written off after a three game skid, appear poised to enter Pac-12 play...

The Ducks are riding a three game winning streak yet are slight underdogs against the Bulldogs...

The Hurricanes are one of only a handful of unbeaten teams left in college hoops