What's up with Rasheed Sulaimon?
Rasheed Sulaimon was expected to blossom into a first-round pick this season for Duke. However, he's been in the doghouse and didn't even play against Michigan.
• 2 min read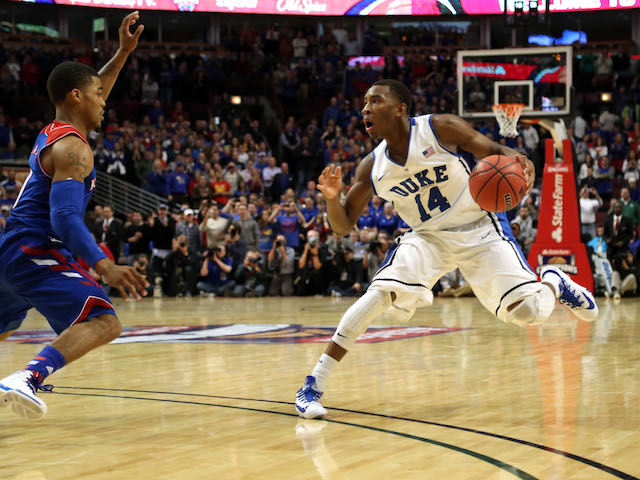 Duke looked very good in its win over Michigan on Tuesday night, getting 24 points and nine assists from Quinn Cook and holding Nik Stauskas to just four points on two shots. The Blue Devils looked like the top-10 team we all thought they should be.
But it was impossible not to notice one thing: where is Rasheed Sulaimon?
The 6-foot-4 sophomore from Houston started 33 games last season, averaging 11.6 points. He was expected to blossom into an all-conference player this season, and some preseason mock drafts pegged him as a first-round pick in June's NBA draft.
Yet on Tuesday, Sulaimon was nowhere to be found – he didn't play a single minute.
This doesn't seem like an isolated incident, either; Sulaimon has been struggling most of the season and seems to be squarely in head coach Mike Krzyzewski's doghouse.
Since scoring 33 points in the first two games of the season, Sulaimon has totaled 24 points in the last seven games. During that span, he is shooting 6-for-28 from the field and 1-for-9 from 3-point range. He has only started four of the eight games he played.
So what's the deal?
"As a man, he has to step up and accept what he needs to do," guard Tyler Thornton told Laura Keeley of the Raleigh News & Observer. "We need him. That's all I can really say about that."

"He knows what he needs to do, I don't really want to speak on that," he said. "He have a week and a half until our next game. We have a lot of practice time. Hopefully we can get what we need out of him in that span."
Krzyzewski didn't give much more than that.
Coach K on what Rasheed Sulaimon has to do to earn more PT: "he has to play better than the guys who played tonight."

— Laura Keeley (@laurakeeley) December 4, 2013
Sulaimon didn't give any quotes to the press (that I could find, at least), but he did tweet this last night.
Congrats to my coach, coach k, on becoming the winningest coach in mens basketball history! Honor to play under him! #G.O.A.T.

— Rasheed Sulaimon (@sheed_ctmd1) December 4, 2013
Now, this brings us to the next question: how much does Duke need Sulaimon going forward?
After all, Tyler Thornton has done an admirable job replacing him in the starting lineup, giving Duke a secondary ball-handler and a very good defender. Moreover, Andre Dawkins and Matt Jones stepped up off the bench against Michigan. Both are knockdown shooters, and Jones did a fine job chipping in to guard Stauskas.
With that said, I think Sulaimon is a huge key for Duke. He's been struggling mightily this season, but he showed last season he can be an excellent third option offensively and the team's premier perimeter defender. The Blue Devils have done a better job guarding penetration lately, although I wouldn't exactly deem it a strength just yet. Sulaimon is capable of getting his own shot, and can take pressure off Jabari Parker and Rodney Hood.
I have no doubt that Thornton and Dawkins and Jones can fill Sulaimon's shoes while he's in the doghouse, but I think the Blue Devils need him to be a Final Four and national title contender. 
However, it will be up to him to figure things out and snap out of his funk. 
Kentucky losing this game probably cost it a shot at earning a high NCAA Tournament seed

Freshman had 12 turnovers and 20 points as the Wildcats rattled him and kept OU on its hee...

Kentucky and UNC are just behind the Blue Devils and Jayhawks
Cal's form wasn't pretty, but when it works, it works

Josh Nagel has his finger on the pulse of Purdue basketball and locked in a play for Tuesd...

Gary Parrish and Matt Norlander discuss the latest in college basketball