Which team has the most to gain from Andrew Wiggins' commitment?
Andrew Wiggins has yet to make a college decision -- but which team would see the biggest boost with Wiggins in the fold?
• 4 min read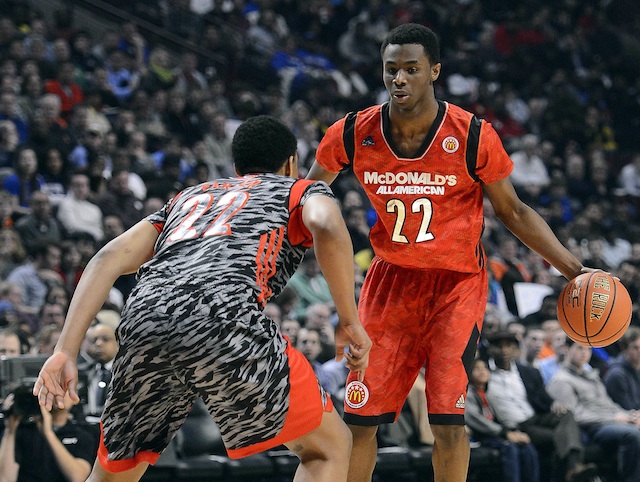 It's nearly time to close the book on the class of 2013. We've already started looking at the top 25 and All-American teams for the next college basketball season, while the top prospects in the classes of 2014 and 2015 are now the main targets in the recruiting world.
Yet we're still waiting on one player, one decision.
Not surprisingly, Andrew Wiggins has dragged out his recruitment longer than anyone else. What makes it more noticeable, of course, is that Wiggins is one of the best high school basketball players in the last decade. As a player who doesn't like attention, there is precious little information on where Wiggins will decide to go -- or even when he will finally make a decision.
Florida State, Kentucky, North Carolina and Kansas are the four finalists, and we've heard rumblings over the past few weeks that have Wiggins leaning to each of those schools. To be honest, Wiggins is playing everything very close to the vest -- and I'm not sure anyone outside his family truly knows the latest in the decision process.
Since it's not time to make predictions just yet, we're going to look at what each of the finalists would look like with Wiggins -- and what they look like without him.
Kentucky
Without Wiggins: The Wildcats will enter the fall as the No. 1 team in the country. They are bringing in arguably the greatest recruiting class of all time, led by Andrew and Aaron Harrison at the guard spots; James Young on the wing; Julius Randle at forward; and Dakari Johnson and Marcus Lee down low. That doesn't count the returnees coming back into the fold, led by Alex Poythress, Willie Cauley-Stein and Kyle Wiltjer. John Calipari has an enormous amount of talent at his disposal in Lexington.
With Wiggins: We would immediately begin to hear the talk about Kentucky going undefeated next season. Even though they will be No. 1 either way, Wiggins is the sort of next-level player that could mean the difference between an absolute juggernaut and a team that will have competition for No. 1 throughout the season. He would slot in at the small forward position, playing alongside Randle and Cauley-Stein up front, with the Harrisons in the backcourt. Wow. The only question with Kentucky would be allocation of minutes -- the talent level would be absurd.
Florida State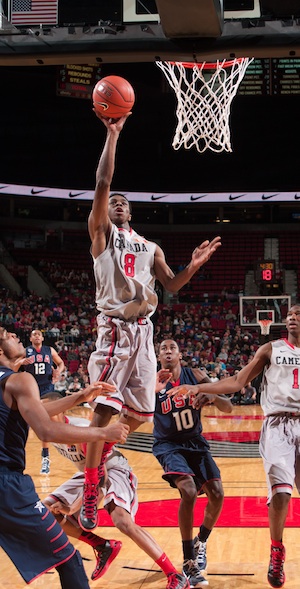 Wiggins is the best high school prospect in years. (Getty Images)
Without Wiggins: The Seminoles struggled this past season, taking a major step back on the defensive end en route to an 18-16 record. Moreover, they lose Michael Snaer, one of the few consistent players on the roster. On the bright side, there is a good amount of young talent in the program. Xavier Rathan-Mayes and Jarquez Smith are decent freshmen, while Okaro White, Devon Bookert and Aaron Thomas are back after playing extended minutes. They will fight for the upper half of the ACC.
With Wiggins: Wiggins would immediately vault Florida State into the top 25 for next season, as he would give Leonard Hamilton arguably the best player in the country. He's the type of player who can carry the Seminoles' offense for long stretches, and would combine with Rathan-Mayes to form an extremely potent wing tandem. If Florida State gets back to usual Hamilton defensive standards and he finds consistent point guard play, a Wiggins-led Seminoles team could be a Sweet 16 threat.
North Carolina
Without Wiggins: The Tar Heels were a much better team toward the end of last season, and will look to carry that over to 2013-14. Perimeter players Dexter Strickland and Reggie Bullock are gone, but Roy Williams has the pieces to play a more traditional lineup next season. James Michael McAdoo is back, as are Marcus Paige and P.J. Hairston. The biggest question could be which inside player steps up: Isaiah Hicks, Kennedy Meeks, Brice Johnson or Joel James. If McAdoo gets post help, the Tar Heels are a top-10 team.
With Wiggins: North Carolina would likely move from a fringe top-10 team to a club that has an excellent chance of reaching the Final Four. Wiggins could play the three or the four, which might enable Williams to continue playing with a small-ball lineup if he so chooses. A tandem of Wiggins and Hairston on the wing would be very difficult to contain. McAdoo not being the focal point of the defense would also help open up the offense. Wiggins would absolutely thrive in North Carolina's up-tempo system.
Kansas
Without Wiggins: The Jayhawks lose some of the most talent of anyone in college basketball. Five starters are gone from last season's Sweet 16 team, a group which won yet another Big 12 title and earned yet another No. 1 seed. Ben McLemore and Jeff Withey are the biggest players that need to be replaced. Bill Self returns Perry Ellis, Naadir Tharpe, Jamari Traylor, Andrew White and not much else. The addition of a top-notch recruiting class that includes Wayne Selden, Joel Embiid, Conner Frankamp, Brannen Greene and Frank Mason will help. It's a group that will be a borderline top-25 team -- but since the Big 12 is down, could still compete for a league title.
With Wiggins: Wiggins would be the go-to-guy Self so desperately needs for next season. Julius Randle would have been that player, but Kentucky beat out Kansas for his services. With Wiggins in the fold, the Jayhawks would once again have a team that could make a run at the Final Four. Ellis and Selden wouldn't have to be go-to options, while Tharpe's job would be easier with a consistent scorer like Wiggins on the wing. Kansas will have a good amount of talent and depth either way, but the addition of Wiggins would vault the Jayhawks much higher in the rankings. 
The Wildcats are no longer undefeated after losing to NC State

Brey's team overcame a 16-point deficit to top Wichita State in the Maui finale

No. 13 Irish led for only 22 seconds, but a pair of clutch free throws lifted them to a Maui...
Freshman overcomes plenty before he even puts on a jersey and then sparks signature win for...

Officials didn't buy the flop, but the Mastadons player gets an A-plus for his acting effo...

It's early, but the Vols appear to finally be heading in the right direction