Who can get 27 shots off the bench? Marshall Henderson, duh!
Marshall Henderson is coming off the bench for Ole Miss this season, which makes him a likely future Sixth Man of the Year award winner.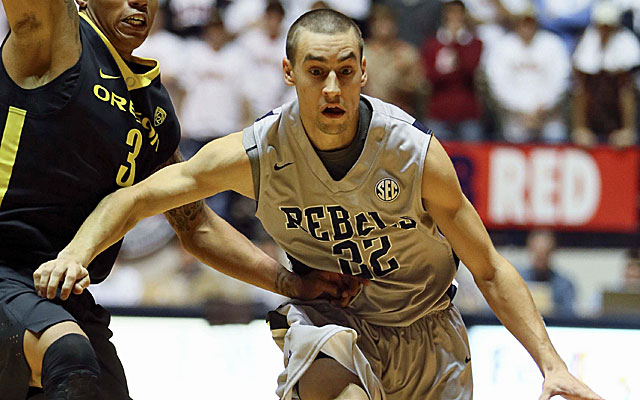 OXFORD, Miss. -- Oregon coach Dana Altman wrapped his portion of the postgame press conference, started walking out of the media room here at Tad Smith Coliseum, then crossed paths with Ole Miss star Marshall Henderson, at which point the two men shook hands and wished each other luck going forward.
A few seconds later, in an adjacent hallway, I asked Altman a simple question.
How'd you go about preparing for him?
"Obviously, not very well," said Altman, who then laughed the kind of laugh you laugh after you've just just recorded a nice road win in December. "We did a poor job on him."
I suppose that's true considering Henderson finished with a career-high 39 points. But it took him 27 shots to get those 39 points. And, either way, Oregon still won the game 115-105 in overtime. So that "poor job" Oregon did on Henderson didn't end up costing the Ducks, who got 23 points and 15 assists from senior Johnathan Lloyd and improved to 8-0 on the season despite the fact that Dominic Artis and Ben Carter are still serving nine-game suspensions for selling shoes -- in violation of NCAA bylaws -- that were provided to them by the university.
"We're getting by," Altman said.
Translation: Things are going pretty well.
So, yeah, this season is unfolding nicely for Oregon. The Ducks are ranked 13th in the current Associated Press poll and will likely advance when the rankings update Monday. They're an interesting mixture of four-year players and transfers who should compete with Arizona, Colorado and UCLA atop the Pac-12.
But, still, the story here is Henderson.
If only because the story is almost always Henderson.
He's the rare college basketball player who consistently attracts national attention even though he's neither a serious NBA prospect nor on a nationally ranked team. Granted, lots of that is rooted in his on-the-court antics and off-the-court issues, the latter of which led to Henderson being suspended last offseason and for four games this season. But some of that is because he's simply a blast to watch play basketball at this level.
It's well-established that Henderson will both take and make ridiculous shots.
So people watch when he plays and incessantly tweet the good and bad.
Truth be told, there's often more bad than good -- evidence being Henderson's lackluster career field-goal percentage, not to mention the four shots he missed in a span of 54 seconds in the final two minutes of regulation on Sunday. Those misses had the students seated directly behind me yelling at and pleading with Henderson to stop shooting, and Ole Miss was down 86-80 with 39 seconds remaining. It was bad. But then, out of nowhere, Henderson sank two 3-pointers in a span of 19 seconds and served as something of a decoy on the inbounds play that allowed Jarvis Summers to make a 3-pointer with less than a second remaining in regulation to tie the score and force overtime. It was terrific.
And that will forever be the issue with Henderson.
He will shoot Ole Miss out of some games. He will shoot Ole Miss into some games. Either way, he's going to shoot. And he has to be the early leader for Sixth Man of the Year, right?
That's something you might not know about Henderson.
He's been coming off the bench.
Whether he's been OK with it has gone unsaid because Henderson has been kept away from the media this entire season ... until Sunday, when Ole Miss officials made the senior guard available for the first time. Asked about coming off the bench, Henderson smiled and basically said it's cool even if he didn't anticipate it being cool.
"I haven't really cared like I thought I would," Henderson said. "My favorite players are J.R. Smith and Jamal Crawford, so I just take that mentality into it. Sixth Man of the Year? That's an award I don't have.  ... So I'm just gonna go with it. I trust coach."
And his coach also trusts him, which I realize sounds crazy considering Henderson is unpredictable on and off the court. But, despite what you might think or believe makes sense, Andy Kennedy does trust Marshall Henderson, and he'd love to have him another two years if he could because Henderson is the main reason Ole Miss advanced last March to the NCAA tournament for the first time under Kennedy, who is long past the point of stressing about shot-selection and other such things. Why? Because it's pointless with Henderson, that's why. It's completely and totally pointless. So Kennedy has essentially decided to take the bad with the good and ride it wherever it takes his team, and, don't ever forget, it's taken his team to more good places than bad and unprecedented levels of national attention.
"The only way to stop him from shooting is to sit him down, and I've tried that a few times here and there, and I'll continue to try that," Kennedy said. "But he's a volume guy; he's been a volume guy since Day 1, and he was a volume guy when I recruited him. I realized that. So I just try to put him in a position where he can help our team, and he's certainly done that."
Yes, Henderson certainly has helped Ole Miss' team. There's some bad sprinkled in, sure. But there's also a lot of good, which is something I'm reminded of each time I see Kennedy's SEC tournament championship ring that Henderson helped win last March.
The subpoenas are related with the FBI's ongoing investigation into corruption within the...

College basketball's recruiting scandal rocks Louisville again

Pitino was fired from his post as Louisville coach for helping funnel money to players
The seats of the winners who cut corners are hotter than the losers who do it right.

Good news for Huskies, Bonnies, Aggies, Tigers, Sooners and more.

Get caught up on the FBI's investigation into corruption in college basketball