Who's ready for a breakout season in 2013-14?
It's always fun to project which role players are ready to have star billing next season -- so we each picked five guys to watch.
by

Eye on Col Basket staff

• 10 min read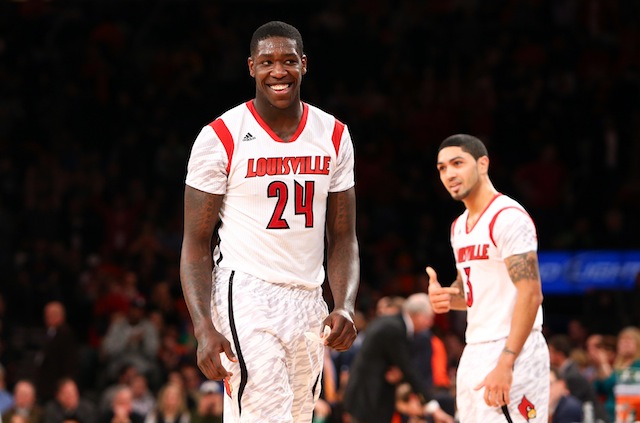 A year ago at this time, Kelly Olynyk and Jerrelle Benimon were both simply players coming off a redshirt season. Olynyk had averaged almost six points and four rebounds before sitting out, while Benimon played 10 minutes per game at Georgetown before transferring to Towson. Both players had some buzz -- but no one could foresee what would happen during the 2012-13 season.
Olynyk turned in an All-American season, dominating the interior for Gonzaga and helping lead them to a No. 1 seed in the NCAA tournament. He was impossible to stop for the Bulldogs, and is now a potential lottery pick in the NBA draft. Benimon was a force for Towson last season, averaging more than 17 points and 11 rebounds per game. He certainly will have plenty of attention next year. 
So who's next to take a major step forward and become a star player? The CBSSports.com college basketball staff -- Jeff Goodman, Gary Parrish, Doug Gottlieb, Jeff Borzello and Matt Norlander -- each chose five guys who could be primed for breakout seasons. The only stipulation was that the player couldn't average more than 8.5 points per game. 
Jeff Goodman
Perry Ellis came on strong down the stretch. (USATSI)
Perry Ellis, 6-8, F, Kansas -- Was a role player last season, but he could well be Bill Self's leading scorer next season after the Jayhawks lost their entire starting unit. Ellis is a versatile forward who showed glimpses when given the chance -- such as a 23-point performance against Iowa State in the Big 12 tourney. 
Last season: 5.8 ppg, 3.9 rpg, 13.6 mpg
Montrezl Harrell, 6-8, F, Louisville -- Came off the bench last season, but will likely become a starter and fill the void left by the departure of Gorgui Dieng. Harrell is long, athletic, can block shots and run the floor. He's not polished offensive, but what he does is get the ball off the glass (on both ends) and finish in transition. 
Last season: 5.7 ppg, 3.6 rpg, 16.2 mpg
Jerami Grant, 6-8, F, Syracuse -- In limited duty, the son of former NBA big man Harvey Grant was effective. However, there just wasn't much room for him due to the presence of James Southerland. Now Southerland, Michael Carter-Williams and Brandon Triche are all gone -- and Grant is a long, athletic forward who should get an opportunity next year -- and he'll take advantage. Especially if he can improve his mid-range jumper. 
Last season: 3.9 ppg, 3.0 rpg, 14.3 mpg
Buddy Hield, 6-3, G, Oklahoma -- Just snuck in under the requirement after averaging 7.8 points per game as a freshman last season. Lon Kruger will lose his top three scorers from last season -- Romero Osby, Steven Pledger and Amath M'Baye -- and that should give the Bahamas native the chance to shine. 
Last season: 7.8 ppg, 4.2 rpg, 25.1 mpg
Quenton DeCosey, 6-5, G, Temple -- Fran Dunphy didn't need him last season, but someone will need to fill the void from the loss of Khalif Wyatt -- and DeCosey may be the guy. He comes from the same high school as Jay Williams, and can really score the ball. He has the size, athleticism, ability to get to the basket and finish. 
Last season: 1.9 ppg, 1.1 rpg, 7.0 mpg
Gary Parrish
Willie Cauley-Stein, 7-0, C, Kentucky -- Cauley-Stein was the other big Kentucky signee from the Class of 2012, a 7-foot forward mostly considered a project and little more than Nerlens Noel's backup. But he showed signs of greatness last season and passed on being a first-round pick. Now Cauley-Stein should start alongside Julius Randle and help the Cats, possibly, win a second national title in three years.
Last season: 8.3 ppg, 6.2 rpg, 23.6 mpg
Perry Ellis, 6-8, F, Kansas -- Ellis had a modest transition to KU and was kinda caught in a numbers game, too. But he's positioned for a breakout season, if for no other reason than Kansas must replace all five starters. My guess: Ellis will be the Jayhawks' second-best player. (Yes, Andrew Wiggins will be the best.)
Last season: 5.8 ppg, 3.9 rpg, 13.6 mpg
Montrezl Harrell, 6-8, F, Louisville -- Louisville was so good and deep this past season that Harrell only averaged 16.2 minutes per game. But there were flashes of brilliance from this 6-foot-8 athlete, and he'll have an opportunity to develop into an All Big East-caliber player next season now that Gorgui Dieng is off to the NBA.
Last season: 5.7 ppg, 3.6 rpg, 16.2 mpg
Mitch McGary, 6-10, F, Michigan -- McGary was great in the NCAA tournament, meaning it's possible he's already broken through, so to speak. But the criteria here is that we can use any player who didn't average more than 8.5 points per game, and McGary didn't average more than eight points per game this past season. So he's eligible and, thus, a great pick, if you don't mind me saying.
Last season: 7.5 ppg, 6.3 rpg, 19.7 mpg
LaQuinton Ross, 6-8, F, Ohio State -- Deshaun Thomas left Ohio State early and now somebody has to get those 16 shots per game, right? Ross won't get all of them, nor should he. But this 6-foot-8 wing that averaged 15 points per game in the NCAA tournament will get a lot of them, and he should develop into somebody worthy of Big Ten accolades.
Last season: 8.3 ppg, 2.9 rpg, 16.9 mpg
Doug Gottlieb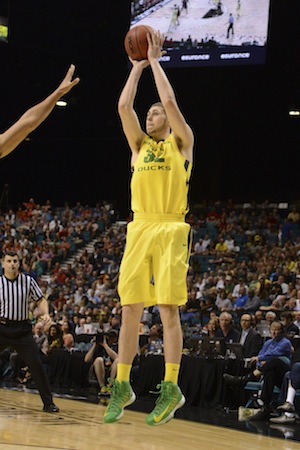 Ben Carter is an inside-outside threat. (USATSI)
Ben Carter, 6-8, F, Oregon - The frosh got some major burn early, then fell out of favor as the older Ducks took over during their Sweet 16 run. Carter is a former teammate of Shabazz Muhammad at Bishop Gorman in Las Vegas and was very well coached in high school. With Mike Moser as a 4/3 hybrid in the "pinwheel" offense, Carter can play both 5 and 4.
Last season: 2.4 ppg, 2.3 rpg, 10.4 mpg
Michael Cobbins, 6-8, F, Oklahoma State -- Cobbins really improved in conference play and with Philip Jurick gone to graduation, Cobbins should get closer to 32 minutes a game playing mostly an undersized 5. He can also face up and play the power forward spot. With all the attention that Marcus Smart and the guards will get, Cobbins should be a double-double guy for Oklahoma State.
Last season: 6.9 ppg, 6.1 rpg, 26.0 mpg
David Kravish, 6-9, F, California -- Kravish, a Kansas City area native, looked like he was 180 pounds as a frosh and though he got up to 215 pounds by his sophomore year, there is still room for physical and game maturation. A face-up shooter who went a month or so without hitting a shot, Kravish is a big key with Cal returning essentially everyone except Allen Crabbe. He needs to extend his range to the college 3 and become a lights-out 18-foot jump shooter.
Last season: 7.9 ppg, 6.9 rpg, 30.6 mpg
Shane Southwell, 6-6, G, Kansas State -- Southwell changed K-State for the better when he moved to the power forward spot; now he will have to carry the 'Cats on offense. KSU will press and have to ramp up the tempo with their losses to graduation and transfer, and expect Southwell to be the guy on offense.
Last season: 8.4 ppg, 3.8 rpg, 25.9 mpg
Perry Ellis, 6-8, F, Kansas -- While Kansas is excited about its additions and the Jayhawks think they can be even better than last year, Ellis showed signs of being a go-to, back-to-the-basket scorer late in the year. The Wichita product will be the focus of the KU offense, especially early in the season. 
Last season: 5.8 ppg, 3.9 rpg, 13.6 mpg
Jeff Borzello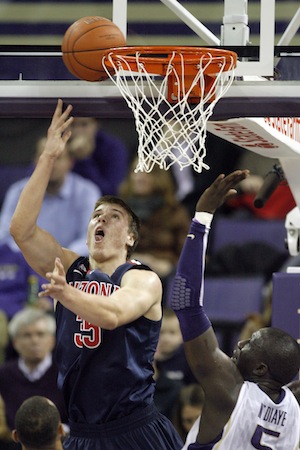 Kaleb Tarczewski was a dominant rebounder at times. (USATSI)
Anthony Gill, 6-8, F, Virginia -- The Cavaliers could be a sleeper next season, and the potential emergence of Gill is a major reason. He's a transfer from South Carolina who sat out last season, but people who watched practice said he's an NBA player. He's a finisher inside, and can guard multiple positions. Tony Bennett has two other guys who can break out, too: Mike Tobey and Justin Anderson.
2011-12 season: 7.6 ppg, 4.7 rpg, 25.3 mpg
Kris Dunn, 6-3, G, Providence -- Aside from Marcus Smart, Dunn was arguably the top point guard prospect in the class of 2012. He missed the first half of last season with a shoulder injury, but showed flashes of his potential late in the year. He is explosive with the ball and can consistently get to the rim. With a full offseason, Dunn could have his coming-out party.
Last season: 5.7 ppg, 3.2 apg, 27.2 mpg
Kaleb Tarczewski, 7-0, C, Arizona -- If the Wildcats are to be among the top 10 teams in the country next season, they'll need a big-time year from Tarczewski. He was excellent on the glass last season, especially on the offensive end. Tarczewski is a good shot-blocker, and he can finish around the rim. It would be a surprise if he didn't put up 12 points and eight boards next year.
Last season: 6.6 ppg, 6.1 rpg, 22.0 mpg
Shaq Goodwin, 6-9, F, Memphis -- If Goodwin can stay on the floor, he's a lock to increase his production. Foul trouble last season was a major issue for him, as was consistency late in the season. However, his numbers extrapolated over 40 minutes would be something like 14 points and eight rebounds per game. He's ready for the next step -- but will he get the minutes?
Last season: 7.4 ppg, 4.4 rpg, 20.7 mpg
Tonye Jekiri, 7-0, C, Miami -- This is a deeper sleeper than most, as Jekiri played fewer than seven minutes per game last season. While he's extremely raw on the offensive end, Jekiri runs the floor well and can block shots. He was also effective on the offensive glass in limited minutes. The Hurricanes have been solid at developing big men, and Jekiri works hard. He'll also have minutes with Reggie Johnson and Julian Gamble leaving.
Last season: 1.4 ppg, 1.6 rpg, 6.9 mpg
Matt Norlander
Briante Weber, 6-2, G, VCU -- College hoops fans who follow the sport from November through April know who Weber is. He's a defensive Swiss Army knife for the Rams, a guy who can play on the ball but also darts into lanes and makes the famed Havoc D work to its effectiveness. His role will be improved, and if VCU is going to make another NCAA tournament, he'll be a big-time reason why. 
Last season: 5.4 ppg, 2.7 spg, 20.9 mpg

James Robinson, 6-3, G, Pittsburgh -- The point guard is ready to bloom. A 6-foot-3 four-star player who broke into the offense well last season, he'll have full control of Pitt's offense next year. And with the Panthers entering the ACC, they'll need a leader -- no matter the age. Robinson has a regular name but he'll be household in the ACC by tourney time.

Last season: 6.1 ppg, 3.5 apg, 26.6 mpg
Dorian Finney-Smith, 6-8, F, Florida -- My only transfer player on the list. Finney-Smith was a four-star recruit who transferred out of Virginia Tech when Seth Greenberg was fired. He's a very solid 6-foot-8 player who will factor into the rotation with Mike Rosario, Kenny Boynton and, most notably, stretch-four Erik Murphy leaving the Gators due to graduation. Smith is a reliable rebound guy who will round out the frontcourt to what I think will be a more formidable 3-4-5 combo than what UF had the past two seasons. 

2011-12 season: 6.3 ppg, 7.0 rpg, 29.0 mpg

Brandon Ashley, 6-8, F, Arizona -- You could make the case that at least three Wildcats will have breakout years next season. Arizona is tearing at the seams with talent, and Ashley is the most tantalizing of all. Already projected as a 2014 first-rounder, the 6-foot-8 wing could double his points-per output if he can step back and shoot a little more, in addition to adding about 10 pounds of weight in the offseason. 

Last season: 7.5 ppg, 5.3 rpg, 20.5 mpg
Devonta Pollard, 6-8, F, Alabama -- He's going to have the opportunity, plain and simple. Ben Eblen and Moussa Gueye are transferring out as graduates, and Trevor Lacey -- who would've led Bama in scoring next season -- is also leaving the team. Pollard is a 6-foot-8, 200-pound forward who will have a lot of minutes and growing to do. Alabama will have an SEC schedule that's soft in the middle.  His minutes are going to go up, and within the SEC, "breakout player" is a reasonable label of expectation.

Last season: 3.9 ppg, 3.1 rpg, 17.9 mpg
CBS Sports HQ Daily Newsletter
Get the best highlights and stories - yeah, just the good stuff handpicked by our team to start your day.
Please check the opt-in box to acknowledge that you would like to subscribe.
Thanks for signing up!
Keep an eye on your inbox for the latest sports news.
Sorry!
There was an error processing your subscription.
Joeviair Kennedy was a freshman on Western Michigan's basketball team when a WMU student died...

Gary Parrish and Matt Norlander also discuss James Wiseman, CJ Walker and other elite prospects...

Jaden McDaniels has the body of a young Kevin Durant and might be the best NBA prospect in...
Los Angeles, which is building a covered stadium, was snubbed from Final Four consideration...

The big man, favored to ultimately pick Kentucky or Memphis, has some interesting rivals pushing...

Cole Anthony, son of UNLV great Greg Anthony, averaged 26.2 points at recruiting's biggest...