Why UCLA's buyout in Steve Alford's contract makes no sense for UCLA
UCLA wanted a buyout clause with Steve Alford that is "strong on both sides." My question for UCLA: Why was it necessary from the school's perspective?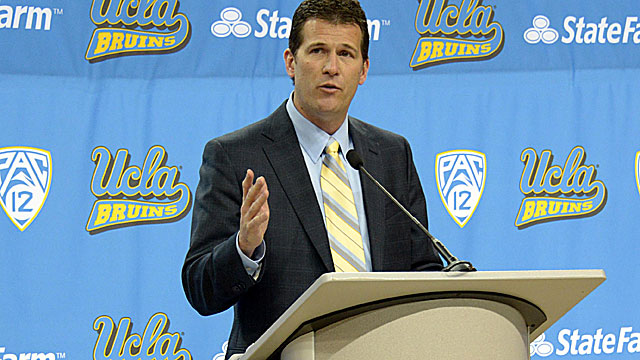 I've written in the past about how Steve Alford isn't the up-tempo coach UCLA tried to sell him as upon announcing his hiring, and I've explained that his lack of postseason success is interesting given that the Bruins removed Ben Howland last March, in part, because of his lack of recent postseason success.
But that doesn't mean Alford wasn't a good hire.
To be clear, if I were UCLA, I would've kept Howland, allowed him to build off the Pac-12 title he'd just won and coach what would've been a preseason Top 25 team this season. Sure, there were some rough spots for Howland in recent years. But I genuinely believe things at UCLA were trending upward, and I really do think Howland deserved to continue with the program he led to three Final Fours.
But whatever.
I'm not interested in arguing that point again.
This is a column about Steve Alford, and once UCLA decided it no longer wanted Howland, Alford made as much sense as anybody (especially after Shaka Smart and Brad Stevens both informally passed on the job). So Alford was a good hire, all things considered. I hope I've made that clear. But I still can't figure out why UCLA opted for what the Los Angeles Times this week described as a "mirror-image termination clause" that requires either side -- UCLA or Alford -- to pay $10.4 million to the other if it or he initiates a termination of the contract before April 30, 2016, and as much as $5.2 million if it or he inititiates a termination of the contract before April 30, 2018.
Does it make sense for Alford?
Of course it does.
He's now ensured of job security for at least the next three years and probably longer at a school with a history of firing winners, Howland merely being the most recent. Even if things go terribly (and I don't think they will, but even if they do), Alford can't be fired before the start of a fourth season without getting paid at least $7.8 million. That's a terrific situation for him to be in. So, absolutely, this makes a lot of sense for Alford.
I just don't know how it makes sense for UCLA.
I'm not even sure why it's necessary.
I realize New Mexico fans would probably tell me it's because Alford is a job-jumper, that the man agreed in principle to a 10-year contract with the Lobos last March just days before he accepted UCLA's offer. And I get that. But to them, I'd say, you're New Mexico and not UCLA. New Mexico is the type of place a succesful coach might voluntarily leave for the chance to work at a tradition-rich school like UCLA. But UCLA isn't the type of school a succesful coach would voluntarily leave for just about anything, which makes a buyout of this magnitude unneccessary bordering on idiotic from UCLA's perspective.
"We wanted the commitment to be strong on both sides," UCLA senior associate athletic director Mark Harlan told the Los Angeles Times. "We didn't want him going anywhere."
My question: Where on earth would Alford go?
He's scheduled to make $2.6 million per year -- that's more than Roy Williams makes at North Carolina and more than Jim Boeheim makes at Syracuse -- over the next seven years, and that number will surely increase if he wins because that's just how college athletics work. Succesful coaches get raises, almost automatically. So Alford is making a ton of money now, and he'll make even more if he wins. And so why would a man making a ton of money and enjoying succcess voluntarily leave UCLA?
Where would he go?
Howland knew he was entering last season on the so-called hot seat and still turned down different jobs for more money because he just couldn't bring himself to leave UCLA. In hindsight, he should've, and he probably knows that now. But that's not the point. The point is that Howland couldn't leave UCLA even when he should've left UCLA, mostly because ... have you ever been to Westwood (and Santa Monica)?
That's a hard place to leave, man.
It's beautiful.
When you combine the quality of life with the tradition and the natural recruiting base and the renovated Pauley Pavilion and a salary that ranks top-10 nationally, it would make no sense for Alford to ever leave UCLA if he were enjoying success, which would be a prerequsite to any other school wanting to hire him in the first place. Bottom line, nobody will want Alford unless he's great, and there will be no reason for him to leave if he's great, which is why this buyout makes no sense from UCLA's perspective.
All the "mirror-image termination clause" does is trap UCLA.
There's a scenario under which the school might want to remove itself from Alford if things go poorly, and now that's guranteed to be costly. But I can't see a realistic scenario where UCLA would ever be at risk of losing a succesful and well-compensated coach, meaning this enormous buyout is undeniably "strong on both sides" just like Harlan described. But it's only beneficial to one of those sides. And it's not UCLA's side.
After a close game against Michigan, Air Force is playing San Diego State with some moment...

Quickley played for John Calipari this summer with USA Basketball

A revamped Erwin Center is part of a $4.25 million upgrade to the Longhorns' hoops facilit...
Nov. 10 will be here before you know it so here's what you need to know

The league would be wise to treat that series like the ACC treats Duke-North Carolina

Pacific is penalized after the NCAA found academic rules were broken