Wichita State is no fluke, and they deserve to be ranked No. 1
Wichita State is 29-0 coming off a Final Four season. Yet they probably won't be ranked No. 1 in the polls. There's something wrong with this picture.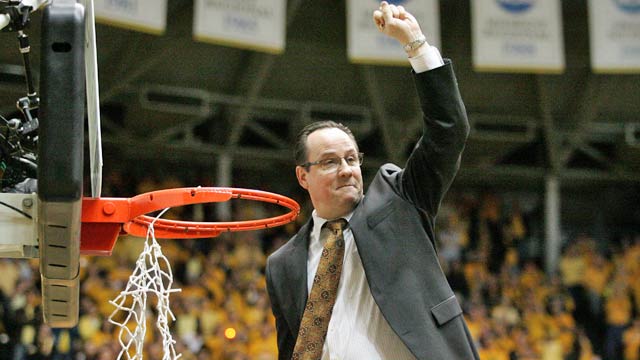 WICHITA, Kan. -- Geoff Murray and Scott Murrey were nursing more than pints Saturday afternoon. There was some indignation at the bottom of their glasses during happy hour at Deano's, a Wichita State watering hole.
The two thirty-somethings stood out because they were the only ones in the joint seemingly not dressed in black and yellow. It's not a good time to be a Kansas fan in a Shocker town.
"Bandwagon jumpers," Murray snarled at the mention of Wichita State fans.
"One Final Four and you turn around and it's like a ... snap," Murrey added. "All the sudden you act like you're a dynasty and a great program after one good year."
This is but one snapshot of the nation's only unbeaten team. It might as well be a portrait. Not an accurate one, mind you. Type in the words "schedule strength" and "Wichita State" and watch your Twitter feed explode.
You probably know the Shockers best by their zero in the loss column. It also matches the number of times they've been on GameDay.
When the polls come out this week the No. 3 Shockers likely won't be No. 1. That despite No. 1 Syracuse losing twice this week. No. 2 Florida has also lost twice, having won 19 in a row.
But it's one thing to say Wichita State won't be No. 1. The real question is: Do the Shockers deserve to be No. 1?
Of course they do. Why not? This isn't the BCS. College basketball polls are mostly meaningless fluff. Conversation starters. Dick Vitale doesn't choke on a hairball if it happens. Chill.
It all works out anyway. You might have noticed this sport decides its champion with a rather large national tournament, one that the Shockers came within two games of winning last season.
"Do we deserve to be No. 1?" Wichita State coach Gregg Marshall asked rhetorically following Saturday's 83-54 win over Drake. "I can't say that. But if not, let's just have two divisions."
All the bluebloods above the line, and the mid-majors below. A section of elitist fans, coaches and -- yes -- some media have already seen to it in regards to Wichita State. They'd have a better point if the Shockers weren't, you know, coming off a Final Four season.
"That doesn't count," Marshall said sarcastically.
It does and it should. The haters would be better clued in if they actually watched these Shockers pick apart teams with a withering press, multi-faceted rebounders and a rotation that goes 10 deep. The tragedy is, none of this new. Marshall is in his seventh season. He's won at least 25 in five of those seasons.
But on the same night the Shockers clinched their second Missouri Valley title in three years they were going up against Syracuse-Duke on national TV. Right up the road, Murray & Murrey's Jayhawks came closer to clinching a 10th straight Big 12 title with a win against Texas.
In the post-game Drake coach Ray Giacoletti immediately morphed into a Wichita State barometer. As in, how good are they?
"If people are skeptical about this team, it's on them," he said. "What else does this team have to prove?"
Wichita State at the top for just one stinking week wouldn't be violating the natural order of things. These Shockers are better than that 2004 St. Joe's team that made a similar undefeated run.
They are better than George Mason's 2006 Final Four team because they have staying power. Seven main contributors from last year's team returned to that deep rotation. Marshall crowed about the number of recruits watching all of the wonderfulness play out Saturday night.
Still, there is little chance they were watching the Valley's first No. 1 team since Larry Bird's Indiana State in 1979. At least for now. A No. 1 seed is more likely.
"We would love to be ranked No. 1," Marshall said. "That would be great. I'm like Jim Boeheim," when Syracuse was still undefeated.
"It wouldn't be a good thing to lose. We want to keep that zero next to our name."
So Marshall has embraced the undefeated chase. He digs his team being compared to Boise State and its BCS fight for respectability.
"I love Boise State," he said. "I watched them all the time, the Statue of Liberty against Oklahoma. We're the Boise State of college basketball."
As the victory total has swelled, Marshall has attached a corresponding name to each one. Win No. 23 was "Michael Jordan and 0." The 24th win was inspired by No. 24 Marshawn Lynch, "because he does it with his actions." No. 25? Richard Sherman, "because he plays angry."
 So do the Shockers, who use the phrase to define their style of play. Marshall appears on the scoreboard before games pointing at the camera like he's talking to his players.
"If we believe we belong and this is our time, it's going to happen. Play angry. Let's go."
 This is a program that has backed up that Final Four appearance with a 29-0 record in a high mid-major league. Yes, the Valley is down and Creighton is gone (to the Big East). But how is that Wichita State's fault?
 The Shockers just happened to be the last ones on the beach when the conference realignment tsunami hit. The trickle-down effect took away the Bluejays, which this season could have been their best potential resume builder. The Shockers can't help it if some of their non-cons (Tennessee, Alabama) have been largely non-impressive.
Their best win is over St. Louis almost three months ago.
Marshall says he's talking to four or five high majors for non-conference, home-and-home games in the future. While his team isn't fully respected in the polls, it is getting some love in the interest from potential future opponents.
"We would help their RPI," Marshall said.
But it's hard to win the national conversation when they can't even win state. The fact that Bill Self won't play Wichita State drives a lot of sports talk in these parts. Kansas State's Bruce Weber said he'd be open to it.
It might just be the state's best team -- not the one with the most NBA talent -- resides right here.
 "There's no doubt Wichita State could beat Kansas," Murrey conceded.
 "I think if they played Florida head to head, Florida would win seven of the 10. But as far as the polls go, Wichita State has earned it. They can't help that Creighton left and the Valley is crap this year."
 The competition for the Wichita State dollar is fierce in this town. Just a few blocks from Deano's is Larry Bud's. Owner Will Harmon says Wichita State basketball has sustained him when competitors would pop up vying for a portion of the sports bar dollar.
"The Shockers have probably pulled us through the hard times a couple of times," he said.
Harmon was also raised a diehard Jayhawk. It makes sense to ask him the question as well. No, the Shockers probably won't be No. 1 this week but …
"I think Wichita State deserves to be No. 1," he said.
The selection committee will again reveal what it is thinking ahead of Selection Sunday

Teams not in major conferences with a shot at an at-large NCAA Tournament bids

The nation's No. 3 player will commit Saturday and here's his impact on each of his finali...
Gary Parrish and Matt Norlander also preview the weekend and Zion Williamson's announcemen...

The Sun Devils started 12-0, but since then are 2-4 after Wednesday's loss to Stanford

Andrew Jones is Texas' second leading scorer