Wichita Watch: Shockers likely to cruise through MVC tourney
Will Wichita State slip up at the Missouri Valley tournament? It doesn't look likely.
• 2 min read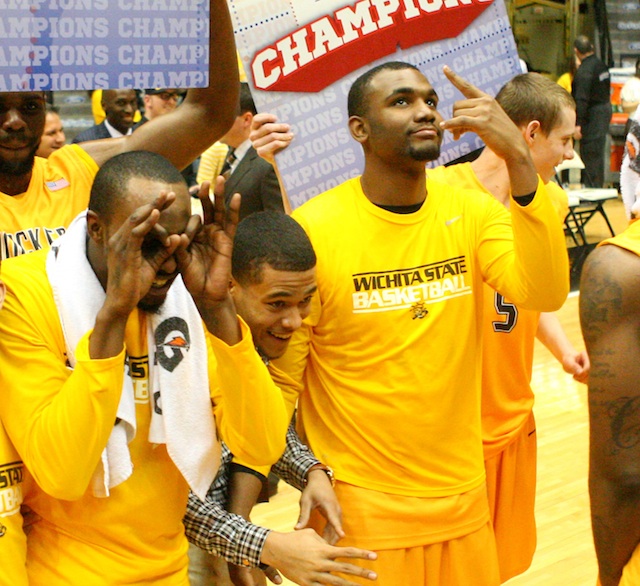 Latest in hoops: Top 25 (and one) | Bracketology | Bubble Watch
Welcome back to our feature, "Last of the Unbeatens," where we run through each of the undefeated teams remaining in the country – as well as where they might suffer their first loss. It changed over to "Wichita Watch" last week.
Wichita State finished the regular season at 31-0, the first unbeaten team since Saint Joseph's did it in 2004. The Hawks team lost to Xavier in their first game of the Atlantic 10 conference tournament – but it doesn't seem likely the Shockers will suffer the same fate.
Most of their regular-season games in the Missouri Valley haven't been all that close, with only one game decided by fewer than seven points – and that game came almost two months ago, at Missouri State. Wichita State hasn't seen a team stay within single-digits since Feb. 8, with three straight wins coming by at least 20 points. 
A Missouri Valley tournament championship would likely mean a No. 1 seed in the NCAA Tournament – and rightfully so. Wichita State has passed every test it's been given this season, and while the Shockers haven't beaten any NCAA tournament teams since December, they also did a great job of avoiding bad losses. Considering all the upsets we've seen this season, there's something to be said that. Wichita State will be perfect heading into the NCAA Tournament, and that's good enough to be on the top-seed line.
Is there any chance the Shockers lose in the conference tournament? If they had to play in true road games at some point in the tourney, then maybe we could talk about it – but neutral-site games means Wichita State is the heavy, heavy favorite at Arch Madness.
Quarterfinals (March 7): Drake or Evansville. The winner of the 8-9 matchup most likely won't pose much of a threat to Wichita State. The Shockers played four games against these two teams, and won by an average of 19.0 points. Evansville has actually won two straight games heading into the tournament, but had lost seven of its previous eight games. Meanwhile, Drake has been tough at home, but not the same team on the road. The Bulldogs are 4-10 away from home.
Semifinals (March 8): Missouri State or Illinois State. These are two teams that could potentially throw a scare into Wichita State for a half or so, but the Shockers should pull away. Missouri State came the closest to beating Wichita State on Jan. 11, but the Bears fell by three in overtime. The Shockers got revenge in the season finale, beating Missouri State by 23. Illinois State has some talent, but the Redbirds are young and don't shoot the ball or rebound very well.
Championship (March 9): Indiana State? The Sycamores likely have the best chance to take down Wichita State, but they have lost three in a row heading into the conference tournament. They will need Manny Arop to get back to his midseason production, as he has averaged just 7.0 points in his last five games. Northern Iowa, the No. 3 seed, could also make a run to the title game. The Panthers have won four of their last five games, and also played Wichita State tough a couple of times this season.
Simons, 18, is a former Louisville pledge who is suddenly eligible for the upcoming draft

The Blue Devils improved to 4-0 in an easy win vs. Southern.

If LiAngelo Ball didn't come from a famous family, we might think differently of him
Ball significantly downplayed President Trump's role in helping get his son back to the U....

Discussing the one-and-done rule -- plus Michael Porter Jr.'s injury and Billy Preston's c...

Even though he's scheduled to graduate in December, the NCAA still won't let Hayes play