Wichita Watch: Shockers wait for Selection Sunday
Wichita State ended the regular season 34-0.
• 2 min read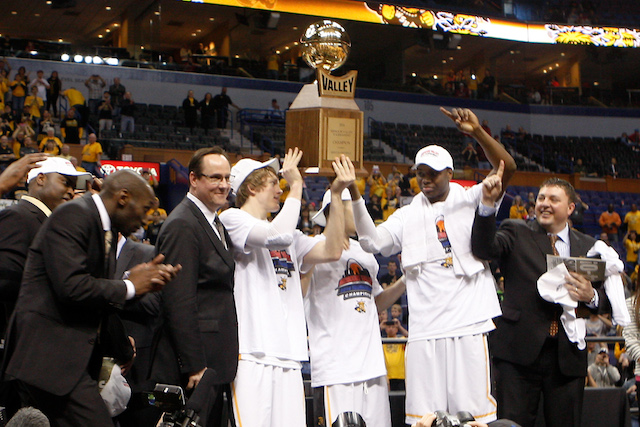 Latest in hoops: Top 25 (and one) | Bracketology | Bubble Watch
For the first time since UNLV in 1991, we have a team entering the NCAA Tournament with an unbeaten record.
Wichita State rolled through the Missouri Valley tournament, winning its three games by 20.3 points and beating Indiana State in the championship game. 
The Shockers now sit at 34-0 and will wait to find out their NCAA Tournament fate until Selection Sunday. They are very likely heading toward a No. 1 seed, given their top-five RPI and you know, zero losses. 
There will certainly be detractors and doubters about Wichita State -- and literally every time the Shockers get mentioned on Twitter, there is a growing legion of people armed with redundant half-facts ready to disparage what Gregg Marshall's team has done -- and the pressure will only grow once they get a No. 1 seed. 
The two big questions surrounding Wichita State heading into the NCAA Tournament will be:
1. How far can the Shockers go?
First, this season's Wichita State team is better than last season's team. They are more experienced, have more weapons offensively, and as good as Malcolm Armstead was a year ago, Fred VanVleet is better. That doesn't mean the Shockers are guaranteed to make back-to-back Final Fours, but they are certainly capable. I think they are on a short list of about six or seven teams who are the favorites to cut down the nets in Dallas. They have the guard play, the wing scorers, the physicality, the defense, the experience -- everything needed to make a deep run in NCAA Tournament. I wouldn't say they're the favorites like Florida or maybe Arizona and Kansas with Joel Embiid, but they're right there with a group of teams that includes Duke, Michigan State, Louisville, Syracuse, Villanova and whoever else you want to throw in there. 
2. How far do the Shockers have to go to not be considered overrated?
I'm guessing my opinion and the opinion of Wichita State haters is very different here. Getting to the second weekend would be enough for me, as the matchups in the Sweet 16 and on will be mostly coin-flips or one-possession spreads across the board. The Shockers losing to Cincinnati in the Sweet 16 wouldn't make me think they were overrated over the last two months. Meanwhile, the crowd that doesn't believe Wichita State doesn't deserve a No. 1 seed because they wouldn't have gone undefeated in the Big 12 (whatever that means) likely needs a Final Four appearance to be convinced by the Shockers. To me, that's unfair, as I would almost guarantee Wichita State wouldn't be the lone No. 1 seed to be bounced before Dallas if it indeed loses. Top-five teams don't always make the Final Four; it's not an easy task.
We'll take a look at their first-weekend matchups next week. 
Arizona, for no good reason, doesn't have to play at USC or UCLA this season

We look at the 'Major 7' leagues and give you the best of what's to come in conference play...

Louisville's coach predicts a change is coming to the NBA's one-and-done rule by 2019
Multiple former players of Lonergan's alleged verbal abuse and inappropriate remarks

When Miller left for Indiana, there was cause for concern in Flyerland; a top-100 signee says...

The Hoyas will spend their non-league schedule playing mostly nobodies -- as will most big...