Wiggins, Parker, Randle all live up to expectations on big Chicago stage
Andrew Wiggins, Jabari Parker and Julius Randle combined to score 76 points and grab 30 rebounds in Tuesday's Champions Classic.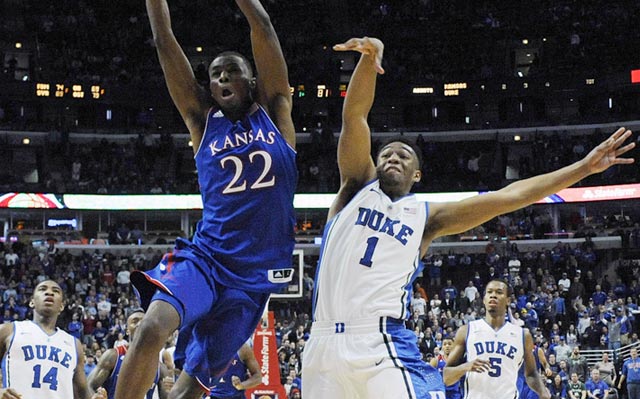 CHICAGO -- Julius Randle had already posted 27 points and 13 rebounds against a team that'll be ranked No. 1 in next week's Associated Press poll by the time Andrew Wiggins and Jabari Parker took the floor. So the so-called bar was set ridiculously high, and even the strongest of believers had to wonder whether they'd touch it.
Then the second game of the Champions Classic tipped.
Then Parker dominated the first 20 minutes.
Then Wiggins closed spectacularly.
And somehow, despite the unreasonable expectations, this Tuesday night (that drifted into Wednesday morning) actually lived up to the billing. Forever, this made-for-TV event was billed not only as the best regular-season doubleheader in the history of college basketball but also as a chance to see the sport's three best prospects under one roof and on the biggest of big stages. We talked about it and talked about it and talked about it. We hyped it and hyped it and hyped it. But I've been around this stuff long enough to know that the pregame storyline is almost always better than the postgame story. So I assumed at least one (or maybe even two) of the heralded freshmen would perform mediocrely, in which case, I figured, the subsequent 24 hours would be used by some to explain the dangers of celebrating prospects BEFORE THEY'VE EVER EVEN PLAYED A COLLEGE GAME!
(I can't tell you how many times readers tweet that at me every preseason.)
Turns out, I was wrong. None of the freshmen struggled. Which, of course, means I've been right all along. Right to talk about them. Right to write about them. Right to hype them and honor them and label them as three of the nation's best who will make significant impacts at this level before flourishing at the next.
"Those three have a chance to all be special," Kansas coach Bill Self said.
And if you were skeptical before, be skeptical no more.
You no longer have to wait to see them.
You've now seen them.
And now you love them, right?
You spent the first two hours of the doubleheader falling in love with Randle's tenacity, then spent the final two hours of the doubleheader mesmerized by Parker's skillset and Wiggins' sheer athleticism. All three names were trending on Twitter at one point or another. Before I go farther, let's revisit the numbers.
Kentucky's Julius Randle: 27 points and 13 rebounds against Michigan State
Duke's Jabari Parker: 27 points and nine rebounds against Kansas
Kansas' Andrew Wiggins: 22 points and eight rebounds against Duke
Randle was the most physically overwhelming, Parker was the most offensively gifted, and Wiggins was the one who got a jumper, a dunk and two free throws in the final 90 seconds to secure KU's victory. He had 16 points in the second half and looked worthy of the National Player of the Year attention he received this preseason.
"Big players make big plays," Wiggins said.
I guess so.
And I suppose this is how the rest of the season will unfold -- with people who wouldn't otherwise care about college basketball following the sport because of these unique talents who are now household names. Hypothetical conversations will happen all over this country as folks ask you and me and everybody else to pick our favorite -- Randle, Parker or Wiggins. And that's fine. Honestly, it's fine. It's fine and fun. But what I've noticed is that the problem with identifying one as superior is that it's interpreted as a slight to the others. If you're a Wiggins guy, then you don't respect Randle. If you're a Randle guy, it means you're overlooking Parker. If you're a Parker guy, then you must just love Duke.
I suggest we cut that out.
There is no law stating we have to pit one against the other.
You don't have to be a Randle guy. Or a Wiggins guy. Or a Parker guy.
Why not be a Randle-Wiggins-Parker guy?
That's what I am.
I'm somebody who's going to enjoy them all because they're all pretty enjoyable.
It appears he's more than happy to pay up, given the circumstances

Lithuania seems ready for the Ball era to begin

The Sun Devils make a big jump and the Jayhawks slide after ASU pulls the big upset
Arizona's big man from the Bahamas balled out against two talented teams

Coach Shaka Smart doesn't expect him to be out for an extended period of time

Jackson isn't showing the Sun Devils much respect after beating KU