Wisconsin missing Jordan Taylor more than expected
Wisconsin came into the season ranked in the preseason top 25 like it always is -- and for good reason. This year, though, the loss of Jordan Taylor has really hurt.
• 2 min read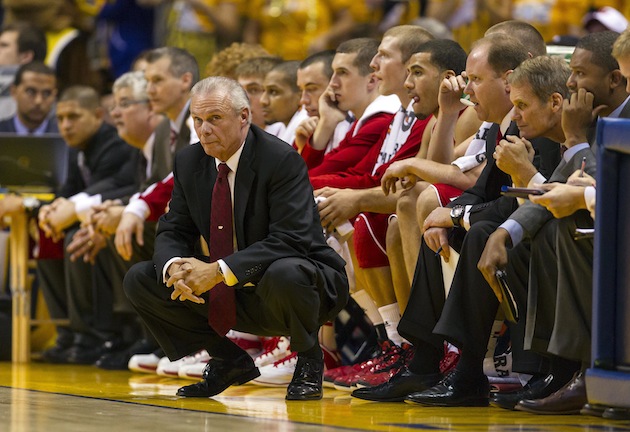 Bo Ryan is still figuring out the best way to get steady point-guard play with Jordan Taylor gone. (US Presswire)
Under Bo Ryan, it has been impossible to write off Wisconsin -- no matter the personnel. The Badgers have reached the Sweet 16 in five of the last 10 seasons and have finished fourth or better in the Big Ten in every season with Ryan as the head coach. 
Because of that, Wisconsin was once again penciled into the Top 25 heading into the season. Jordan Taylor was the only starter gone from a 26-win season -- and Ryan was still on the bench.
Wisconsin has replaced guys like Devin Harris, Alando Tucker, Jon Leuer and others without too much of a hiccup. Why would moving on from Taylor be any different?
Ten games into the season, though, we have seen the post-Taylor era hasn't been easy. The Badgers are just 6-4 with double-figure losses to Florida, Creighton and Marquette -- along with a home defeat at the hands of Virginia.
The biggest problems reside on the offensive end. Wisconsin is lacking creativity and penetration ability, which has led to the Badgers not getting to the free-throw line enough. Last season, their lack of foul opportunities was made up for by the fact that Taylor could get into the lane seemingly whenever he wanted. He was a playmaker -- for both himself and his teammates.
There is no one like him on this year's team. Josh Gasser would have been the leader and starting point guard, but he is out for the season with a torn ACL. Ryan is left with Traevon Jackson and George Marshall to be the primary ball-handlers. Both are solid players, but they don't draw the attention of defenses like Taylor did.
For example, Wisconsin has run isolation plays just 7.2 percent of the time this season, according to Synergy, with most going to forward Ryan Evans. Jackson and Marshall have had 12 possessions where they went one-on-one. By comparison, Taylor isolated himself on 176 possessions last season -- 7.3 percent of Wisconsin's total offense. Taylor was also excellent on pick-and-roll situations, scoring nearly 0.96 points per possession. Meanwhile, the Badgers are running more pick-and-roll plays this season, but they're not nearly as effective.
Wisconsin's biggest asset offensively revolves around multiskilled frontcourt players like Evans, Jared Berggren and Sam Dekker -- as well as 3-point gunner Ben Brust. The Badgers are more dangerous inside the arc this season, especially on the offensive glass. But their 3-point shooting is down, which is a major problem for a team that gets more than a third of its points from behind the arc.
Watching their performance against Marquette, too many of the 3-pointers seemed rushed or contested. Not enough shots came as a result of penetration and kick-outs. There were a few plays in the second half in which Marshall or Jackson drew defenders, either off penetration or pick-and-roll, and then found a shooter open on the perimeter. The Badgers need more of that.
Look at the point guards that Ryan has coached at Wisconsin. Whether it was Harris, Trevon Hughes or Taylor, he could always count on a player who could get into the lane and make plays. Marshall and Jackson aren't those types of players. As a result, the offense hasn't looked as effective.
Like I said, it's impossible to write off Ryan and Wisconsin -- but better point-guard play is necessary going forward. 
Bill Self certainly isn't ready to crown his Jayhawks yet: 'Oh, hell no'

Wall is preparing for life after basketball and wants to finish his business degree

Here are teams in the midst of big turnarounds who could be big threats in the Big Dance
Our advanced computer model simulated Monday's Minnesota-Wisconsin game 10,000 times

The latest coaches poll has Michigan State at the top followed by Virginia and Villanova

Zack Cimini nailed 67 percent of his college basketball picks and released a play for Okla...