Wisconsin wins again like only Wisconsin can and does
You might be bored by Wisconsin. But Wisconsin is never bored by Wisconsin.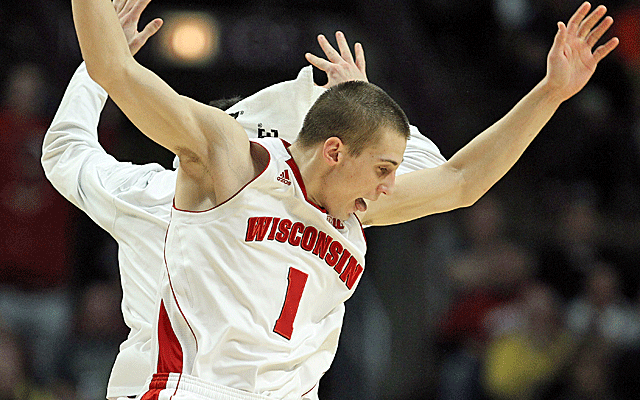 CHICAGO -- Wisconsin had eight different players take 29 different shots in the opening 20 minutes of Friday's Big Ten quarterfinal game against Michigan, and 24 of those shots failed to fall through the net. So, naturally, countless people on Twitter were making the same Badgers jokes you've read and heard 12,000 times before.
"I'm sure they were funny, right?" asked Ben Brust.
And then he smiled.
Because, as usual, he and his teammates got the last laugh.
Final score: Wisconsin 68, Michigan 59.
So the same team that shot 17.2 percent in the opening 20 minutes shot 60.7 percent in the final 20 minutes. And the same team that scored 17 points in the opening 20 minutes scored 51 points in the final 20 minutes. And somewhere, right now, I'd bet my left arm that a cliche-loving broadcaster is talking about how it was a tale of two halves at the United Center, and I guess that's technically true. But this was really little more than an extreme version of the same stuff we've seen from Wisconsin for more than a decade.
You know, since Bo Ryan became the coach.
"Just a great team effort," Ryan said after the victory before an announced crowd of 21,973. "Guys picked each other up. They didn't get frustrated when the shots weren't going down in the first half, and they took care of that in the second half. They continued their hustle on defense. So they're the ones you need to talk to."
Fair enough.
So I talked to them -- specifically Brust, the 6-foot-1 guard who averaged three minutes per game as a freshman, 21 as a sophomore, 34 as a junior. And isn't that career trajectory so Wisconsin? Players come in, learn the system and eventually flourish. They're not always five-star recruits or even four-star recruits. But they often look like they should've been by the time Ryan spends a little time with them.
"He's a proven winner," Brust said. "You'd be stupid not to listen to him."
Which is why Brust and his teammates listen to him.
They listen when Ryan preaches tenacity on defense, patience on offense and explains that it's not about how many points you score as much as it's about how many points the team scores, and that it's not really about how many points the team scores as much as it's about how many points per possession the team scores. They listen when he insists a strong defensive approach can keep them in every game, regardless of the opponent, even when the shots aren't falling. They listen when he promises the shots will eventually fall if they just stay patient and keep taking good, smart and open shots.
The results are remarkably positive and consistent.
Ryan just led the Badgers to their 12th consecutive top-four finish in the Big Ten standings, he's about to lead them to their 12th consecutive NCAA tournament, and for this he just won his third Big Ten Coach of the Year award. Wisconsin now owns six victories this season over schools that were, at the time the game tipped, ranked in the top 15 of the Associated Press poll. Michigan is merely the latest. The win over the Wolverines pushed Ryan's career record against John Beilein, another accomplished coach, to 11-1. The win over the Wolverines pushed the Badgers into Saturday Big Ten semifinals, where they'll play an Indiana team that is great -- and probably headed for a No. 1 seed in the Field of 68 -- but is still 0-1 against Wisconsin this season.
And, yeah, maybe that game will be slow.
And, yeah, maybe you'll be bored by the style.
But know this: The Badgers won't be bored in the least.
"I'm never bored," Brust said. "We like shutting teams down. It's fun to get stops."
Translation: You shouldn't expect these Badgers to change their approach or apologize for it because what you might call dull and boring they call tried and true. They're not here to win style points. They're not here to win you over. They're just here to win, period. Just like every other season for more than a decade now. Just like they've forever done under the guidance of their 65-year-old reigning Big Ten Coach of the Year.
"We believe in our guys," Ryan said. "And our guys believe in us."
Marvin Bagley, if eligible at Duke this season, projects as the country's top power forwar...

The Big Ten Tournament is a week earlier than usual, so the regular-season schedule may look...

Arizona, Grand Canyon and Tulane are also in Barcelona and have reported to be accounted for...
The Kansas forward is no longer accused of walking out on an $88 tab

Cavaliers basketball coach tapes statement on behalf of his university and his city

Gary Parrish and Matt Norlander discuss all things Marvin Bagley and his immediate future