With a shot, Jordan Gathers connects his name to his late, great uncle
A huge shot from an unknown player with a very well known name in college basketball. Get to know how Jordan Gathers is connecting his name to his late uncle's legacy.
• 4 min read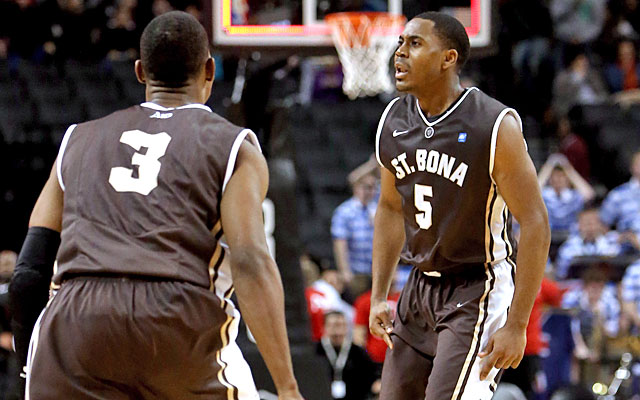 Latest in hoops: Top 25 (and one) | Bracketology | Bubble Watch
BROOKLYN, N.Y. -- Jordan Gathers was about 10 years old the first time he watched the way his uncle died.
It happened at Gersten Pavilion, Loyola Marymount's home court, on March 4, 1990. The famously frightening image is burned into the mind of many who followed college basketball at the time. Hank Gathers, this seemingly vigorous and indomitable player, collapses at midcourt after throwing down an alley-oop in the first half of LMU's game against Portland.
One-hundred-and-one minutes later, Gathers was pronounced dead of heart failure.
And 657 days later, Jordan Gathers was born.
Hank Gathers' horrifying on-court death is the most famous thing tied to his memory. The most positive image tied to his legacy came from Gathers' close friend/teammate, Bo Kimble, who shot one-handed free throws, left-handed, in the NCAA Tournament that year. It was a touching tribute that accentuated 11-seeded LMU's bittersweet run to the Elite Eight.
On Friday afternoon at Barclays Center, Jordan Gathers delivered a shot that will now forever tie him to so many more people to his late, great uncle and also put him St. Bonaventure lore. It was a shot that Bonnies coach Mark Schmidt called "the biggest shot of the year and one of the biggest shots in Bonaventure history."
Gathers, a junior guard, drilled a 3-pointer as time expired to give No. 9 St. Bonaventure a 71-68 win over top-seeded Saint Louis. The win puts the Bonnies into Saturday's semis.
This from a player who was the fourth option on the play and averages a shade over eight points.
This from a player who had a heart scare of his own before ever playing a game at St. Bonaventure. During practice in the fall of his freshman season, Gathers suffered severe full-body cramps. He was taken to the local hospital and given IV. Then he was driven 90 minutes in an ambulance to Buffalo for more extensive tests, for fear of an irregular heartbeat.
He stayed in Buffalo for four days, uncertain if he'd ever have the chance to follow in his uncle's footsteps by playing D-I basketball -- but also thankful that he was learning now if he was susceptible to the same deadly heart patterns that ended Hank Gathers' life at 23. Jordan was put on a cardiac arrest diet and had his blood checked frequently.
"They were concerned about it being hereditary," Gathers said. "My mental approach was to stay prayed up and talk to God every night."
He continues to be monitored but has been cleared with a full bill of health for three years.
On Friday, he inflated the hearts of the rabid cult of Bonnies honks everywhere by hitting such a beautiful, nothing-but-net winner.
"He's an overachiever with a really good head on his shoulders," Schmidt said. "Stubborn at times but it's a good stubbornness. He represents the university in the right manner."
Gathers' winner came after Saint Louis tied the game on a 3-pointer by Dwayne Evans from the top of the key with 20.9 to go. Schmidt said afterward the shot was a surprise; St. Bonaventure was expecting Billikens guard Jordair Jett to take the ball and take it to the hole. Instead, they were caught off guard by the play call.
But the Bonnies had the ball in a 68-all game, no shot clock. No pressure, either. Just a 9 seed that was playing loose.
Then, falling calmly, the first buzzer-beater of Gathers' career.
"When I let it go, I knew it was going in," he said, later adding, "it was me and the rim, it was nothing else. I did hear any cheers, I didn't see any fans. It was me and the basketball. It reminded me of all the times I've been in the gym, shooting by myself."
Gathers embraces his name and the gigantic, mythic attachment to his late uncle that it carries. He even uses Twitter to pay homage, adopting @44LivesOn as his handle. The irony is, although he wears No. 5, he wanted to wear 44 upon getting to St. Bonaventure, but Andrew Nicholson -- who Gathers said played a big role in him choosing SBU -- already had 44.
Gathers grew up in in Leimert Park in south Los Angeles. He was born to parents that never married.  He's inherited some of the newspaper clippings and other curios connected to Hank's brief but brilliant career. He attended Loyola High School before transferring to Taft, in Watertown, Conn., and then opting to spend one year of Prep School at Rise Academy. Schmidt found him by accident at a tournament in Neptune, N.J., while recruiting another player.
"I fell in love with the school, the small atmosphere there, the tradition, Bob Lanier," Gathers said.
He's a young man that appreciates what came before him. History matters to Jordan Gathers. As he grew up and began to get better at basketball, Gathers said people would ask if he knew who Hank Gathers was.
"When people ask me and I tell them, I feel as though his spirit is still alive, he 's still around," Gather said. "When I'm out there on the court, I feel he's still here. Everyone I talk to loved my uncle. To be able to have the name, I'm proud of it."
He reminds himself and everyone often. Just last week, on the 24th anniversary of Hank Gathers' passing, the nephew he never could live to know posted this.
Northern Colorado will be on probation through 2020 due to academic and recruiting violati...

You might not see a projected NCAA Tournament bracket quite like this one anytime soon

The Wildcats, once written off after a three game skid, appear poised to enter Pac-12 play...
The Ducks are riding a three game winning streak yet are slight underdogs against the Bulldogs...

The Hurricanes are one of only a handful of unbeaten teams left in college hoops

The Bearcats are fresh off a convincing win over previous unbeaten Mississippi State