With Johnson's commitment, pressure eases on Indiana in 2014
Indiana has suffered some big misses on the recruiting trail in 2014, but Tom Crean and his staff made a big move by nabbing Robert Johnson.
• 4 min read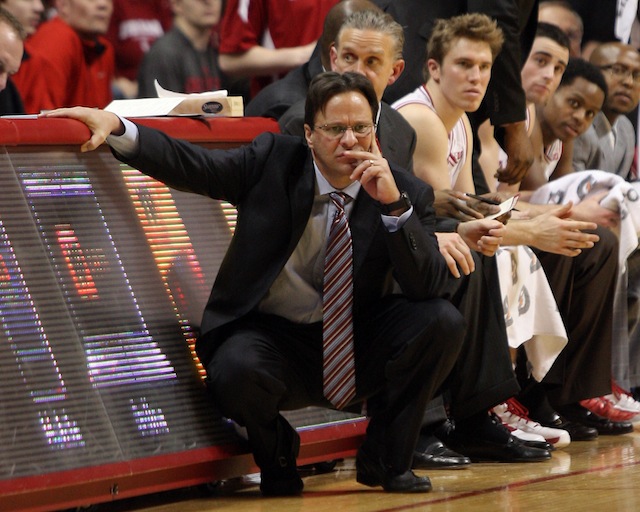 It's no secret that Indiana has not the easiest time with the class of 2014 – and the past few days heightened that fact.
The Hoosiers missed out on Isaiah Whitehead on Thursday, as the New York City guard chose Seton Hall over St. John's. Making matters worse, Tom Crean and co. were considered either favorites or co-favorites for him at one point in time.
That wasn't the only bad news of the week, though. Ahmed Hill and Stephen Hunt both announced they weren't going to visit Bloomington. Hill was a shooting guard target, while junior college big man Stephen Hunt was a contingency plan in case things didn't work out.
It seems that this week was the tipping point for many Indiana fans – a feeling that has been building up for almost a year now. First, there was the decommitment of top-10 forward Trey Lyles – and later the decommitment of four-star guard James Blackmon. Both players were locked up early, but reopened things, putting Crean in a difficult position.
When Quentin Snider decommitted from Louisville, Indiana was a strong option, but it fell by the wayside as it got closer to decision time. Trevon Bluiett left the state to go to UCLA, and Arizona big man Michael Humphrey cut the Hoosiers from his list in August. Even potential backup plan Bryant McIntosh committed to Northwestern earlier this month. 
All of this added up to a growing sense of worry and concern for Hoosier supporters. And rightfully so – there was no sure things left on the board, and the pool was drying up quickly.
The last straw for many Indiana fans would have been Robert Johnson. The Virginia native was thought to be a North Carolina lean once the Tar Heels offered, but he enjoyed his visit to Indiana -- and the Hoosiers looked to be in good position. However, in the days leading up to his Friday announcement, Virginia and UNC seemed to be the leaders. If Indiana had missed on Johnson, it would have been trouble time in Bloomington.
To the surprise of many, though, Johnson committed to the Hoosiers on Friday afternoon.
Is Johnson a five-star prospect and future NBA player? Not right now, no. But his commitment to Indiana eases the pressure on Crean and his staff in a major way. Blackmon's decommitment left the Hoosiers in need of a scoring guard, but Johnson should fill that void. Getting that first pledge will lessen the angst among Indiana fans, and give the Hoosiers some momentum heading into the rest of the fall.
As a result, the sky clearly isn't falling on Indiana's recruiting in the class of 2014.
Indiana is still the likely favorite for five-star big man Goodluck Okonoboh, although the Hoosiers didn't close the deal last weekend on his official visit. Ohio State, Florida and UNLV are also involved, but Indiana is the frontrunner for now. Crean would be smart to get it done sooner rather than later, though.
Another player that Indiana is squarely in the mix for is Devin Robinson, a high-ceiling small forward who boosted his stock during the spring and summer. Robinson visited Oklahoma State last weekend and is currently on Notre Dame's campus. However, he is scheduled to visit Bloomington for Hoosier Hysteria before also going to Florida and Connecticut. There are varying schools of thought on Robinson's leader, with each school feeling OK about their chances.
Those are the top two targets on Indiana's board, and landing Okonoboh and Robinson would essentially end any worrying from Hoosier fans. In fact, a trio of Johnson, Okonoboh and Robinson would be one of the better three-man classes in the country.
The point guard outlook lacks the same clarity. Lourawls "Tum Tum" Nairn visits this weekend, and the Hoosiers have to make a major impression on the top-30 point guard. Michigan State could be the leader in this one. Riley LaChance is another contingency plan the Hoosiers have had to look at, and they might need to turn up the heat at some point.
Crean and his staff are also making pushes for Blackmon and big man Chinanu Onuaku, but they are looking to make up ground in each one. Kentucky has been the favorite for Blackmon since his decommitment, while the Hoosiers need to work quickly on Onuaku. Louisville or Maryland could have the edge in this one.
The wild card in all of this is Dante Exum, the future lottery pick from Australia. Indiana is one of the five schools on his list – along with Kentucky, Michigan, North Carolina and Oregon – but it's unclear if he's even going to attend college. There's a good chance he skips school entirely and goes directly to the NBA.
Had Johnson chose North Carolina or Virginia, this column would have taken on a completely different look. The pool of available prospects would have dried up even further, and a lack of sure things would have certainly been cause for concern. 
With the Benedictine (Va.) shooter in the bag, though, Indiana has a bit less pressure as the Hoosiers head into fall practice.
Cal's form wasn't pretty, but when it works, it works

Josh Nagel has his finger on the pulse of Purdue basketball and locked in a play for Tuesd...

Gary Parrish and Matt Norlander discuss the latest in college basketball
The Mountaineers' coach surprised Self with a pullover -- and Self actually wore it during...

After beating West Virginia, the Jayhawks are on a four-game winning streak and jumped to No....

Oklahoma's basketball phenom has won the national Freshman of the Week award again