With the lows behind him, Cards' Rick Pitino now riding a high
Louisville coach Rick Pitino has had some lows in his life. That's undeniable. But he's currently riding a high, and he's enjoying it to the fullest.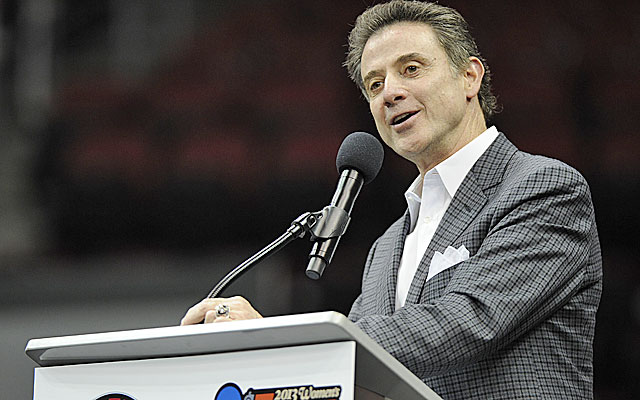 NORTH AUGUSTA, S.C. -- "This is going to sound crazy at my age," is how Rick Pitino prefaced the story he was about to tell me, "but I'm a big Pitbull fan."
Yes, the rapper.
Not the breed of dog.
And Pitino, 60, is so big of a Pitbull fan that he went to a concert recently at the Hollywood Bowl to celebrate his son Ryan's 23rd birthday. It was Rick, Ryan and a few friends. Rick knew a guy who knew a guy. So the whole group ended up backstage.
"We got to spend about 40 minutes with Pitbull," Pitino said. "And because the concert was at the Hollywood Bowl, a lot of the people he collaborates with were there. So Chris Brown came out for the second song. And Enrique Iglesias came out. Marc Anthony. J. Lo. So, at the end of the concert, Pitbull says, 'I want to thank everybody for coming out. And I want to thank Coach Pitino. And, by the way, happy birthday to his son, Ryan.'"
Coach Pitino smiled big at this story. He laughed. And it became clear, at that moment, that the story he was telling was less of a Pitbull story than it was a family story that highlighted how Pitino seems to be in a really good place right now, both personally and professionally, just three months after making his seventh Final Four, winning his second national title and getting inducted into the Basketball Hall of Fame.
"There's no question in my mind that he's in a great place," said one of his sons, Richard Pitino, now the head coach at Minnesota, "and it's a lesson for me just to see how at peace he is with everything. He doesn't care about outside influences. He doesn't care what people think. He just cares about his team, his staff, his family, and that's all that's really important. ... And it's a lesson in sports, too. If you hang around long enough, there are going to be so many highs and lows, and you really need to ride the highs and appreciate them, and I think that's what he's doing."
The Pitbull concert was among the highlights of a nine-day vacation that Pitino took his family on this summer. It was Rick, his wife, their children and their children's spouses. There were 10 people total. They spent three days in Bel Air, three days in Santa Barbara and three days in Las Vegas going to concerts, attending wine-tastings, enjoying immaculate dinners and just generally having a good time.
It was Rick's idea.
He handled all of the expenses.
"I think he just took all of the money from all of his bonuses [from this past season]," Richard joked, "and decided to burn it on something."
Either way, it was money well spent and, by all accounts, a good experience for a family that was obviously in a different place four years ago. You know the details. There's no point in rehashing them. Pitino's personal troubles played out on a very public stage that was embarrassing for all involved. Richard subsequently left his father's staff at Louisville and joined Billy Donovan's staff at Florida, and the timing wasn't coincidental. Combine that with the fact that a younger (and less distracted) John Calipari was in the process of building a monster down the street at Kentucky, and lots of smart people (and a few dumb ones) wondered whether Pitino would ever recover in either aspect of his life.
"There are some people that give up when adversity sets in -- especially after they've already accomplished a lot," said Oklahoma State coach Travis Ford, who played for Pitino at Kentucky, "but that's just not him."
Apparently not.
Pitino has subsequently made two Final Fours, won a national championship by beating Michigan last April, and he's among the favorites to do it again next season thanks to a loaded roster that'll feature a backcourt of National Player of the Year candidate Russ Smith and Junior College National Player of the Year Chris Jones.
"When we practice, Russ keeps saying, 'Put Chris and [me] against each other because it makes me better,'" Pitino said, "but I think they're going to kill each other! So I gotta keep them on the same team so that they can start together [next season]!"
Again, Pitino smiled big at this story.
He laughed.
And he's been laughing a lot these days.
The lows seem to be behind him. Now Pitino is fully enjoying this high.
"He really does seem to be doing great," Ford said, "and he's got a lot of great years left."
The Big Ten Tournament is a week earlier than usual, so the regular-season schedule may look...

Arizona, Grand Canyon and Tulane are also in Barcelona and have reported to be accounted for...

The Kansas forward is no longer accused of walking out on an $88 tab
Cavaliers basketball coach tapes statement on behalf of his university and his city

Gary Parrish and Matt Norlander discuss all things Marvin Bagley and his immediate future

Which version of Grayson Allen will show up for Duke and other questions for every ranked...