Wragge, Creighton put on offensive clinic in rout of Villanova
Can Creighton compete in the Big East? It's safe to say that question has been answered. The question now is how far can they go in March.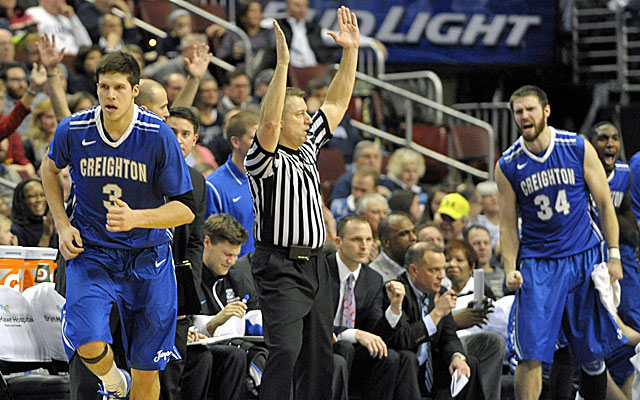 PHILADELPHIA -- Creighton isn't just good enough to win the Big East.
The Bluejays are good enough to do serious damage in the NCAA tournament.
Why do I say that with such certainty?
Because Creighton is the best offensive team in college basketball.
And on Monday night, the Bluejays showed that in addition to possessing the best player in college basketball (Doug McDermott), they've also got the best shooter in college basketball.
Ethan Wragge made his first seven 3-point shots, finishing with 27 points in Creighton's 96-68 rout of Villanova at Wells Fargo Center in Philadelphia.
Wragge finished 9 of 14 from 3-point range and for one night played Batman while McDermott (23 points) excelled as Robin.
"That was one of the most incredible things I've been a part of as a coach," Creighton coach Greg McDermott said. "The way Ethan (Wragge) shot the ball and the way we shared the ball was terrific. Our defense was very good, too."
The first half shooting performance by Wragge left the South Philadelphia crowd in complete silence.
A classic catch-and-shoot jump shooter, Wragge effortlessly took shot after shot from deep and did so with complete confidence.
"Once I get one to go, my teammates know I'm looking for two or three," Wragge said after the game. "I just want to get the ball and let it fly. That's what our team does. We share the ball and take open 3s."
The Wildcats trailed by 28 points in the first half but rallied to cut the deficit to 13 after the first 20 minutes.
The second half wasn't any better for Villanova.
Creighton's incredible spacing and ability to create open shots on every possession was an issue all night for Villanova.
The Wildcats have the personnel to play small and switch ball screens but on this night it didn't matter.
"Creighton was excellent," Villanova coach Jay Wright said. "They were terrific offensively and we weren't our best defensively."
I asked Bill Raftery, who was calling the game, if he had ever seen a team shoot the ball like the Bluejays did in all his years broadcasting games.
His answer?
A resounding, "No."
Many including myself wondered how this team would adjust to the Big East after spending years in the Missouri Valley, but the Bluejays are better than many anticipated.
Despite a poor performance in a loss Saturday at Providence, Creighton is the type of team that should immediately strike fear into any potential opponent.
McDermott is clearly the best player in the sport and Wragge may very well be the nation's best shooter, but the Bluejays also have several capable guards in Austin Chatman, Jahenns Manigat, and Devin Brooks.
Chatman ran Creighton's offense with the poise of a veteran (10 assists) and the underrated Manigat -- an exceptional perimeter defender -- finished with 19 points, including four 3-pointers.
"He's not unsung in our locker room," Greg McDermott said of Manigat. "He doesn't have bad days."
Questioning the Bluejays before they played a game in the Big East made some sense because it was an unknown.
Questioning Creighton moving forward would be foolish.
This is the best offensive team in college basketball.
Against Villanova, the Bluejays finished with a school-record 21 3-pointers.
Is Creighton a matchup nightmare?
It's the epitome of one.
After a close game against Michigan, Air Force is playing San Diego State with some moment...

Quickley played for John Calipari this summer with USA Basketball

A revamped Erwin Center is part of a $4.25 million upgrade to the Longhorns' hoops facilit...
Nov. 10 will be here before you know it so here's what you need to know

The league would be wise to treat that series like the ACC treats Duke-North Carolina

Pacific is penalized after the NCAA found academic rules were broken