Wyoming expects Larry Nance Jr. back for start of fall practice
Wyoming was never the same after losing leading scorer Larry Nance Jr. to injury last season, but the Cowboys will have him back at the start of fall practice.
• 1 min read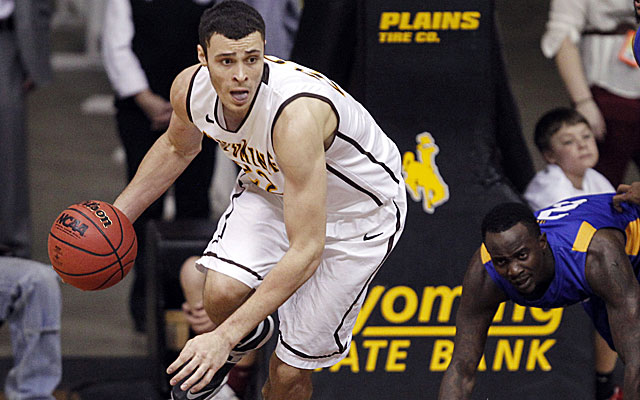 Latest in hoops: NBA Early Entries | Latest News | Coaching Changes
Wyoming forward Larry Nance Jr. is expected to be ready for the start of practice in the fall, Cowboys coach Larry Shyatt said Wednesday.
The 6-foot-8 forward tore his ACL against Fresno State on Feb. 18 and was forced to missed the rest of the regular season and the Mountain West Tournament. Prior to the injury, Nance led the Cowboys in scoring (15.4 points), rebounding (8.4), blocks (2.1) and steals (1.4).
"I do expect him back," Shyatt said. "As tough as it was to lose Larry at the time, there was no cartilage damage and no [permanent] ligament damage to the ACL. He was literally able to start rehabbing the very next day after [surgery]. Unless something goes backwards, I don't think there should be a problem. We expect to have him back for the start of practice."
Wyoming had won eight of its last 11 games at the time of Nance's injury and was 17-9 overall with an 8-5 mark in league play. The Cowboys were never the same team after that and lost six of its last seven games to end the season 18-15.
In addition to Nance, Shyatt returns two key pieces in guards Josh Adams (12.7 points) and Riley Grabau (10.1 points) along with 6-9 big man Derek Cooke Jr. (6.1 points, 5.8 rebounds. Shyatt is also hopeful that former Alabama guard Charles Hankerson Jr. can take a step forward after averaging only 5.1 points in his first season in Laramie.
After three straight trips to the CBI, the Cowboys are seeking more and have a look of a potential sleeper next season in the Mountain West. San Diego State is the league's clear favorite but UNLV, New Mexico, Colorado State and Boise State should be right there along with Wyoming in the next bunch of teams.
With the return of Nance and the opening of a new arena, Shyatt is hopeful his team will be able to regain the form it showed last season when it played its best basketball of the year in early February prior to Nance's injury.
"As a coach you're always wanting more," said Shyatt, whose team will host Colorado and travel to SMU and California as part of its non-conference schedule next season. "Hopefully if we're healthy, we'll be in position to achieve that."
The voter has Northwestern seven spots ahead of undefeated Texas Tech, which just blasted the...

The 7-foot-1 center is the No. 3 prospect in the Class of 2018, according to 247Sports

Alabama enters the top 25 while Northwestern drops out after a rough week
Four years ago, Bryant told Jimmy Kimmel that he'd have picked UNC

Dates, start times and streams of LaVar Ball's interview with CNN

Wichita State and Notre Dame could meet in the final of the Maui Jim Maui Invitational