X-rays negative on injured foot of NC State's Cat Barber
Good news for NC State fans: X-rays on the injured foot of point guard Cat Barber came back negative.
• 1 min read
North Carolina State's roster is fairly thin for the 2013-14 season as it stands. Any injury to one of the key members of the rotation could be crippling for the Wolfpack's talent level.
As a result, a tweet and a photo on Wednesday night from incoming freshman Anthony "Cat" Barber made everyone pretty nervous.
Feel like I wanna just cry mane smh

— CAT (@catbarber1994) August 21, 2013
That was followed by a photo of Barber with a boot on his left foot – which he deleted shortly after.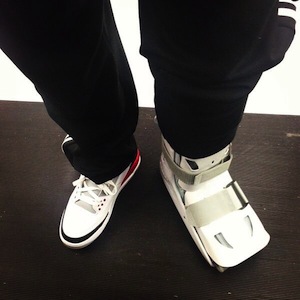 Well, everyone can relax. X-rays on Barber's left foot came back negative, and right now it could be nothing more than a swollen ankle. The boot was just a precaution, according to sources.
Barber, a 6-foot-1 point guard from Hampton, Va., was a borderline top-25 prospect coming out of high school. He is extremely quick getting to the rim, and is a nuisance on the defensive end for opponents given his speed and nose for the ball.
He is expected to see extended minutes in the backcourt alongside sophomore Tyler Lewis, junior college guard Desmond Lee and LSU transfer Ralston Turner.
(Photo via Wilmington Star-News)
Arizona, for no good reason, doesn't have to play at USC or UCLA this season

We look at the 'Major 7' leagues and give you the best of what's to come in conference play...

Louisville's coach predicts a change is coming to the NBA's one-and-done rule by 2019
Multiple former players of Lonergan's alleged verbal abuse and inappropriate remarks

When Miller left for Indiana, there was cause for concern in Flyerland; a top-100 signee says...

The Hoyas will spend their non-league schedule playing mostly nobodies -- as will most big...