Xavier feeling good about its chances after win over Marquette
Xavier's win over Marquette likely puts the Musketeers into the NCAA Tournament.
• 1 min read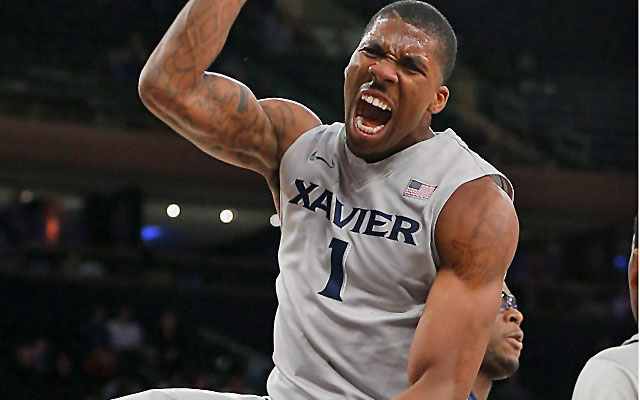 Latest in hoops: Top 25 (and one) | Bracketology | Bubble Watch
NEW YORK -- None of the players seemed to overtly say it, but one of the cheerleaders for Xavier came over to the stands at Madison Square Garden and yelled, "We're going to the dance!"
Sounds about right.
After Xavier's 68-65 win over Marquette in the Big East quarterfinals on Thursday night, the Musketeers should feel pretty good about their chances to be selected when the field is announced on Sunday. 
The Musketeers have clearly the third-best resume in the conference, and their marquee wins over Creighton and Cincinnati are better than most bubble teams. There are three sub-100 losses, but a 9-8 record against the top 100 with a top-25 SOS is going to be enough to get to the NCAA Tournament.
And Xavier knew what it had to do going into the Big East tournament. 
While most teams downplay what a win or loss might mean for their NCAA hopes, head coach Chris Mack said what Xavier was playing for this week wasn't a secret.
"They knew what was at stake," Mack said after the game.
The return of a healthy Matt Stainbrook was a big boost for Xavier, as he had eight points off the bench. Semaj Christon was his usual playmaking self, going for 18 points and five assists. Justin Martin finished with 19 points. 
But the lift of seeing Stainbrook play was a physical and emotional lift for the team.
"Matt Stainbrook pulled a Willis Reed on us," Mack said. "I honestly didn't think he was going to play four hours ago."
With his complete team back in tow -- and a win over Marquette likely sealing its March fate -- Xavier is confident moving forward.
In the postgame press conference, a reporter began by asking, "There are those that believe this win is going to push you into the NCAA Tournament ... "
And Mack interrupted before the reporter could finish.
"I like those people."
Marvin Bagley, if eligible at Duke this season, projects as the country's top power forwar...

The Big Ten Tournament is a week earlier than usual, so the regular-season schedule may look...

Arizona, Grand Canyon and Tulane are also in Barcelona and have reported to be accounted for...
The Kansas forward is no longer accused of walking out on an $88 tab

Cavaliers basketball coach tapes statement on behalf of his university and his city

Gary Parrish and Matt Norlander discuss all things Marvin Bagley and his immediate future