1-to-35: Ranking the 2012-13 bowl games
In which all 35 2012-13 bowl games are ranked according to their entertainment value.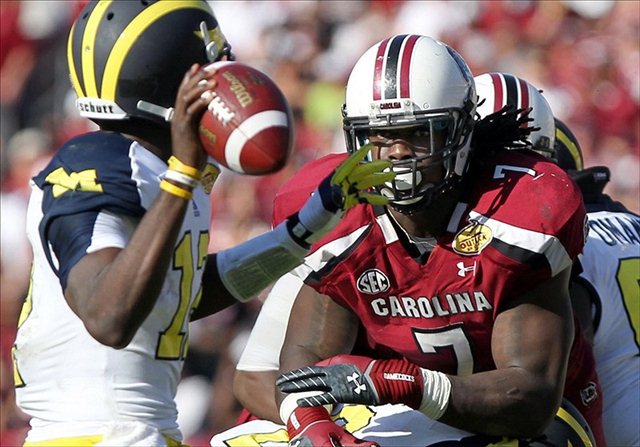 Any game featuring Jadeveon Clowney has the potential for the spectacular. (US Presswire)
Each December, there's plenty of bowl-matchup rankings based on how good the games should be. But if that's got the "before" covered, what about the "after"? For the second straight season, here's one blogger's (highly subjective) ranking of all 35 bowls from the 2012-2013 college football postseason, best game to worst.
1. Outback. How insane was this game? It was the final performance in the electric career of none other than Denard Robinson, and by the end of its 60 minutes, no one other than the Wolverines diehards cared at all. Put another way: Ace Sanders returned a punt for a touchdown, and it was the fourth-most memorable play of the game. It ranked behind the most baffling call in college football's living memory, Bruce Ellington's 32-yard game-winning touchdown catch with 11 seconds to play. It also ranked behind this little Jadeveon Clowney number you may have heard about and will be hearing about until the Earth melts into the sun:
All of that, in a New Year's Day Big Ten-SEC grudge match involving the winningest college football program of all time vs. Steve Spurrier, with free bloomin' onions on the line. It was as good as bowl games get. 
2. Chick-fil-A. Bowls are just glorified exhibitions that don't matter and don't change anything. Which is why for four visceral quarters Clemson and LSU went after each other tooth-and-nail in a fashion entirely befitting their shared feline nickname. Which is why Clemson and Dabo Swinney celebrated Chandler Catanzaro's game-winning field goal as time expired with a zeal usually reserved for "child gets an XBox" Christmas YouTube videos. Which is why Les Miles came in for another excoriating round of vitriol for his late-game coaching decisions. Which is why Tigers fans in both the Palmetto and Pelican States are going to be talking about this one for years to come.
3. New Mexico. Well, hi there, bowl season! Great to see you! Come in, come in! You brought us a gift? Well, goodness, how thoughtful! It's ... uh ... wow, bowl season. This is a 97-point explosion with a two-touchdown comeback in the final 46 seconds. How much did this set you back? These things are really, really hard to come by. You shouldn't have. Actually, bowl season, scratch that: You've arrived bearing some real clunkers in the past, so it's about time you showed up with what would be one of the biggest bangs of the entire postseason.
4. Belk. There's tragedy, there's Shakespearean tragedy, there's Sarah McLachlan's ASPCA commercials, and then there's Duke football. Setting up for a chip-shot field goal with under 90 seconds to play that would give the Blue Devils their first bowl victory since 1961 in the first bowl they'd even played since 1994, Duke somehow conspired to lose by not one but two full touchdowns, 48-34. It was a true can't-look-away train wreck, but the first 58:30 -- with both teams trading offensive haymakers and roaring back from double-digit deficits -- wasn't bad viewing, either.
5. Alamo. There's something to be said for atmosphere at bowls, and that something is this: "When Texas overcomes a 10-point deficit in the fourth quarter and all but disembowels poor Cody Vaz in San Antonio, in front of thousands of grateful, loud Longhorns fans seeing the light break through the clouds for the first time in months, it's going to make an otherwise above-average game a much-better-than-average game."
6. Las Vegas. Come for Bishop Sankey running for 200-plus yards and establishing himself as a dark horse 2013 Heisman candidate (despite Keith Price's continued apparent devolution), stay for the rebuilt Broncos riding their placekicker, of all things, to a dramatic victory and another Pac-12 scalp on the wall.
7. Meineke Car Care. Oh, Gophers. Pushing Texas Tech into an exciting, down-to-the-wire thriller in what shaped up as one of the biggest mismatches of bowl season was already unlikely enough. Did you really think you'd be able to put together a game-winning, last-minute drive behind your freshman quarterback? Some things are always too good to be true, even in bowl games named for a muffler repair shop.
8. New Orleans. UL-Lafayette's Cajuns raged a little too hard towards the end of the game, especially on defense, taking what through three quarters had the makings of a true Sun Belt-vs.-Conference USA classic -- with all the pinball scoring that implies -- and removing just enough drama to make it merely "completely, thoroughly enjoyable" rather than "game for the ages."
9. Capital One. Listen, Taylor Martinez, maybe you're right when you say your offense did "pretty much anything [it] wanted" in Orlando. But what the neutral viewing audience wanted was for it to score some points in the game's final 20 minutes, so we could have a 45-45 overtime classic. Instead, it was a 45-31 Georgia victory that was like watching a beautiful race car run ahead of the pack for the first 45 of 60 laps, then wheeze into pit row out of gas and never restart.
10. Buffalo Wild Wings. Any game in which a muffed punt return is not only the key play but which every viewer recognizes as the game's key play as it's happening can only be so good. But this was the rare low-scoring bowl game that wasn't as much about the offenses being poor as it was about the Spartans and Frogs having legitimately outstanding defenses. And even if watching them wasn't your cup of tea, the one-point back-and-forth fourth-quarter drama should have been.
11. Cotton. Not worth much in terms of uncertainty of the outcome; worth just about everything in terms of seeing the best player in college football play at a level usually reserved for, well, Heisman Trophy winners. 
12. Rose. A tense fourth quarter, the impeccable setting, the elevated stakes inherent to the Granddaddy of Them All, and the talent on display (Montee Ball, Shayne Skov, Stepfan Taylor, etc.) did a lot to wash away the stink of 30-plus minutes of nonstop punting. But we're talking about a pretty decent amount of stink there.
13. Gator. The game wasn't much to look at (thanks, Tyler Russell), but it's not every day you see Northwestern win a bowl game. In fact, given the 65-year wait, it's precisely one in every 23,742 days you see Northwestern win a bowl game.
14. Sugar. Teddy Bridgewater's performance was so exciting -- and make no mistake, it was exciting, independent of all other variables -- that by the fourth quarter, the game kind of wasn't exciting at all.
15. Little Caesars. In case you were wondering about the quality of this bowl season as a whole, yes, a 45-point total game played in front of 23,000 fans in Detroit between the Chippewas and Hilltoppers ranks as above average simply by virtue of Western Kentucky's valiant -- and ultimately futile -- attempt to go for a touchdown and the win rather than settling for overtime on its final drive. Cojones mean attention must be paid.
16. BCS Championship. Fun, if you're amused by Eddie Lacy and T.J. Yeldon spinning past/bulldozing over/shoving through/bouncing off tacklers, even after the 743rd time. Much less fun if you are not.
17. Pinstripe. Snow! Not a lot of it, by kickoff, but snow! Snow! And, yes, the second over-by-the-middle-of-the-third-quarter blowout victory for the Orange over the Mountaineers in as many seasons. But snow! Oh, and Holgorage! And snow!
18. Fiesta. Oregon did that Oregon thing where you get up to put a bag of microwave popcorn in the microwave, and even though you're risking letting the popcorn scorch by not listening to it the whole time, you go back to check on the game anyway because it's Oregon, but, oops, they've already turned it from a competitive game into a hopeless rout. And then you try to figure out how they scored so many points in the time it takes to walk from the TV to the pantry to the microwave and -- oops -- now you can smell your popcorn burning. Thanks a lot, Ducks.
19. Music City. So going to make an artsy YouTube clip of Mike Glennon throwing for 383 yards in this game, soundtracked by the Macbeth speech about sound and fury signifying nothing.
20. Military. Game was closer than the final score, and it was nice spending some quality time with an under-the-radar San Jose team that deserved it. But the game could have gone to septuple-overtime, and it would only feel so important when it's Spartans-Falcons in front of the sort of crowd that the crowds of many Texas high school games would rob of its lunch money and stuff in a locker.
21. Poinsettia. The Kyle Van Noy Bowl, sponsored by Kyle Van Noy, featuring: Kyle Van Noy! Also punting and not offensive touchdowns.
22. Sun. Reasons to watch this game included: 1. Kiffinfreude 2. Triple-option 3. See reasons 1 and 2.
23. GoDaddy.com. Listen, guys, if we wanted a 17-13 borefest, we'd have hired the Big Ten and a band of football-playing tortoises. You're the MAC and Sun Belt, for crying out loud. Get your act together, and we mean now. We don't want to have this conversation again.
24. Orange. As expected, just like Boise State vs. Oklahoma. Well, except the part where instead of playing one of the greatest college football games in history the lovable underdog was exposed as hopelessly overmatched within the first five minutes and only the incompetence of the favorite kept things vaguely competitive. But other than that: just like it!
25. Holiday. UCLA's staggering offensive performance against Baylor -- an amazing 1 for 17 on third-down conversion attempts, 19 legitimate points, 1.1 yards per-rush, all against a defense that against Texas gave up a touchdown to a Longhorn cheerleader who forcefully sneezed in the middle of her routine and suddenly realized she was standing in the end zone -- was, quietly, the single most remarkable accomplishment of the bowl season.
26. Famous Idaho Potato. Three quarters of nothing, one quarter of lopsided blowout. If this bowl had been an actual potato, it would have desperately needed some salt.
27. Liberty. After watching Iowa State's offense for the final 45 minutes: give me death.
28. Armed Forces. When the most memorable thing about the game by a factor of 10 is one team's helmet decals, that's not good.
29. Kraft Fight Hunger. The proportion of awesomeness of uniform to awesomeness of performance was never more inverse than with Navy's defense.
30. BBVA Compass. Wanna hear a funny joke? Knock, knock. Who's there? The BBVA Compass Bowl drew more fans than the Sugar.
31. Russell Athletic. The Hokies' late comeback and overtime win weren't so much lipstick on a pig as a thin layer of mascara on the lashes of Hogzilla.
32. Beef 'O' Brady's. From the inescapable horror-toothed maw of the Trop, no excitement or interest can survive.
33. Hawaii. Margus Hunt just wanted to make sure we all had something better to do with our Christmas Eve, and for that we thank him, except that viewing a competitive bowl game would have far better than watching Castle reruns and drinking a whole carton of eggnog.
34. Independence. In which UL-Monroe decides if that's what going to a bowl is like, they're actually fine with all those years of going 5-7, thanks.
35. Heart of Dallas. Where to begin? The bowl's very existence -- a way for the venerable old Cotton Bowl to stay "relevant" on New Year's even after the game named for it discarded it for Jerry Jones' glitter palace -- is a depressing reminder of college football's willingness to leave its history behind in pursuit of the almighty dollar. Then it invites Purdue, which has fired its coach and brings approximately 17 fans. Then Oklahoma State beats the Boilermakers so badly we swear we saw Purdue Pete grab a pair of scissors and attempt to cut himself a pair of eyelids out of his Boilers jersey so as to finally, finally stop watching the carnage. And on top of that, attending/watching the Heart of Dallas meant missing most of the Outback. 
Ladies and gentlemen: I give you the single worst bowl game of the 2012 season. 
For more college football news, rumors and analysis, follow @EyeOnCFB on Twitter, subscribe to our RSS Feed, college football newsletter, and get the Eye On College Football Podcast from iTunes. You can follow Jerry Hinnen on Twitter here: @JerryHinnen.
The Crimson Tide basically have to be perfect these days ... or else

Guice is dealing with a 'minor injury' that has not been specified by coach Ed Orgeron

Professional college football bettors are loving Jim Harbaugh and Michigan against Purdue
Temple knocked off USF last year to claim the division title

These are the best bets to make in Week 4 including Florida-Kentucky and Oklahoma State-TC...

Two players died as a result of playing college football on Saturday