100 Day Countdown: Stories, names, games, teams and more for 2014
The 2014 college football schedule will kick off in 100 days. The College Football Playoff, Jameis Winston and hurry-up football lead our 100 talking points.
• 16 min read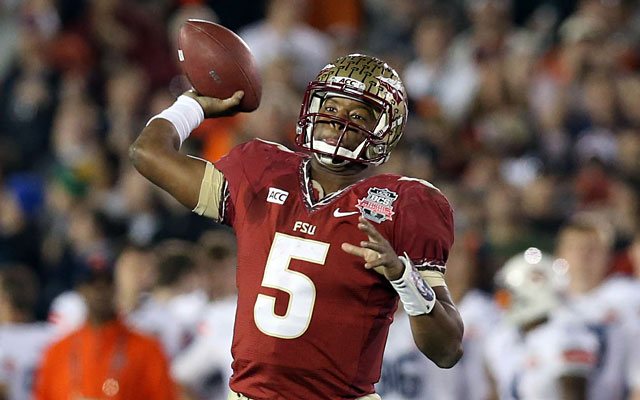 College sports is in a time of rapid change. Just as conference realignment has calmed the sport is in the midst of the most dramatic NCAA reform in decades. But come August, the off-field stories will take a back seat to the ones that surround the football programs we love to follow.
We don't know what the defining stories of the 2014 season will be -- that's part of the fun -- but here are 100 talking points to keep the conversation going over the next 100 days.
The Stories (5)
1. Adjusting to the College Football Playoff era: The playoff is finally here! But just as the champagne cork was out we realized the new system will have as many topics to debate as the last one. At least one power conference champion will be left out, making the competition to get in the playoff even more intense. Instead of talking about computer rankings on Sunday night we will be placing the sport's first selection committee under intense scrutiny when the rankings are released on Tuesdays.
2. Jameis Winston under the Manziel-esque Microscope: Winston took football by storm during his redshirt freshman year just like Johnny Football. And like Manziel, the mania that has followed has been both concerning and comical. Winston may not be hanging out with Drake (yet), but his star is bright enough that any and every move is worthy of the TMZ treatment. Florida State is the odds-on favorite to win its third straight ACC title and will likely be in the mix for a CFP bid.
3. The HUNH (Hurry-up, no-huddle), and more teams speeding up: The 10-second rule proposal took coaches by surprise and upset many of those who utilize pace as an offensive weapon. The rule was not adopted, but the debate will make health and safety part of the talking points against these hurry-up offenses. At the same time, more teams will see what Auburn and others have accomplished and try to install their own version of the HUNH. 
4. Will Muschamp's mulligan at Florida: The 2013 season was an aberration in the history of modern Florida football, and athletic director Jeremy Foley expects that it will be easily forgotten after the Gators bounce back in 2014. Losing 26 players (19 of them starters or primary contributors) to injuries throughout the season did not help Florida's existing struggles, so Muschamp shook up the coaching staff. New offensive coordinator Kurt Roper has promised a more exciting Gators offense, and Jeff Driskel, now-healthy, will have an opportunity to seek his own redemption in the new scheme. 
5. Urban Meyer enters year three at Ohio State: 24-0 is really, really impressive. But because the Buckeyes were ineligible for the postseason in 2012 then went 0-2 in postseason play last year, it feels like Meyer's accomplishment in the first two seasons has already been forgotten. Braxton Miller has returned for a senior season with national title hopes, and a rebooted defense could be the final piece the Buckeyes need to get there.
The Players (29)
Heisman favorites: You know these guys, and the oddsmakers can give us a general idea of each player's chances as it stands now. (Odds via @BovadaLV)
6. Jameis Winston, Florida State, QB: 5/2
7. Marcus Mariota, Oregon, QB: 11/2
8. Braxton Miller, Ohio State, QB: 11/2
9. Bryce Petty, Baylor, QB: 10/1
10. Todd Gurley, Georgia, RB: 12/1
11. Brett Hundley, UCLA, QB: 14/1
12. T.J. Yeldon, Alabama, RB: 14/1
13. Everett Golson, Notre Dame, QB: 14/1
14. Nick Marshall, Auburn, QB: 20/1
Don't get caught sleeping on…: These guys will demand your attention from week one. Look up their games and make note on your own personal college football calendar.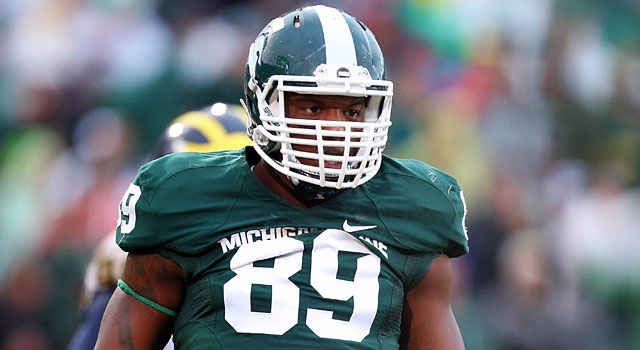 15. Ameer Abdullah, Nebraska, RB: Last season the senior ran for 1,690 rushing yards, the highest yardage total for a Husker since Ahman Green in 1997.
16. Vic Beasley, Clemson, DE: The All-American racked up 13 sacks and 23 tackles for a loss for the Tigers last season.
17. Michael Bennett, Ohio State, DT: One of the best DTs in the nation is back for the Buckeyes after recording seven sacks and 11.5 tackles for loss.
18. Shilique Calhoun, Michigan State, DE: Earned Big Ten defensive lineman of the year honors after recording 7.5 sacks and four fumble recoveries.
19. Rakeem Cato, Marshall, QB: Can he top last season's 3,916 yards passing and 39 touchdowns? 
20. Landon Collins, Alabama, CB: Looks to be the leader of the Crimson Tide secondary after recording 70 tackles and two interceptions last year.
21. Connor Cook, Michigan State, QB: Enters his junior season ranked in the top 15 at Michigan State in career passing TDs (23), completion percentage (58.4 percent) and yards (2,849).
22. Mike Davis, South Carolina, RB: Earned all-SEC honors after finishing fifth in the SEC with a 98.6-yard rushing average, carrying 203 times for 1,183 yards with 11 TDs.

23. Ifo Ekpre-Olomu, Oregon, CB: One of the best corners in the nation is back after finishing second in the nation in forced fumbles (6) and seventh in passes defended.
24. Melvin Gordon, Wisconsin, RB: Gordon ran for 140+ yards eight times last season and finished the year averaging 7.81 yards per carry, all while sharing the backfield with James White (now graduated) and Corey Clement.
25. Randy Gregory, Nebraska, DE: The 6-6, 245-pound defensive end broke out as a sophomore in 2013 and finished with 10.5 sacks and 66 tackles to go with First Team All-Big Ten honors.
26. Vernon Hargreaves III, Florida, CB: As a freshman, VH3 ranked second in the SEC in passes defended (1.17 per game) and was named First Team All-SEC by the coaches.
27. Derrick Henry, Alabama, RB: The 6-3, 238-pound beast of a back emerged late in the season as a scary-good backup to T.J. Yeldon. It is just your reminder that yes, the Alabama running back train continues to roll.
28. Myles Jack, UCLA, LB/RB: Jack stole headlines for his limited work at running back (267 yards and seven touchdowns on just 38 carries) but his role in the Bruins' defense is just as important for their Pac-12 title hopes.
29. Duke Johnson, Miami, RB: Every time Johnson touches the ball in space he is one cut from a touchdown. The Hurricanes running back has struggled to stay healthy, but never struggled to amaze fans when he is on the field.
30. Trevor Knight, Oklahoma, QB: The Sugar Bowl MVP is the face of Oklahoma's title hopes after throwing for four touchdowns and 348 yards on 32-44 passing against Alabama.
31. Tyler Lockett, Kansas State, WR/KR: Lockett might be the best all-purpose player in the country. The coaches named him the Big 12 Special Teams Player of the Year after totaling 1,859 all-purpose yards in 2013.
32. Dak Prescott, Mississippi State, QB: Dan Mullen will hand over the offense to Prescott, and expectations are high for the dual-threat quarterback now that he is the unquestioned starter in Starkville.
33. Derron Smith, Fresno State, S: Smith turned down the NFL Draft and returns to the Bulldogs as the active FBS leader with 14 career interceptions.
34. Leonard Williams, USC, DE: Williams made his way onto several All-American teams despite playing most of 2013 with a shoulder injury. After letting it heal this spring, Williams could have an even better 2014.
The Coaches (11)
35. Gus Malzahn, Auburn: Malzahn has been crowned as the offensive wizard du jour. Now the Tigers have everyone's attention, and that is both good and bad news for their SEC title hopes.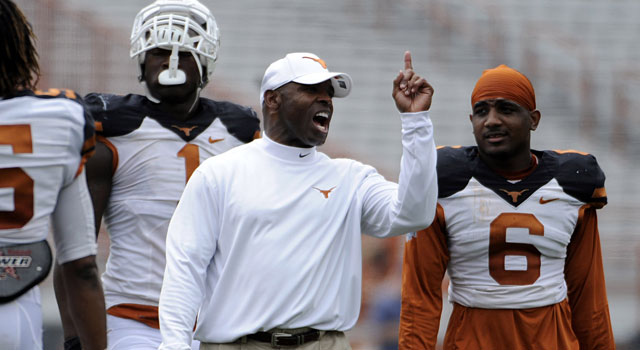 36. Charlie Strong, Texas: Strong's arrival (with DC Vance Bedford) should shore up the Longhorns' D. The quarterback situation is unsettled, but Strong has already adjusted well to the off-field attention -- even if he did tell fans Texas won't be competing for national title in 2014.  
37. Nick Saban, Alabama: We don't know exactly what happened behind the scenes in the Alabama locker room, but Saban was not happy with the execution of "the process" down the stretch. Now the process starts over, and that's kind of terrifying for college football. 
38. Jimbo Fisher, Florida State: If you watched Fisher on the NFL Network during the NFL Draft, you know he's got the chops to be a coaching star. Luckily for FSU, he prefers to be on the sideline winning ACC and national titles. 
39. James Franklin, Penn State: Franklin's work on the recruiting trail has him winning the offseason. The next challenge is tougher: competing in the grueling Big Ten East with Ohio State, Michigan and Michigan State.
40. Chris Petersen, Washington: Petersen finally left Boise State, right as we had given up on him ever leaving. What will Washington look like with the former Broncos coach, carrying a 92-12 career record, at the helm.
41. Bobby Petrino, Louisville: As colleague Dennis Dodd noted after talking to Petrino last week, the Cardinals coach has returned to where it all started after an up-and-down eight years. 
42. Steve Sarkisian, USC: Sark brought defensive coordinator Justin Wilcox from Washington. After leading defenses at Boise State, Tennessee and Washington, Wilcox inherits leftovers from a Top 20 defense in LA. What do you think about that, Justin?
43. Mark Helfrich, Oregon: Mariota's knee injury, and late-season losses to Stanford and Arizona, gave Helfrich's first season an odd ending -- and yet the Ducks were an 11-win team.
44. Brian Kelly, Notre Dame: With all the NFL-bound talent coming through South Bend these days, you figure the Irish will always be a 10-win threat under Kelly. Can Notre Dame make the first playoff, bumping at least two major conference champions, while replacing both offensive coordinator Chuck Martin (Miami -- Ohio) and defensive coordinator Bob Diaco (UConn)?
45. Brady Hoke, Michigan: The Wolverines should be sound on defense, but it's the offense -- including the decision to fire Al Borges and hire Doug Nussmeier from Alabama  -- that will decide where Michigan stands in the Big Ten East pecking order.
The Contenders (21)
46. Florida State: The defending champs have the reigning Heisman Trophy winner under center and enough key pieces back from one of the country's best defensive units to lock in a season with double-digit wins.
47. Alabama: Given the strength of the SEC West, the division champion should be on the short list for the playoff. But before the SEC title is discussed, the Tide have to get revenge in the Iron Bowl.
48. Oregon: Can a healthy Marcus Mariota help Oregon solve its Stanford problem? The Ducks will get a test run against Michigan State in Eugene on Sept. 6.
49. Ohio State: 24-0 seems like a lifetime ago after back-to-back losses to close 2013. Urban Meyer's Buckeyes will get another shot at the Spartans, now a division foe in the Big Ten East, on Nov. 8 in East Lansing.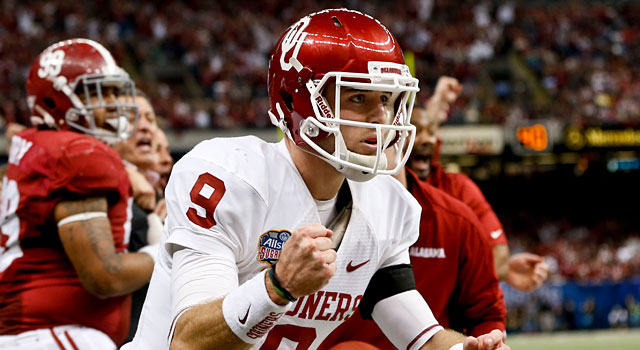 50. Oklahoma: The Sugar Bowl shocker against Alabama has the Sooners pegged as a favorite to win the Big 12 title. OU just needs the Sugar Bowl version of Trevor Knight in order to pull it off.
51. Auburn: Nick Marshall is back and the Tigers' offense is not expected to miss a beat with Cameron Artis-Payne and Corey Grant returning to the backfield. How the SEC responds to Malzahn's HUNH will be one of the great stories of the season.
52. LSU: The quarterback position is unsettled, but with stud freshman running back Leonard Fournette, an experienced offensive line and another group of future NFL picks on defense you can't eliminate the Tigers from SEC West, or playoff, contention.  
53. UCLA: Brett Hundley turned down the NFL Draft for a chance to win a championship with the Bruins. Myles Jack is basically a mascot for this team; UCLA is fast, athletic and fun to watch.
54. Michigan State: Connor Cook's development through 2013 is a big reason to think Michigan State will be right back in the Big Ten title mix this fall. Shilique Calhoun will anchor the the Spartans stout D and they get to play Ohio State in East Lansing. 
55. Baylor: Bryce Petty, Antwan Goodley and Shock Linwood will keep the Bears offense humming. The defense needs to replace some key contributors, particularly in the secondary.
56. Stanford: How big is the loss of defensive coordinator Derek Mason, along with Shayne Skov, Trent Murphy, Ed Reynolds and others? We will see when the Cardinal face Oregon on Nov. 1.
57. USC: Steve Sarkisian wants to hurry up and run downhill, thankfully there are plenty of tailbacks ready to play the role Bishop Sankey did at Washington. 
58. Arizona State: After winning the Pac-12 South in 2013, Todd Graham has brought new expectations to Tempe. Taylor Kelly will keep the offense moving with D.J. Foster and Jaelen Strong, but the defense must replace two NFL-bound playmakers in Will Sutton and Carl Bradford. 
59. Wisconsin: With Melvin Gordon and Corey Clement in the backfield, it matters less whether Joel Stave or Tanner McEvoy is starting at quarterback. Still, if the Badgers are going to win the Big Ten there needs to be some consistency under center.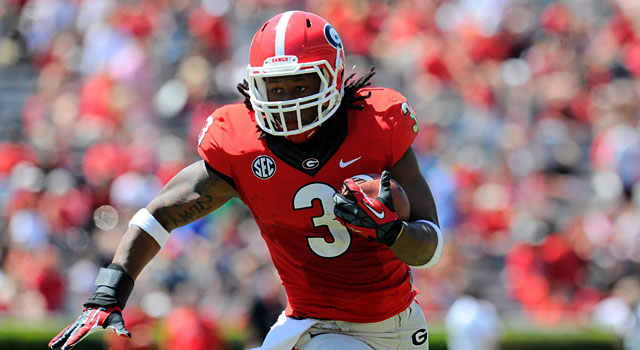 60. Georgia: Matt Hinton, of Deadspin and SB Nation's Football Study Hall, calls Todd Gurley what he is: a runaway refrigerator filled with bricks. Don't forget Jeremy Pruitt has arrived after leading Florida State's tenacious defense in 2013 and linebacker Ramik Wilson is set to be the unit's star.
61. South Carolina: If Mike Davis can stay healthy he will be another 1,000-yard rusher and take a lot of pressure off Dylan Thompson, now the Gamecocks' full-time starter. 
62. Clemson: Cole Stoudt, Tajh Boyd's longtime backup, will take the reigns of Chad Morris' offense, but the Tigers could be particularly strong with Vic Beasley and a solid core returning on defense. 
63. Cincinnati: If Gunner Kiel turns out to be what many projected when he was the No 1 pro-style quarterback in the country, Bearcats could claim what would be the program's fifth conference title in seven years.  
64. Boise State: The first year without Chris Petersen will be a fascinating study of the program in Boise. The Broncos aren't fielding Top 10 teams with regularity anymore, but Bryan Harsin knows what it takes to win there and you should expect regular conference title contention.
65. Utah State: Matt Wells led the Aggies to the inagural MW title game without star quarterback Chuckie Keeton, who suffered a season ending injury against Boise State in 2013. The MW, and possibly the Access Bowl bid for the Party of Five, will go through the USU-Boise matchup.
66. Bowling Green: Dino Babers inherits an experienced roster ready to defend its MAC crown. Matt Johnson will lead a new wide-open spread attack that could take the Falcons to New Years Eve.
The Can't Miss Games (17)
67. Abilene Christian vs. Georgia State (Aug. 27): It's the first football game of the season, why aren't you watching?
68. Florida State vs. Oklahoma State (Aug. 30): Get your remote ready for some fast flipping at the end of college football's first Saturday of 2014. Jameis takes the field here, and Oklahoma State will try to test the Noles' D to keep it interesting.
69. LSU vs. Wisconsin (Aug. 30): Both teams have questions at quarterback now, but I promise you won't want to miss this likely Top 15 or Top 20 matchup once it gets here. 
70. Michigan State at Oregon (Sept. 6): Michigan State's disciplined defense will give Oregon a nice warm-up for Stanford, and the Spartans have a chance to enter the national title conversation quickly with an upset.
71. Georgia at South Carolina (Sept. 13): Mike Davis and Todd Gurley will be on the same field. Some hard hitting and harder running is basically guaranteed.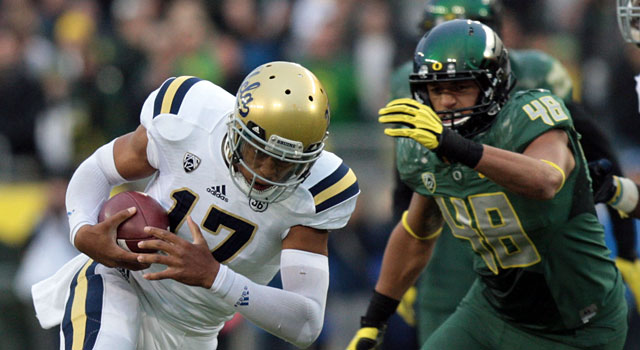 72. Auburn at Kansas State (Sept. 18): Auburn's high-powered attack takes a trip to visit Bill Snyder in Manhattan on a Thursday night.
73. LSU at Auburn (Oct. 4): This relatively early-season meeting of SEC West contenders will set the stakes for the rest of the conference schedule. 
74. Texas vs. Oklahoma (Oct. 11): It's Charlie Strong's first Red River Rivalry Shootout Showdown and a chance to knock the Sooners' from their frontrunner status early in the Big 12 schedule.  
75. Oregon at UCLA (Oct. 11): The last two Pac-12 title games have been rematches of regular season contests. If it were to happen again, this early-October meeting could just be a warm-up for December.  
76. Notre Dame at Florida State (Oct. 18): The ACC welcomes Notre Dame to partial membership with a trip to Tallahassee against the defending national champions.
77. Ohio State at Penn State (Oct. 25): James Franklin's first game against Ohio State sets up favorably for an upset; a chilly 8 p.m. kickoff under the lights in Happy Valley. 
78. Florida State at Louisville (Oct. 30): We will know more about the Cardinals by the time this game arrives, but the fans should make this Thursday night game a great atmosphere in Papa Johns Cardinals Stadium regardless. 
79. Stanford at Oregon (Nov. 1): Even after brutally physical regular season meetings, both programs have finished the season in the Coaches Poll Top 10 each of the last three seasons. It's the West Coast Alabama-LSU, and you might need an ice bath yourself after watching.
80. Alabama at LSU (Nov. 8): Alabama takes its revenge campaign into Death Valley, where opponents' "dreams come to die." 
81. Baylor at Oklahoma (Nov. 8): Get your remote control warmed up for this Saturday, bouncing between Alabama-LSU and this heavyweight showdown between Big 12 title contenders and the next game.
82. Ohio State at Michigan State (Nov. 8): In the new Big Ten East, this figures to be the game that will determine the division's representative in the Big Ten title game. The Wolverines will always be the Buckeyes' primary rival, but the Spartans are more of a threat to Big Ten title hopes in 2014.
83. Auburn at Alabama (Nov. 29): If things play out the way we're predicting, the road to North Texas will run through the Iron Bowl. 
The Changes (12)
It took a few years, but conference realignment is finally starting to settle from its volatile state. As Louisville and Rutgers make the final moves into power conferences, the resulting moves (American adding schools from Conference USA, for example) resulted in an FBS expansion -- but that's okay, because we need the extra teams with a record 39 bowl games moving forward.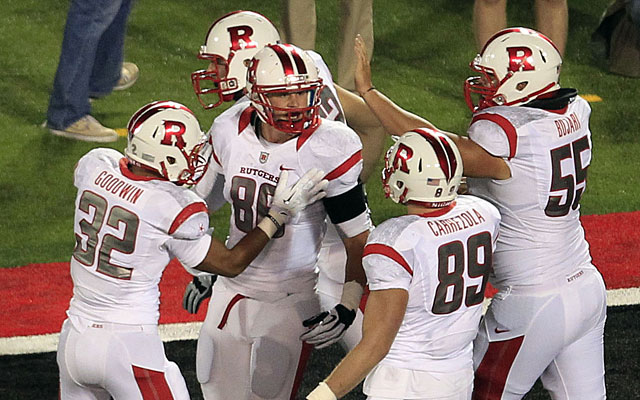 84. Louisville: American Athletic to ACC
85. Rutgers: American Athletic to Big Ten
86. Maryland: ACC to Big Ten
87. Tulsa: Conference USA to American Athletic
88. Tulane: Conference USA to American Athletic
89. East Carolina: Conference USA to American Athletic
90. Western Kentucky: Sun Belt to Conference USA
91. Old Dominion: Independent (FBS transition) to Conference USA
92. New Mexico State: Independent to Sun Belt
93. Idaho: Independent to Sun Belt
94. Georgia Southern: Southern Conference (FCS) to Sun Belt
95. Appalachian State: Southern Conference (FCS) to Sun Belt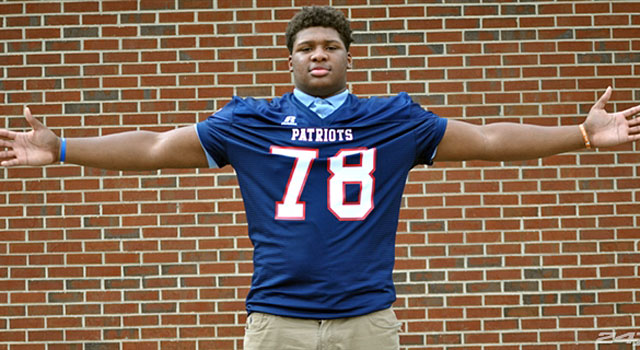 The Future (5)
Who are the best seniors in the nation? 247Sports has its Top 247 for 2014, but here we spotlight the best five and which schools are interested.
96. Trent Thompson, DT, 6-4, 292: The No. 1 player in the nation. Florida State and Georgia are the leading candidates to land the DT.
97. Kevin Toliver II, CB, 6-2, 185: The top cornerback in the nation has committed to LSU.
98. Martez Ivey, OT, 6-6, 270: The best offensive tackled from Florida has the Gators as his top school, but Alabama, Auburn and South Carolina are in the hunt.
99. Mitch Hyatt, OT, 6-6, 271: One of the top blockers in the south has committed to Clemson.
100. CeCe Jefferson, DE, 6-2, 250: The Gators are the leader right now for Jefferson, but Alabama, Auburn, Florida State and Notre Dame are in the hunt.
BONUS!
101. The Eye On College Football Podcast; featuring myself and Tom Fornelli discussing the list above. Tom suggests some stories and players not on the list and we discuss the topics covered here. Also: why no news is good news for college football fans between now and August. Subscribe to the podcast on iTunes and listen to Monday's episode below. 
---
SportsLine's computer model simulated every Week 12 game 10,000 times with surprising resu...

Though a marriage between the Vols and Gruden has been rumored for a while, it seems unlik...

Barrett Sallee is cashing on 67 percent of his best bets and gives 3 strong picks for Week...
The No. 16 Bulldogs will travel to Arkansas Saturday afternoon on CBS

The Owls are 7-3 overall and 6-0 in the Conference USA East division

Wisconsin has a chance to impress the College Football Playoff Selection Committee