13 for '13: A new bar for Johnny Manziel
After coming out of nowhere as a freshman, 'Johnny Football' will be judged less on stats this time than on how close he comes to getting A&M to the SEC Championship Game and a BCS bowl.
Thirteen recurring themes for the offseason agenda. Read the full list.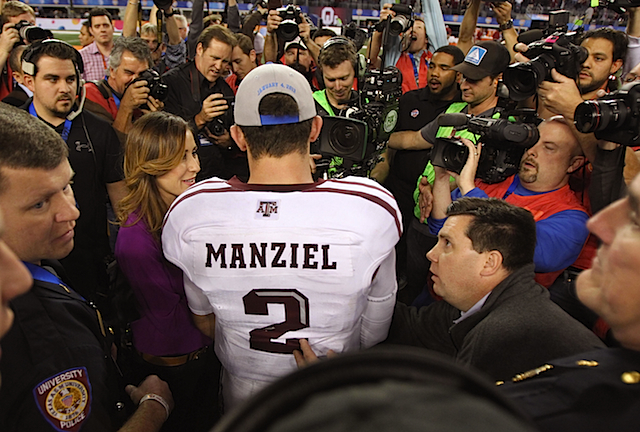 Johnny Football will face more scrutiny in 2013 than any other player in college football. (US Presswire)
Johnny Manziel's emergence as a household name came in three distinct phases, beginning with his outrageous statistical exploits over the first half of the 2012 season. From there, the myth of "Johnny Football" -- a talent for who the game comes so naturally it might as well be his name -- leaped from the stat sheet into the broader public consciousness in Texas A&M's Nov. 10 ambush at Alabama and was etched in the firmament a month later when Manziel was awarded the Heisman Trophy. But before any of that, there was also the fact, soon to be lost to the deepest, darkest reaches of Google, that Johnny Football almost didn't see the field at all.
It's true: Amid the buzz of a new coaching staff installing a new offense in anticipation of its first season in a new conference, almost no one watching spring practices expected Manziel to be the Aggies' starting quarterback. No, by all accounts at the time, that job was Jameill Showers' to lose. It was Showers, the reports said, who possessed the strongest arm and the most poise. Manziel? Talented kid, sure, good athlete, but much too green. Too erratic on the field and off. Didn't separate himself from the pack.
By now, of course, the first blush looks like an obscure footnote, as does Showers after being overtaken in preseason camp and relegated to mop-up duty. But it points directly to another important aspect of Manziel's breakthrough and his team's: Even on campus, no one saw it coming. In 2013, the question is not only whether the Aggies can match last year's success under a more intense spotlight, but with a new season comes a new, even higher bar, already visible to everyone from eight months away.
Don't just take it from me: Before you write off the burden of high expectations as artificially inflated media hype, take it from head coach Kevin Sumlin, who explicitly cast the Aggies' 41-13 romp over Oklahoma in the Cotton Bowl as a springboard for bigger goals in 2013. "We talked before this game, this is the last game of this year and first game of next year," Sumlin said after the massacre. "For everybody [returning] next year, this is the first game of the new year. It sets the bar."
For a program that hasn't found itself in the national conversation in two decades, it was set extraordinarily high. In his first game since winning the trophy, Manziel defied the "Heisman Hex" by setting a Cotton Bowl record for total offense in a resounding, 41-13 rout at the expense of the Aggies' former Big 12 foil, Oklahoma. As a team, A&M piled up 600-plus yards for the seventh time this season, torching the Sooners for touchdown drives covering 75, 48, 91, 89, 71 and 73 yards in just 10 offensive possessions. None of them took more than eight plays or three minutes off the clock.
"There is too much talk about how you perform after the Heisman and about the layoff and all that. There wasn't anything holding us back. No rust, there was nothing," Manziel said. "To come in and go out against a [former] Big 12 rival and do everything we wanted as a team, we couldn't feel any better."
In the aftermath, SEC defensive coordinators couldn't have felt much worse. The Aggies' record-breaking night in Arlington was only the latest in a season full of superlatives, beginning with the victory itself, A&M's first January bowl win in 25 years. A year after winning six games in the regular season in 2011, they closed 2012 with six wins in a row, the longest winning streak at A&M since 1998. That was also the last year any Aggies team finished with as many as 11 wins. Their fifth-place finish in the final polls was the highest at A&M since 1956, under coach Bear Bryant.
For the season, the offense as a whole obliterated school records for yards and points and became the first SEC attack ever to surpass 7,000 yards of total offense. Individually, Manziel set conference marks for total yards in a game (twice) and a season, and he easily led the nation with 5,116 total yards as a rusher and passer -- more than 70 percent of the team's output.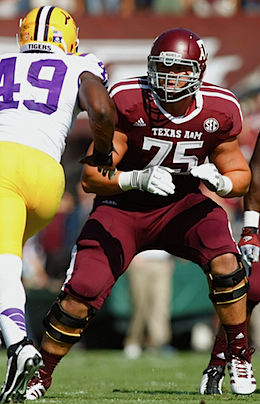 OL Jake Matthews passed on the draft to return for his senior season. (US Presswire)
When it comes to setting expectations for the future, though, the litany of broken barriers only leaves the hurdles the Aggies didn't overcome looming that much larger. Outrageous as they may be, great quarterbacks have never been defined by numbers alone. From here on, Manziel's reputation rests far less on stats -- been there, done that, may never be able to do it again to the same extent -- than on how close he comes to getting A&M to the SEC Championship Game and a BCS bowl.
In a division that also includes Alabama and LSU, that's a bigger leap for Manziel and the rest of the team than breaking records. It's one he'll have to make without his left tackle, Luke Joeckel, a unanimous All-American who could be the first overall pick in April's NFL Draft, and his position coach, Kliff Kingsbury, who's leaving to take over as head coach at his alma mater, Texas Tech. The defense is also losing six starters, including NFL-bound All-American Damontre Moore.
More important, it's one he'll have to make with a target on his back that did not exist for most of last season, and not only in the eyes of opposing defenses. After riding a wave of positive headlines down the stretch and throughout the offseason, how will Manziel react when things go awry against one of the league's blue-chip defenses, as they did last year before the height of Manziel Mania, in losses to Florida and LSU? And how will he react when once-friendly headlines -- not to mention legions of newly minted haters online and elsewhere -- are ready and willing to trumpet his frustration for the first time? And if his numbers aren't on track to match last year's blistering pace? And if he has to deal with an injury? How will he respond to adversity or even failure now that both have been radically redefined by his own success?
The question is not only for the quarterback: Besides Manziel, A&M will return its leading rusher (Ben Malena), leading receiver (Mike Evans) and most versatile threat, Trey Williams, who showed flashes of his blue-chip recruiting hype with 1,104 all-purpose yards as a true freshman. On the line, there's still another All-American, Jake Matthews, who passed up a shot at joining Joeckel in the first round to take over his position at left tackle. It takes more than a one-man show to open the season in the top five -- and certainly to break Alabama's iron grip on the top of the SEC's West Division. The Crimson Tide roll into College Station early, on Sept. 14.
Still, for another year, at least, Manziel is unquestionably the sun around which everything else in the Aggies universe revolves, and it lives or dies on his production. If he manages to replicate the once-in-a-lifetime numbers that propelled him to stardom, it will rank among the great individual feats in the history of the sport. But the next line on his résumé is reserved for championships only.
The Alabama QB has a new look after the Tide claimed another national title

Young was injured during Miami's Orange Bowl loss to Wisconsin

The movie will zero in on former Penn State coach Joe Paterno during the Jerry Sandusky sc...
Bidding for Salaam's trophy, which the auction house says was obtained legally, ends Satur...

Locksley has been the offensive coordinator at Illinois and Maryland during his coaching c...

Many NFL-eligible juniors ignore advice provided by the league and risk going undrafted each...