13 for '13: Helfrich takes charge of taking Oregon the final mile
Chip Kelly left Oregon for the challenge of the NFL, but he left his successor with the only remaining challenge he'd yet to conquer on campus: winning a national championship.
Thirteen recurring themes for the offseason agenda. Read the full list.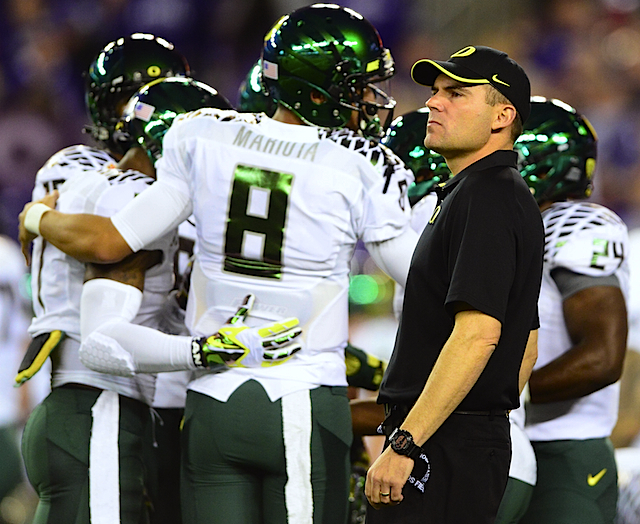 Mark Helfrich is taking over as head coach after four years as Oregon's offensive coordinator. (US Presswire)
Once the initial shock wore off, the buzzword accompanying Chip Kelly's departure from Oregon to coach the Philadelphia Eagles earlier this month was challenge. In making the leap, Kelly had embraced so many of them: the challenge of adapting his wildly successful offense to the NFL; the challenge of juggling professional egos; the challenge of commanding respect in a league in which he'd never worked as a player or coach; the challenge of enduring skeptics who refuse to believe his system can succeed at the next level, relishing the opportunity to pounce at the first setback.
On his first day as an NFL head coach, Kelly reinforced the narrative himself: "The challenge is what I was excited about, and that's why I came."
Not surprisingly, somewhat less attention has been heaped on the only remaining challenge he'd yet to conquer on campus: winning a national championship. After six years of helping Oregon emerge as a perennial national contender -- the last four as head coach -- Kelly could have returned in 2013 to a team on the brink, one that boasts a veteran lineup and would have been heavily favored to make another run at the crown on the heels of another near-miss in 2012. Instead, his departure means he's leaving that last bit of unfinished business to someone else.
That someone, Mark Helfrich, was a popular choice to succeed Kelly even before it was certain the latter was leaving, not least because Helfrich held the keys to Oregon's prolific spread-option attack as Kelly's offensive coordinator. The finely tuned machine Kelly built in Eugene can be imitated, and has been to some extent all over the country. But now, whether it can be duplicated -- by his heir at Oregon or by Kelly himself in the NFL -- might be the most pressing question of 2013 on both levels.
For some context, remember where the Ducks are coming from. At the time, Kelly's promotion from offensive coordinator to head coach in 2009 was also viewed as a nod to stability and continuity. But as far as the program had come under his predecessor, Mike Bellotti, it was still regarded as a second-rate upstart: When Kelly took the reins, Oregon boasted exactly one top-five finish in school history, in 2001, and only three conference championships in the previous 50 years. The balance of power on the West Coast rested unquestionably with USC, owner of the last six Pac-10 titles.
From there, the Ducks won three consecutive outright conference championships in Kelly's first three seasons, played in four consecutive BCS bowls and beat USC three times out of four. The 2010 team led the nation in total and scoring offense en route to the first undefeated, untied regular season in Oregon history. The 2011 team won the first Pac-12 Championship Game, then won the Rose Bowl for the first time in 95 years. The 2012 team eclipsed 2010 records for yards and points per game and landed at No. 2 in the final polls. Oregon won more games in those three seasons (36) than any other program in the nation.
The only superlative it didn't claim in those three seasons was the most elusive, a national championship, and even the big one was within the Ducks' grasp. If only it had been within field-goal range: After letting the crystal ball slip away on a last-second field goal as time expired in the 2010 BCS Championship Game, Oregon missed out on return trips to the title game thanks to a pair of last-second misses in consecutive Novembers, the first coming on the last play of a 38-35 loss to USC in 2011, the second in overtime of a 17-14 loss to Stanford 364 days later. The Ducks were double-digit favorites in both games, both at home. Both times, the only difference between another turn on the biggest stage in the sport and another year of wondering what might have been was the absence of a reliable kicker.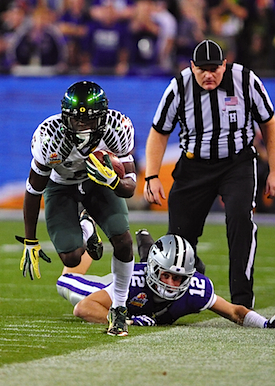 De'Anthony Thomas. (US Presswire)
Now that Kelly has made his move, the job of closing that gap falls to Helfrich, whose initial mandate is to preserve every other aspect of the program as faithfully as possible. Like Kelly when he was promoted to replace Bellotti, Helfrich is both a first-time head coach and a nod to continuity, having served as offensive coordinator for all four years of Kelly's tenure. He knows the system. He knows the players. He knows how to run Kelly's famously intense practice sessions, often touted as mini-boot camps of efficiency that conditioned the Ducks to the relentless tempo that defined the offense. He's reportedly friendlier than Kelly in terms of dealing with boosters and media, and is reportedly liked and trusted by higher-ups, most importantly Nike founder/mega-booster Phil Knight, without whom the ascent of the last decade would not have been possible. In that sense, it's impossible to read Helfrich's promotion as anything but a commitment to the status quo.
And why not? Bellotti and Kelly were both internal hires who panned out, as was Stanford's David Shaw, who finished the worst-to-first narrative begun by his former boss, Jim Harbaugh, by leading the Cardinal to back-to-back BCS bowls and a Pac-12 title after Harbaugh's departure for the NFL. In the past decade, we've also seen internal hires pay off at Boise State, TCU and Utah, all of whom turned brief, surprising turnarounds under coaches who left for greener pastures (Dan Hawkins, Dennis Franchione, Urban Meyer) into long-term success stories under their successors (Chris Petersen, Gary Patterson, Kyle Whittingham). Even Larry Coker, whose tenure at Miami is now synonymous with the Hurricanes' decline as a perennial national power in the last decade, won his first 24 games after being promoted to replace NFL-bound Butch Davis in 2001, including a national championship in his first season. It can be done.
And although he is not inheriting an embarrassment of blue-chip riches on par with the 2001 Miami Hurricanes, Helfrich does have the advantage of a pair of proven stars in quarterback Marcus Mariota and tailback/receiver/return man De'Anthony Thomas, viable Heisman candidates who will ensure that the Ducks have enough firepower to a) start out in the top 10 (and probably top five) of the major preseason polls; and b) keep the offense running at its usual, blistering pace. The offense as a whole will boast nine returning starters this fall from a lineup that led the conference in total and scoring offense for the sixth year in a row.
But Oregon has never had enough top-shelf athletes to thrive on talent alone: Its success is the product of an innovative edge, and there is no way to account for what Kelly brought to the table as a leader, organizer, recruiter and play-caller. Unlike his predecessor, who was originally plucked from obscurity in New Hampshire specifically to import his system to the West Coast, Helfrich has never been an architect or engineer; he's only had limited experience running his mentor's machine, often from the passenger's seat. His challenge is to take the wheel at full speed, with no margin for error.
Rimington takes of the athletic department after Shawn Eichorst was fired

The Penn State running back was unstoppable in a win over Iowa

The Bottom 25 ranks the 25 worst teams in college football every week
LSU at Florida has been picked as the SEC on CBS Game of the Week

The Michigan coach had quite a few things to say on Monday after their visit to West Lafay...

Injuries are ravaging an LSU team that is searching for an identity