13 for '13: Jadeveon Clowney reinvents Heisman hyperbole
If a defensive player can bring home the sport's most hallowed hunk of bronze, South Carolina's explosive sack master is the one.
Thirteen recurring themes for the offseason agenda. Read the full list.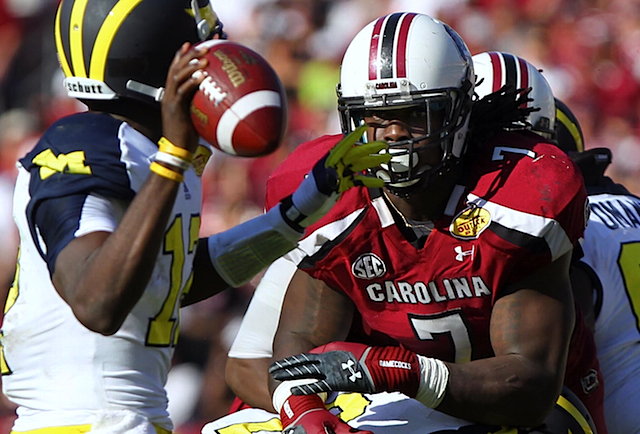 Clowney is widely regarded as a lock for the No. 1 pick of the 2014 NFL Draft. (US Presswire)
First of all, there is no denying Jadeveon Clowney's résumé. As a 19-year-old sophomore, he tied for second nationally last year in both sacks and tackles for loss, earned opposing coaches' vote as the SEC's Defensive Player of the Year and was honored as a unanimous All-American by every major outlet. Before that, he was the coaches' pick as the SEC Freshman of the Year. Before that, he was unanimously anointed by recruitniks as the No. 1 incoming player in America.
More on Clowney
Related links
If you'd never laid eyes on the kid in uniform, or out, you could spot him as an unusually productive force in South Carolina's pass rush. On paper. But you couldn't really grasp the visceral awe that has accompanied Clowney's emergence as the most fascinating, feared player in college football, which has nothing to do with the official record.
It also has nothing to do with his background, personality or reputed good works. In a little less than two years on campus, reactions to Clowney's seemingly limitless physical prowess have begun to outstrip the available vocabulary -- worn-out superlatives like "freak" and "stud" are lazy and inadequate -- and approach the early stages of legend. Here is an athlete of such terrifying size, speed and power that even before he reached campus, there were rumors of NFL coaches drooling over film of Clowney as a 6-foot-6, 17-year-old high school senior.
Against his team's biggest rival last November, he set a school record by dropping Clemson quarterback Tajh Boyd five times in one night, all on a bad foot that will require offseason surgery. (The performance also also gave Clowney the South Carolina record for sacks in a season.) A little more than a month later, he unleashed a hit of such sudden, explosive force that it almost cannot be understood within the context of recreational violence.
The play won his team the game and made Clowney a household name in pain. Almost everyone who saw it agreed it was unfair for him to be forced to return to school for another year, less so for Clowney's sake than for the defenseless amateurs who would be forced to line up across from him.
Statistics and accolades are a reflection of the visceral, the best means we have to quantify and compare. But they are not a validation, because it doesn't need one: If the numbers somehow failed to confirm the absurdity of Clowney's existence, they would be lying. If Clowney is a viable Heisman Trophy candidate in 2013, his campaign will be fueled not by numbers -- although the numbers will be there -- but by hyperbole.
It will also hinge on the ongoing ascendance of his team, coming off back-to-back, top-10 finishes that stand as arguably the two best seasons in school history. Like all potentially transcendent players, Clowney is the face of the team, and his reputation will rise and fall largely on its collective success. For a program like South Carolina, though, which has claimed a single conference championship in its history (Carolina won the ACC in 1969) and is only beginning its first taste of national relevance, Clowney is both a symbol of how far the Gamecocks have come and how good they can be in the future if they cash in on this opportunity.
Consider the sea change in the Gamecocks' local fortunes since Steve Spurrier's first four seasons. In 2008, South Carolina only managed to sign one of the state's top 10 prospects, and missed on four players -- defensive ends Da'Quan Bowers (Clemson) and Robert Quinn (North Carolina), tight end Brandon Ford (Clemson) and wide receiver A.J. Green (Georgia) -- who are currently on NFL rosters. At least four more Palmetto State natives who signed elsewhere in that class are expected to go in April's draft. In 2007, the Gamecocks missed out on the state's top prospect, defensive end Carlos Dunlap, who went on to help anchor Florida's chart-topping defenses in 2008 and 2009 and join the Cincinnati Bengals as a second-rounder. Out of 13 South Carolina prospects rated by Rivals as four- or five-star players in 2005 and 2006, South Carolina signed only one.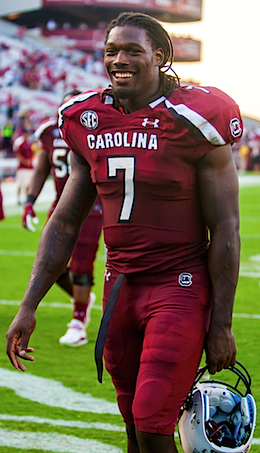 Clowney has the 'it' factor and talent to contend for the Heisman. (US Presswire)
That trend began to change in earnest in 2009 when the Gamecocks struck gold with two of South Carolina's top five prospects, cornerback Stephon Gilmore and receiver Alshon Jeffery, both of whom went on to become first-team All-SEC picks as sophomores and high draft picks last year. A year later, Marcus Lattimore arrived in Columbia as the most hyped running back prospect in the nation and immediately went about backing it up as the most productive back in the SEC. In 2011, Clowney's signature was the zenith of that trajectory -- proof of Carolina's arrival as a national player in its own backyard.
On last year's team, 16 regular starters were South Carolina natives, including the leading rusher (Lattimore, despite a devastating knee injury), the leading receiver (Bruce Ellington), the top tight end (Justice Cunningham), three starting offensive linemen, the entire defensive line and both cornerbacks (Victor Hampton and Jimmy Legree). But nowhere has the gap closed more quickly or more obviously than on the line of scrimmage, where South Carolina has traditionally had the most trouble stacking up man-for-man.
In 2012, Clowney and seniors Devin Taylor and Aldrick Fordham gave the Gamecocks arguably the most fearsome pass rush in the SEC, one that led the league in total sacks and sacks per game, and tackles Byron Jerideau and Kelcy Quarles (again, both South Carolinians) were the main reason Carolina ranked among the top 20 nationally against the run. On the other side, senior center T.J. Johnson had the distinction of becoming the first All-SEC offensive lineman of the Spurrier era.
It won't look the same in 2013: Seven of the top 10 tacklers on last year's team are on their way out, leaving Clowney as the cornerstone of an outfit that now expects to routinely compete among the conference's elite. Where his individual ambitions are concerned, it more or less has to: No strictly defensive player has ever won the Heisman Trophy, but the barriers that have fallen between the award and a player like Clowney suggest just how important the supporting cast is.
Although Michigan cornerback Charles Woodson could not have won the trophy in 1997 without his contributions as a wide receiver and return man, he also could not have won had he not played on a unit that led the nation in total defense en route to a national championship. When Nebraska defensive tackle Ndamukong Suh finished fourth in Heisman voting in 2009, he was the anchor of a unit that led the nation in scoring defense and came within a second of winning the Big 12. Ditto Notre Dame linebacker Manti Te'o, who finished second last month after serving as the face of a defense that had held half of its regular- season opponents out of the end zone en route to a 12-0 record.
The door is as wide open as ever for a dominant pass rusher, and Clowney is the one guy coming back this fall with enough juice to walk through it.
Obviously, his physical credentials are not in question. Barring a succession of no-shows in the box scores, his numbers are only marginally relevant if he shows up in the biggest games. But the only golden ticket to New York will come from being the guy who put a rebuilding defense on his massive shoulders and carried South Carolina over the last hill separating it from the top of the SEC.
Rhoads led Iowa State to three bowl games in seven years as head coach

The Georgia middle linebacker is one of the most valuable players in college football

Explaining my 2017 Heisman Trophy ballot and Jackson's tremendous season
Mayfield is the sixth Oklahoma player to win the Heisman since its inception

The Heisman Trophy will be presented to the best college football player this season

Army topped Navy for the second straight year in an absolute thriller in Philadelphia