13 for '13: On Rocky Top, nowhere to go but up
Can Butch Jones make Tennessee relevant again?
Thirteen recurring themes for the offseason agenda.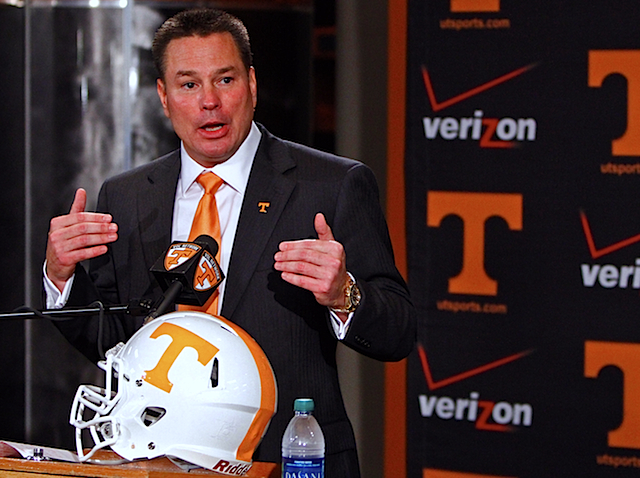 Butch Jones is the first new Tennessee coach in decades to inherit a full-scale rebuilding job. (AP)
For most of his first two seasons at Tennessee, Derek Dooley was arguably the most sympathetic figure in college football. Under the circumstances, how could he not be? At times, he seemed like a character in a dark comedy who'd just unwittingly moved his family into a haunted mansion.
The Tennessee job was one of the most coveted in the country, a high-paying seat that traditionally lent itself to stability. But by January 2010, it was also beset by unprecedented chaos. In the wake of Lane Kiffin's overnight defection to USC, Dooley was a desperate, on-the-fly replacement, tasked immediately with holding together a recruiting class that was still being aggressively wooed by the outgoing staff.
More on College Football '13
Related links
More college football coverage
His first year on the job was highlighted by player attrition, embarrassing headlines and, ultimately, a losing record. Not once but twice that season, the Vols rushed the field in apparent triumph after watching an opposing offense butcher the final seconds of a two-minute drill in a stunning, disorganized lapse as the game clock expired, only to be called back from the celebration to have defeat snatched from the jaws of victory.
Barely a month into the subsequent offseason, Kiffin's only recruiting class was already up in smoke.
Unlike his predecessor, Dooley was likable and relatable enough that, for two years, the Vols' dismal record could be written off to circumstances on the ground -- youth, attrition, relentless schedule, plain bad luck -- rather than vision from the top. If there was a single moment when that changed, it was in the last game of the 2011 season, a 10-7 loss at Kentucky that forced Dooley himself to admit, "our biggest fears were realized."
Tennessee had just lost to a reliable November whipping boy for the first time in 27 years, assured its first last-place finish in the SEC East and clinched back-to-back losing seasons for the first time in a century. It was only there, at rock bottom, that the excuses began to run out, and the Vols really became Dooley's team.
Even then, though, it would be up to the 2012 team to confirm the biggest fear, by extending the decline of one of the SEC's most stable, bankable programs beyond the post-Kiffin spiral, from a temporary slump into a defining malaise.
On paper, UT boasted the most veteran lineup in the conference and an offense dotted with NFL talent. But the 2011-12 Vols under Dooley were not only worse than the 5-7 flop that got Phillip Fulmer fired in 2008, they were much further behind the pack relative to their peers.
In 2008, Tennessee was outscored in SEC play by 2.5 points per game, an unacceptable gap; in 2012, the average margin was 9.2 points, exacerbated by a humiliating, 41-18 collapse at Vanderbilt in Dooley's last game. The defense finished last in the conference in both yards and points allowed.
By the time that Dooley was given the boot in November, there could be more mistaking the rot. Tennessee hasn't played for an SEC Championship Game since 2007, finished in the top 10 since 2001 or played in a BCS bowl since 1999. It hasn't beaten Alabama since 2007 or Florida since 2004. High school recruits in 2013 remember none of the above.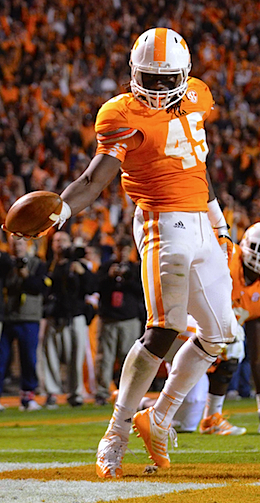 Johnson -- a rare bright spot. (US Presswire)
Like Dooley three years ago, new coach Butch Jones was at least the fourth choice for the job, following unusually public rebuffs by Jon Gruden, Mike Gundy and Charlie Strong, just to list the misses that we can be fairly certain about. Unlike the search that produced Dooley, this one did not get a late start in January, a few weeks before signing day. Dooley's ouster was announced on Nov. 18 and was obvious to everyone at least two weeks before, when his team gave up 721 yards in a narrow escape against Troy, a double-digit underdog from the Sun Belt.
What all of those would-be targets saw when they looked at Tennessee is not just a proud program temporarily down on its luck: Beyond the prestige of the "Power T," they saw a program without a reliable in-state recruiting base that has been steadily ceding ground in its old hotbeds to the likes of South Carolina, especially, as well as Arkansas, Clemson, even North Carolina. (UNC coach Larry Fedora is another reported target who might have backed out after interviewing for the job.)
And suddenly there are more peers: Westward expansion has added two new taps to an already crowded pipeline for SEC-caliber talent, one of which, Missouri, is less than a year removed from signing the No. 1 recruit in America; the other, Texas A&M, just produced the Heisman Trophy winner and landed in the top five of the final polls after upsetting the No. 1 team in America. Tennessee hasn't beaten a team ranked in the Top 25 in three years or a team that finished there in five.
Jones has been a winner at his previous stops, Central Michigan and Cincinnati, claiming conference championships at both schools. But in the context of a coaching search defined by rejection, his apparent enthusiasm for the project qualifies as a credential in and of itself. At his introductory press conference in December, Jones called Tennessee a "dream job" and cited UT's facilities and instantly recognizable "national brand" as major assets. Which is certainly true compared to, say, Central Michigan and Cincinnati.
The reality that he faces at Tennessee, though, is a full-scale rebuilding job in a division in which equally accoutered Florida and Georgia have just surged back to national relevance after short-lived crises of their own and South Carolina continues to prove its staying power.
The Volunteers also get the short end of the stick in cross-divisional scheduling, thanks to a guaranteed date with Alabama every October. But the Crimson Tide under Nick Saban reside in a different zip code; at the moment, for the first time in nearly a century, Tennessee is looking up at Vanderbilt.
All of which makes Jones the first coach in many decades who arrives in Knoxville with the full knowledge that the deck is stacked against him in fundamental ways that defy a quick fix.
In the short term, the offense -- a relative bright spot in 2012 -- will be forced to replace the starting quarterback, top four receivers and two veteran starters on the line this fall, opposite a defense that allowed at least 37 points in each of its first seven conference games.
In the longer term, what's left of the most recent recruiting classes offers little hope for an impending turnaround.
For a proud program that's been waiting years to finally start feeling like its old self again, the only prescription is more patience.
Olson has a lot of the tools offensive coordinators want in a quarterback

The Tigers have a wealth of talent at their biggest position

Pineiro received the award for stopping an attack the morning of Oct. 15, 2017
The first opening weekend lines for college football in 2018 have been posted

A year-end wrap-up of college football statistics you need to know from 2017

Stanford produces apps and Super Bowl participants