13 for '13: Post-sanctions Buckeyes make this one count
Ohio State eked out a perfect season with nothing in particular at stake, but wasn't always convincing in the process. Do the Buckeyes have another championship run in them with NCAA sanctions lifted?
Thirteen recurring themes for the offseason agenda. Read the full list.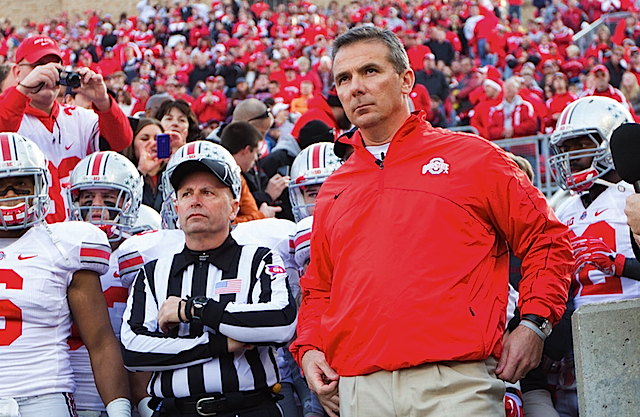 Urban Meyer was the first coach to finish unbeaten in his first season in the Big Ten since 1948. (US Presswire)
In most regards, Ohio State is one of that small handful of programs that can afford to take success for granted. Here is an outfit that has dominated the Big Ten not only over the last decade, but in almost every decade since before it was called the Big Ten. But even in Columbus, certain feats can still transcend the routine.
On that list, the rarest entry is a perfect season: Close as they've come on many, many other occasions, only four Buckeyes teams since the end of World War II have navigated a full season without a loss or tie, and two of those seasons came before Urban Meyer's fifth birthday. By that standard, the 2012 Buckeyes can put their undefeated, 12-0 finish on the short list of the greatest campaigns in school history.
Precisely because it is so rare, though, the unexpected triumph in Meyer's first turn as head coach also carried a distinct whiff of unfinished business: If the season wasn't exactly a road to nowhere, it was a missed opportunity. Instead of playing for a conference championship, the Buckeyes watched the third-place team in their own division punch its ticket to the Rose Bowl with four Big Ten losses, one of them coming at the hands of Ohio State a few weeks before. Instead of playing for a national championship, they watched the only other undefeated team in major-college football get driven into the sea by an opponent that, if not for NCAA sanctions barring the Buckeyes from the postseason, might have been home watching Ohio State playing in its place.
OSU brass unwittingly sacrificed its shot in 2012 to send the underachieving 2011 team on a meaningless trip to the Gator Bowl, and it will never know for certain just how much that decision cost.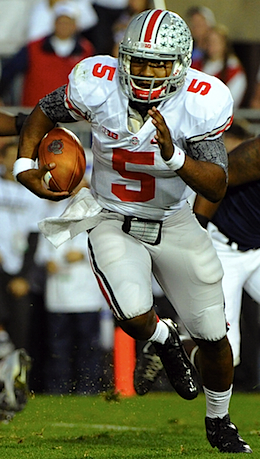 Braxton Miller was the Big Ten's Offensive Player of the Year as a sophomore. (US Presswire)
The same question mark looms over Meyer's second season, albeit in a slightly different form. Ohio State is almost certain to open the season in the top five in the preseason polls, with legitimate designs on finishing at the top. But as difficult as it is to run the table in a major conference, is it realistic to expect any team to turn the trick two years in a row? Even with two BCS titles in a span of three years, Meyer never managed to pull off a perfect season in his tenure at Florida. Did his first team in Columbus set the bar too high, too quickly for what amounts to a rebuilding project? With every goal back on the table, the inevitably high expectationsin 2013 will be matched only by the uncertainty.
Of course, some of that will stem from doubts about just how good the 2012 edition was in the first place. Early on, the Buckeyes struggled to put away a 16-point underdog, Cal, in a game tied with less than four minutes to play; the following week, it was well into the fourth quarter before they managed to close the door against UAB. In conference play, they gave up 49 points in an uncomfortably close call at Indiana, barely escaped an upset bid by Purdue in overtime and also needed OT to get past Wisconsin. It was a young, flawed team, besieged by injuries on defense, which allowed more yards (360) and points (22.8) per game than any OSU team since the turn of the century. The Buckeyes did not defeat an elite opponent and won six games by a touchdown or less.
But that doesn't change the fact that a) Ohio State was the best team in a watered-down Big Ten by an unusually wide margin, or b) It returns the best player in the league, Braxton Miller, who has only begun to tap his potential in Meyer's system. Effective as he was last year in the role of a glorified tailback, churning out a team-high 1,271 rushing yards on just shy of 19 carries per game (including sacks), Miller was far less consistent with his arm, struggling to complete even half of his passes against B1G defenses. For the season, his pass efficiency rating as a sophomore (140.5) barely improved from the 138.4 rating he turned in as a true freshman. Still, there was no trace of the deer-in-the-headlights look that defined his debut, and much to indicate Miller is on the same trajectory as his most obvious doppelgänger in scarlet and gray, Troy Smith, who won the Heisman Trophy a year before it went to Meyer's prize protégé, Tim Tebow. Miller is arguably a better athlete than Smith or Tebow, and on pace to match both as a passer.
Thirteen of 22 starters in the season-ending win over Michigan are scheduled to be back, including Miller, top tailback Carlos Hyde, leading receivers Corey Brown and Devin Smith, four starters on the offensive line and the top four tacklers on defense. That number does not include the blue-chip defensive line haul that highlighted Meyer's first recruiting class, which will be crucial to replacing a pair of All-Big Ten anchors up front, John Simon and Johnathan Hankins, after spending its first season on campus in substantial backup roles. The front seven as a whole is losing all four starters on the line and three of four regulars at linebacker, where sophomore Ryan Shazier was the only constant.
But Meyer has made a habit of building on initial success. In his second year at Utah, the Utes went 11-0 in the regular season, won the Mountain West going away and capped the season with a blowout win in the Fiesta Bowl. In his second year at Florida, the Gators won the SEC title and blew out Ohio State in the BCS Championship Game. In his second year at Ohio State, he's going to have a third-year starter tailor-made for his system, against a schedule at least as favorable as the one the Buckeyes just completed.
By the same token, Ohio State will be held to a higher standard, and will not have sanctions, youth or "rebuilding" to fall back on if the encore doesn't go as planned. Meyer wasted no time making OSU his team, successfully relegating both the successes and the rapid collapse of the Jim Tressel era to the rearview mirror. Where the Buckeyes' 14-0 run to the national championship in Tressel's second season caught everyone by surprise -- especially at the end -- Meyer already faces a scenario in which anything less this fall runs the risk of going down as a minor disappointment. Then again, that's exactly the scenario for which he's being paid.
Freeman will not play in the New Mexico Bowl on Saturday

SportsLine simulated every bowl game 10,000 times for pick'em leagues and confidence pools

Grier will return to West Virginia for the 2018 season instead of entering the NFL Draft
The Chick-fil-A Peach Bowl just got spicy

Anderson had been under investigation for an incident at a bar in Cleveland County, Oklaho...

Between Arizona State and Tennessee, no one would have guessed how this coaching cycle turned...