13 for '13: What next for Notre Dame?
Thirteen recurring themes for the offseason agenda
Thirteen recurring themes for the offseason agenda.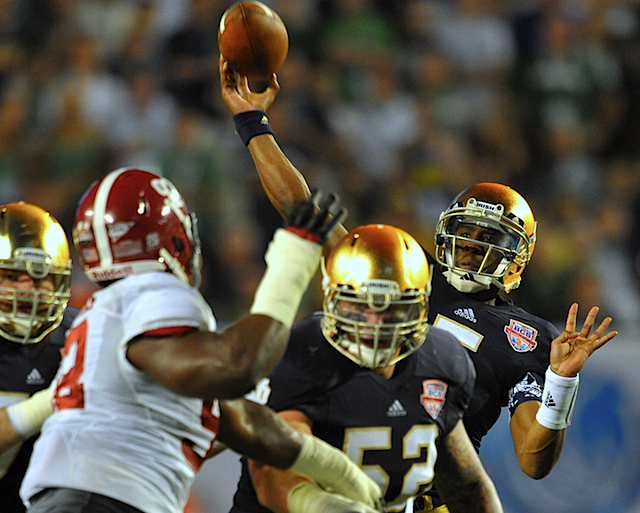 Another BCS run means another step forward from Everett Golson after an inconsistent debut. (US Presswire)
By some standards, no team traveled as far in 2012, or as fast, as Notre Dame, the first in the BCS era to ascend from unranked afterthought in the preseason polls to the BCS Championship Game in a single campaign. By another, higher standard, the Fighting Irish's turn in a lopsided, 42-14 flop against Alabama with the title on the line proved just how far they still have to go to count themselves among the truly elite. When head coach Brian Kelly spurned NFL suitors over the weekend, it was a clear signal that he expects 2013 to be the first step in bridging that gap.
As far as the skeptics are concerned, of course, that step can still go in either direction. For a certain generation of college football fan, Notre Dame before the 2012 season was less a symbol of enduring tradition than a decaying relic, defined mainly by two decades of sound and fury from preseason polls that ultimately meant nothing. The Irish spent so many years "Returning to Glory," haunted annually by their absence from the national championship picture since the 1993 team came up a few votes short, that it became a source of open mockery. After five consecutive seasons outside of the final polls, in fact, it was no small irony that the long-awaited breakthrough came from a rebuilding team with no visions of grandeur whatsoever.
That will not be the case this fall, when the Irish are almost certain to begin the season where they used to begin every season, in the top ten of the preseason polls. Still, in the wake of last week's beatdown, they will also be starting from a dead stop, with none of the elusive momentum that propelled them there on the strength of a 12-0 regular season. What the 2013 edition has to prove is not that it can compete on a BCS level, but that it can stay there.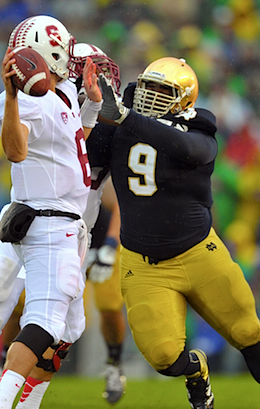 Louis Nix III takes over as the driving force in the middle of the defense. (US Presswire)
The question is partly a matter of personnel. With tailback Cierre Wood's decision to forego his senior season for the draft, the offense is losing its top two rushers (Wood and Theo Riddick) and the leading receiver, All-American tight end Tyler Eifert, along with a handful of others who combined to account for nearly 60 percent of the team's total yards from scrimmage. A pair of senior linemen, Braxston Cave and Mike Golic Jr., are leaving with a combined 52 career starts. The defense is moving forward without its emotional bellwether at middle linebacker, Manti Te'o, as well as veteran mainstays on the line (Kapron Lewis-Moore) and in the secondary (Zeke Motta). Aside from quarterback, there are significant holes to fill at virtually every position, and that's assuming quarterback Everett Golson is bound to take a clear step forward as a sophomore after a year of growing pains.
In light of last week's BCS flop, though, the more pressing question is just how far the 2012 Irish were really removed from their underachieving predecessors. The perfect record seemed to teeter on the brink for much of the season – five of Notre Dame's dozen wins came by a touchdown or less – most notably in harrowing, overtime escapes against Stanford and Pittsburgh that came down to (respectively) a controversial call on the goal line and an improbably missed field goal that could have just as easily put the echoes back to bed. The offense was inconsistent against competent defenses, failing to top 20 points in regulation in seven different games; for the season, the Irish averaged fewer points per game than in either of Kelly's first two seasons, which resulted in five losses apiece. Marquee rivals Michigan, Michigan State and USC combined to finish 22-17 with only one victory against a ranked opponent.
In those games, talent was never the issue: Man-for-man, Notre Dame was able to survive against good-not-great outfits with roughly similar athletes. On the one occasion that the Irish were truly outmanned, though, they didn't stand a chance. As often as they looked like they were in a little too deep for a legitimate contender in the regular season, it took another legitimate contender to prove it.
More on College Football '13
Related links
More college football coverage
Still, the returning defense is imposing. Badly as the front seven was gashed by the Crimson Tide, it still returns six players who started at least five games in 2012, including a pair of future first-rounders up front, Louis Nix III and Stephon Tuitt. The cornerbacks, Bennett Jackson and KeiVarae Russell, were supposed to be a liability; instead, they started every game for a secondary that yielded fewer big plays than any other defense in the nation. Defensive coordinator Bob Diaco fended off numerous suitors for his services. With or without Te'o, if it takes an offense as versatile and talented as Alabama's to "expose" this group, they're going to continue to be just fine against everyone else.
The offense is another story: After struggling for most of the season to identify any reliable playmakers, it's losing the only three who emerged in Riddick, Wood and Eifert. The supporting cast will matter less if the new line gels and Golson comes into his own as a passer. More likely, the Irish's immediate fate will hinge on another series of close calls in low-scoring slugfests, defined again by late drives, defensive stands, turnovers and the occasional lucky (or unlucky) bounce against another unforgiving schedule. Back-to-back BCS runs would go a long way to confirming Notre Dame as a resurgent, reliable force in the national conversation. But until further notice, that last step is a doozy.
College football bowl games were all announced on Sunday, and you can check out the entire...

SportsLine simulated every bowl game 10,000 times for pick'em leagues and confidence pools

Everything you need to know to watch and pick the Las Vegas Bowl on Saturday
Everything you need to know to watch and pick the Camellia Bowl on Dec. 16

Everything you need to know to watch and pick the New Mexico Bowl on Dec. 16

Everything you need to know to watch and pick the Cure Bowl on Saturday