2013 SEC Schedule: Winners and Losers
The SEC issued its 2013 conference schedule Thursday, another "bridge" season before starting its permanent rotation in 2014. Here's who came out happy with the announcement, and who didn't.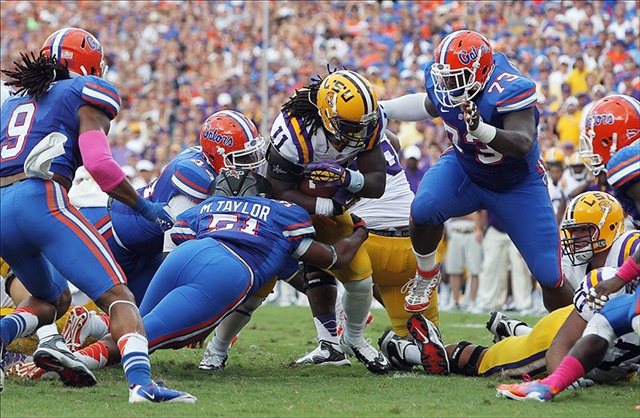 Despite whispers to the contrary, Spencer Ware and LSU will face Florida again in 2013. (US Presswire)
The SEC has released its 2013 conference schedule, one that no doubt represents a healthy amount of compromise on the part of all involved. And though we won't fully disagree with Calvin that a good compromise leaves everybody mad, there's also no doubt the compromises represented by Thursday's announcement have left some less mad than others.
So here's one blogger's breakdown of who's happiest, and who's not:
WINNERS
Steve Spurrier. The Ol' Ball Coach made no secret of the fact that he liked the SEC's 2012 schedule about as well as he likes five-putting: He wanted his team's critical showdown with Georgia in its customary early season slot, he didn't like the Gamecocks drawing LSU out of the SEC West, and he didn't like the Bulldogs finishing their home-and-home with Ole Miss instead of, well, drawing LSU.
So is someone at the SEC offices looking out for the OBC? South Carolina's trip to Athens has been moved to Sept. 7; the LSU series evaporated after a year, replaced by a home game against Misssissippi State; and this time it's Georgia that'll have to face the Bayou Bengals, with the Bulldogs playing host to Les Miles' team Sept. 28. Coincidence, or a case of the squeaky wheel actually getting the grease?
Alabama. It's not as if the Crimson Tide need the slightest bit of help from anyone to go undefeated these days, but they got it from the 2013 schedule-makers anyway when their SEC East road opponent was announced as ... Kentucky. No offense to the Wildcats, but given the choice of all seven East venues to pick from, here's a guess that Commonwealth Stadium would be precisely the one Nick Saban himself would pick.
That the Tide were one of three teams (Ole Miss and Auburn are the others) also getting to host the same opponent in consecutive seasons -- Ole Miss is returning to Tuscaloosa in 2013 after an unsuccessful trip three weeks ago -- is just the icing on what might as well be a heart-shaped ice cream cake.
Tired remote-operating thumbs. How much of it is intentional and how much isn't might be up for debate, but if there was one phrase you might use to describe the SEC schedule as a whole, it would be "spread out." There are seven SEC teams ranked in the current polls, and those teams will play 12 games against each other next season. Of those 12, only twice will two of them be played on the same Saturday. The other eight all have a Saturday to themselves, and even that doesn't include the final rivalry-driven gameday of the season or "Third Saturday in October"-anchored Oct. 26. (Which, yes, is actually the fourth Saturday in October.)
Those rankings are of course subject to change, but it seems as if the odds of a day like this coming Saturday -- with an LSU-Texas A&M showdown in the morning, South Carolina and Florida in the afternoon, and Alabama-Tennessee in the evening -- won't be high at all.
Nine-game schedule conspiracy theorists. Mike Slive said that the league punted establishing a scheduling rotation to 2014 simply to finish ironing out the "variables" in the "complex" scheduling process, but the SEC has had nearly a year to work on the problem. Can it be that complicated? Maybe, but postponing that rotation by a year will do nothing but add fuel to the fire that says as soon as the league announces its forthcoming TV network, it's going to annouce a ninth game, too.
LOSERS
Arkansas's next head coach. Congratulations, future Razorbacks head man: You've taken over a program with one of the SEC's worst defenses, no Tyler Wilson, Cobi Hamilton, Dennis Johnson or Knile Davis, recruiting issues, and now this is the schedule you get to face in your first year on the job: road games at Florida, Alabama and LSU plus a cross-divisional home game vs. South Carolina and an SEC debut vs. the same Aggies team that blew yours out 58-10 in 2012.
Best of luck with that, chief.
Georgia. The Dawgs at least get South Carolina and LSU at home, but still: Opening your SEC season versus the Gamecocks and Tigers isn't fun in any venue, and those games are followed by a trip to Tennessee that could conceivably (if not likely) leave the Dawgs in an 0-3 hole before the season even really gets going. The insult to that injury is that the Bulldogs must make a second consecutive trip to Auburn -- and though Ole Miss and Texas A&M are making similar back-to-back-trips, Mark Richt's squad is the only one that's doing so to a hated rival.
TV execs. It's fair to call Alabama and Florida two of the league's biggest TV draws. Seven of their eight 2013 opponents were determined before the schedule ever came out, of course (assuming the SEC wasn't changing the "permanent" cross-division opponent from 2012 to 2013), but the ones that weren't became Kentucky for the Tide and Arkansas for the Gators. Given the Hogs' current trajectory, neither one of those games exactly projects as a blockbuster.
There's also the case of Texas A&M and Missouri, added in no small part due to their ties to media markets like Houston and St. Louis. So why did the league opt to hand them Vanderbilt and Ole Miss, respectively, as their transitional cross-division opponents?
Auburn, once the leaves turn. Two of the Tigers' first three games are home dates vs. the Mississippi schools, which are still about as friendly as SEC games not involving the bottom half of the SEC East get. But their final five, starting Oct. 19 and running through Nov. 30: at Texas A&M, at Arkansas, at Tennessee, vs. Georgia, vs. Alabama. Oof.
Saban isn't going to win Alabama's special election, but the Crimson Tide coach got some l...

The Sooners' quarterback and Badgers' rusher stood out among their peers this season

Clark led UAB to an 8-4 overall record, 6-2 in conference this season
SportsLine simulated every bowl game 10,000 times for pick'em leagues and confidence pools

The Tigers are going worldwide for their next punter

Led by Heisman Trophy winner Baker Mayfield, the Big 12 finished with seven first-team sel...