2014 College Football Hall of Fame class announced
The 2014 College Football Hall of Fame class features 14 players and two coaches, including Derrick Thomas, Tony Boselli, LaDainian Tomlinson and Willie Roaf.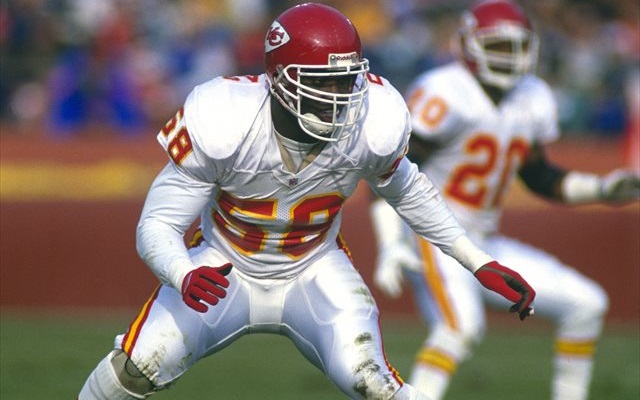 As we wrote Wednesday, former Alabama linebacker Derrick Thomas, one of the most dominant linebackers in college football history, will be inducted into the College Football Hall of Fame this year. On Thursday the entire list of the 2014 inductees was announced, and along with Thomas the list includes 13 other players and two coaches.
"We are extremely proud to announce the 2014 College Football Hall of Fame Class," said Archie Manning, chairman of the National Football Foundation. "Each of these men has established himself among the absolute best to have ever played the game, and we look forward to immortalizing their incredible accomplishments at the new Hall of Fame in Atlanta as an inspiration to future generations."
The announcement was made in Las Colinas, Texas, and it was also revealed that future classes of the Hall of Fame will be named the Friday before the College Football Playoff championship game.
Here are your 2014 inductees:
Dre Bly, North Carolina, 1996-98
Tony Boselli, USC, 1991-94
Dave Butz, Purdue, 1970-72
Shane Conlan, Penn State, 1983-86
Joe Hamilton, Georgia Tech, 1996-99
John Huard, Maine, 1964-66
Darrin Nelson, Stanford, 1977-78, 1980-81
Willie Roaf, Louisiana Tech, 1990-92
John Sciarra, UCLA, 1972-75
Sterling Sharpe, South Carolina, 1983, 1985-87
Leonard Smith, McNeese State, 1979-82
Derrick Thomas, Alabama, 1985-88
LaDainian Tomlinson, TCU, 1997-2000
Wesley Walls, Ole Miss, 1985-88
The two former coaches who will be joining those players are former Oregon Ducks coach Mike Belotti and Jerry Moore, who won three national championships while at Appalachian State.
Florida's roster got a boost on Tuesday with the return of several key members of the prog...

Tom Hutton joins the ranks of former Aussie rules footballers joining the college football...

The freshman is already on Heisman lists after throwing the walk-off score in the national...
These seven teams should make the most noise down the homestretch towards signing day

Air Force was forced to cancel 11 athletic events because of the 69-hour government shutdo...

Olson has a lot of the tools offensive coordinators want in a quarterback