2014 over/under win totals: picking the SEC West
For the third consecutive year, we take a stab at picking against the SEC's over/under win totals. Here's the West.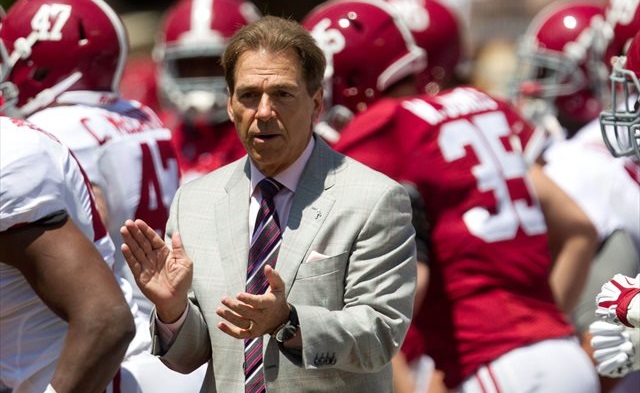 More college football: Jon Solomon | Dennis Dodd | Jeremy Fowler | Latest news
Strange but (joyously) true: SEC Media Days are next week. The dog days of college football's offseason are nearly behind us. The adorable corgi gif days of actual college football aren't so far off. 
Which means it's time to start some serious looking ahead to the 2014 season, which means it's also time -- for the third straight season -- to break down the SEC's over/under win totals and toss some "for entertainment purposes only" picks against the wall. Your humble college football blogger went 7-1 in his top eight picks in 2012 ... and, uh, 1-6 on his top seven in 2013. Like I said, entertainment purposes!
Without further ado, here's the 2014 SEC West slate, with current odds from 5Dimes (early June lines from Vegas, if you're interested, are here) and team names linked to team schedules. Totals reflect regular-season games only, no conference championship or bowls included:
Alabama, 10.5 wins (over -130, under +100)
The Tide seem as vulnerable as they've been in years: an unknown quantity at quarterback in Jacob Coker, no consensus preseason All-Americans on the offensive live, Lane Kiffin. But the defense remains the Alabama defense -- with better corners than the past two seasons, it's likely actually improved -- and the schedule remains forgiving, with four gimmes on the nonconference slate (sorry, West Virginia) and only two games where the Tide won't be a decided favorite: at LSU and home to Auburn. Assuming the Tide don't stub their toe vs. Florida or at Ole Miss, even a split against their Tigers rivals would get them to 11 wins. It's not the slam dunk it would have been any of the past three seasons, but ... Projection: Over.
Arkansas, 4.5 wins (over and under -115) 
First of all: 4.5 wins! Suffice it to say that judging by those kinds of expectations, the Bret Bielema era isn't off to a rousing start. And looking at the schedule, it's easy to see why: the Hogs' four SEC home games are vs. Alabama, Georgia, LSU and Ole Miss, meaning Arkansas might not be favored in any conference game (or in their road date at Texas Tech). But there are three entirely winnable nonconference games -- assuming Bielema extends his excellent record vs. non-BCS teams against Northern Illinois -- and none of the Hogs' dates with Texas A&M, the Mississippi schools, Missouri or even LSU should be considered out of reach for a team with an Alex Collins-Jonathan Williams tailback combo, solid offensive line and improved defense. A bowl game vs. that schedule? Nah. 5 wins? A tentative guess, yes. Projection: Over.
Auburn, 9.5 wins (over -105, under -125)
Would you really want to bet against an offense -- with Nick Marshall in his second year under Gus Malzahn, a Sammie Coates-Dhaquille Williams tag team at wideout, one of the better offensive lines in the SEC and no shortage of tailback candidates -- that can breezily outscore anyone on its schedule? Then again, would you really want to bet on a team that went 6-0 in regular-season one-possession games in 2013 and faces down the following road slate: Kansas State (on a Thursday), Mississippi State, Ole Miss, Georgia and Alabama ... and that's before we wonder about the home dates with LSU and South Carolina. The actual "advice" here is to stay the hell away, but since a pick must be made, we'll go with the side that's 1. less juiced 2. on Malzahn's. Projection: Over.
LSU, 8.5 wins (over -240, under +180)
No surprise to see which way this line is being bet; LSU hasn't dipped under the nine-win mark in six years, and has only done so once in Les Miles' entire nine-season tenure. But is it worth paying a -240 (i.e., bet $240 to win $100) premium? There are four gimmes on the schedule, and home dates with Mississippi State and Ole Miss should be wins given that the Tigers haven't lost at home to a team other than Alabama since 2009. That would mean LSU would need to go no worse than 3-3 in the following six games: vs. Wisconsin (in Houston), at Auburn, at Florida, vs. Alabama, at Arkansas and at Texas A&M. It's not hard to see three wins there, but it's also not that hard to see a loss to the Tide, a split in the four SEC road games, and an upset loss to a coach as shrewd as Gary Andersen. Ultimately, LSU should have the defense and running game (as always) to reach nine wins ... but again, making a bet this expensive wouldn't have us feeling great about it. Projection: Over.
Ole Miss, 7.5 wins (over -150, under +125)
The good news: this should be one of the SEC's better defenses, with blue-chip playmakers at every level -- Robert Nkemdiche, Tony Conner, Trae Elston, etc. -- and loads of experience. The bad: Hugh Freeze's reputation as an offensive genius took a hit in 2013, when the Rebels averaged just 16 points in their five SEC losses (and that's with a 38-point outburst vs. Texas A&M included). The Rebels should beat Boise State, Vandy, Louisiana, Memphis, and Presbyterian, meaning they'd only need to go 3-1 in the following four games: vs. Tennessee and Mississippi State, at Texas A&M and Arkansas. That seems manageable, but consider it a close-run thing. Projection: Over.
(I promise, there are unders coming. But it doesn't help that other than potentially Missouri vs. Arkansas or Georgia vs. Auburn, projections for the above five teams don't forecast a single East win over the West.)
Mississippi State, 7.5 wins (over -110, under -120)
The Bulldogs are widely viewed as the potential 2014 party-crasher of the SEC West's upper tier, and it's easy to see why: a schedule that offers Kentucky and Vanderbilt out of the East, Dak Prescott as the unquestioned No. 1 quarterback, 19 other returning starters. But this is still the SEC West we're talking about: even assuming four nonconference wins and victories over the Wildcats and Commodores, Dan Mullen would still need to either go 2-1 at home vs. Texas A&M, Arkansas and Auburn or pick up an upset at LSU, Alabama or Ole Miss. The two home dates with the Aggies and Razorbacks make it tempting -- but 7 wins nonetheless seems more likely than 8. Projection: Under. 
Texas A&M, 7.5 wins (over +145, under -175)
The Aggies might be better than you think -- the defense can't possibly be worse than last year, and Johnny Football or no Johnny Football, Kevin Sumlin has never struggled to find a productive quarterback. (That that new quarterback will have the help of players like Cedric Ogbuehi, Malcome Kennedy, Tra Carson, etc. won't hurt either.) Nonetheless, the schedule is not kind: road trips to South Carolina, Mississippi State, Alabama and Auburn could force the Aggies to sweep their home slate to hit eight wins ... and that schedule has LSU and Ole Miss on it, plus Arkansas in Arlington. -175 is expensive, but the guess here is that the defense isn't that improved on its 2013 disaster, and that betting the over would be even more expensive. Projection: Under. 
Here is your complimentary grain of salt to take with these projections, and please return later this week for the SEC East picks.
Oliver's star has already been born, but 2018 is when it will truly be recognized

Craig Kuligowski is reportedly leaving Miami to take the same job with Alabama

BT Potter is about to be very popular in the Clemson locker room
McElwain will coach receivers and help coordinate the offense for the Wolverines

Nathaniel Watson Jr. was involved in a car accident that injured a passenger in early Febr...

The honorable Tom Fornelli presides over the ASU vs. UM case