2014 Prediction Machine simulation: FSU over Oregon in title game
Prediction Machine ran simulations for everyl game in 2014 and determined that Florida State, Oregon, Ohio State and Alabama are the favorites for the college football playoff.
• 1 min read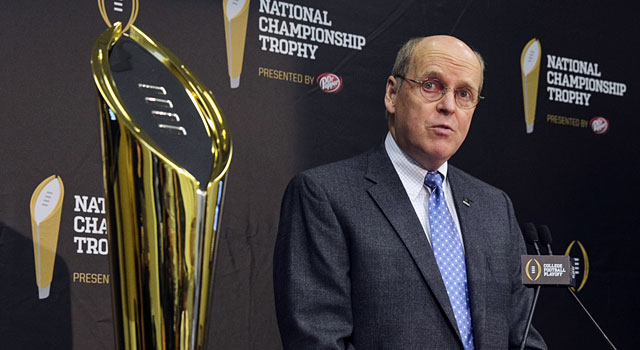 CBS Conference previews: ACC | Big Ten | Big 12 | SEC | Group of Five/Indep.
Our friends at PredictionMachine.com have run their official simulation for the 2014 regular season. Paul Bessire's machine, which simulates every game in a season 50,000 times, has produced what they are calling the most likely results for the first college football playoff.
PredictionMachine.com's College Football Playoff
Semifinals: Florida State 39, Ohio State 27; Oregon 38, Alabama 34
CFP Title Game: Florida State 41, Oregon 34
In the simulation, Baylor misses the playoff as a one-loss Big 12 champion and Wisconsin finishes the regular season with a high win-total but loses to Ohio State team in the Big Ten title game. Bessire has also provided the full list of conference title game results.
ACC: Florida State 42, North Carolina 17
Big Ten: Ohio State 33, Wisconsin 30
Big 12: Baylor (no championship game)
Pac-12: Oregon 45, UCLA 33 
SEC: Alabama 34, South Carolina 31
CUSA: Marshall 28, UTSA 24
MAC: Toledo 27, Bowling Green 24
MW: Utah State 29, San Diego State 23
Sun Belt: Louisiana Lafayette (no championship game)
In the American, the simulation predicts a tight race for the title between Houston, UCF and Cincinnati, with ECU around one game behind the trio. As for the title games above, a tight Alabama-South Carolina game would be must-see TV and I don't think anyone would complain if Oregon and UCLA rematched their Oct. 11 meeting with a CFP bid on the line. 
The team at TheMichiganInsider.com have an exclusive look at Michigan's spring practice

The 'Conference of Champions' won't be in the Round of 32 for the time since 1986

Everything you need to know about Colorado's spring game
Gundy spoke at a Stillwater Public Schools Board of Education meeting

Diaco is the former DC at Notre Dame and Nebraska, and also coached UConn for three season...

Russell passed up on the NFL to return to Auburn to play his senior season in 2018