2014 SEC schedule announcement: 15 things you should know
There's a metric ton to chew on in the SEC's 2014 schedule announcement. Here's one comprehensive reaction.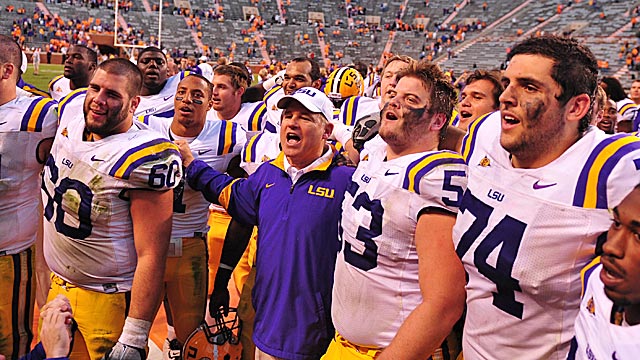 The SEC officially, finally announced its 2014 schedule Wednesday, after a delay the charitable might call "extended" and others might call "interminable." But good things come to those who wait, as they say, and there's enough juicy newsbits and plotlines scattered throughout the 14 schedules released to keep SEC fans' interest stoked until ... well, until Texas A&M and South Carolina kick off that schedule next August.
So here's 15 of the biggest newsbits and plotlines, the 15 things every SEC fan ought to know about what went public Wednesday:
1. That LSU-Wisconsin neutral-site series is officially official. After an LSU associate A.D. confirmed that only a couple more I's and T's needed to be dotted and crossed before the Tigers and Badgers met in Houston in 2014 and Lambeau Field in 2016, it's not quite news. But the series holds such mouthwatering potential -- when was the last time an SEC heavyweight went anywhere north of the Mason-Dixon line, much less to Lambeau? -- that it's worth noting LSU has made it official all the same.
2. Florida is the biggest loser of the day. Read it and weep: Alabama and LSU for a pair of cross-division opponents, in an even-numbered year -- which means only three SEC home games and a road date to Florida State. Oh, and those hurdles are in addition to the usual showdowns with Georgia, South Carolina and Tennessee. The Gators at least have some spacing in the schedule (with byes after Alabama and before the Cocktail Party) but it still shapes up as the SEC's toughest slate, and you know the steam's really going to come out of Will Muschamp's ears when he sees ...
3. Georgia got the longest straw of all. The Bulldogs saw their annual rivalry with Auburn stay intact while drawing Arkansas as their other West division opponent. Result: For the fourth time in five years, Mark Richt's team won't have either Alabama or LSU on the schedule. And ohbytheway, by the end of that five-season span, Florida will have played those two West powers eight regular-season times to Georgia's once. 
4. Which is why that noise you just heard was Steve Spurrier clearing his throat. Until Gus Malzahn resurrects the Tigers as an annual challenger, it's likely the OBC won't be overjoyed at getting a rising Aggies team as the Gamecocks' new permanent rival, either. Odds on Spurrier not mentioning this state of affairs before next season starts: too infinitesimal to be measured accurately. 
5. Speaking of permanent cross-division rivalries: they're not going anywhere. Probably. The LSU-spearheaded proposal to do away with annual East-West rivalry games has generated both plenty of discussion and increasing support within the SEC ranks, but Team Speed Kills' blogger David Wunderlich makes a cogent point regarding the Aggies-Gamecocks pairing and new (sensible) series between Missouri and Arkansas  
The fact that the SEC bothered to change up permanent rivalries indicates an inclination to preserve them for the foreseeable future.

— David Wunderlich (@Year2) August 21, 2013
If Mike Slive and Co. were planning to scrap the cross-division rivalries come the 2016 overhaul anyway, wouldn't they have just paired up newcomers Missouri and Texas A&M and called it a day?
6. A nine-game schedule looks more likely than ever. This is the biggest takeway from Slive's confirmation that an established rotation of cross-division games isn't coming until 2016. The Aggies and Tigers were brought into the fold in fall 2011, and the new rotation should be announced in 2015. Even accounting for the fact that wrangling a 14-team-league with two divisions and 14 different agendas into one eight-game schedule is just-this-side of impossible, isn't four years a little bit more time to hammer out a compromise than completely necessary?
The guess here: the two years between now and the release of the 2016 is to get all of the SEC's nine-game ducks in their proverbial row.
7. Yes, that was a gauntlet you saw lying in the direction of Austin. It's just been thrown down. Texas and Texas A&M, you may know, used to play on Thanskgiving. After the Aggies bolted for the SEC, Texas elected to keep their tradition alive by scheduling TCU for Turkey Day 2012 and Texas Tech in 2013. Well, now it looks like Texas A&M wants to keep its tradition alive, too ... and they've already got LSU coming to College Station for Thanksgiving 2014 for what's all-but-certain to be a top-25 blockbuster.
We'll let Express-News Texas beat writer Mike Finger sum up the situation:
A&M getting a marquee T'giving game is significant. UT thought it won that part of the divorce. Now it sees the ex living it up on Facebook.

— Mike Finger (@mikefinger) August 21, 2013
8. Kentucky is the SEC's thrown bone. Problem: LSU is up-in-arms over the 2013 SEC schedule, where Alabama gets Kentucky as their rotating cross-division game (vs. LSU getting Georgia) in addition to having Tennessee (instead of Florida) as their permanent cross-division rival. Solution: why, just give LSU their turn facing Kentucky in 2014! The Tigers get a little bit of special treatment, the Tide can't complain after their 2013 slate, the SEC gets a little quieter spring meeting (maybe), so everybody wins!
Well, except Kentucky. Kentucky -- whose rotating West opponents have included Auburn's title-winning team in 2010, LSU's 12-0 SEC champions in 2011, preseason No. 1 Alabama in 2013, and now LSU in 2014 -- most certainly does not win.
9. Texas A&M might offer Florida a consoling shoulder. Given how at home Kevin Sumlin's team, looked in last season's Cotton Bowl, maybe they won't mind playing their 2014 "home game" against Arkansas at Cowboys Stadium. But only three home games and a road date at South Carolina to open the season isn't necessarily a "friendly" slate, either.
10. That slate's pretty friendly to the SEC Network, though. Think it's coincidence that that Thursday-night season opener in Columbia between the Aggies and Gamecocks -- the first-ever live SEC football game on the SEC Network -- happens to feature the SEC's only team in Texas, the one with deep ties to one of the nation's largest media markets, and which could (hypothetically) still feature the biggest star in college football? At a time when the SEC could still be battling tooth-and-nail with TV providers over the network's distribution?
If so, well, I would not advise thinking that.
11. That's not the only decision to be filed under "protecting one's investment." A quick glance at the week-by-week schedule should tell you that keeping the league's highest-profile games on separate weekends -- and giving each its biggest possible rating -- is becoming a bigger and bigger priority. Take a look at Nov. 1 and Nov. 8. The former boasts the Cocktail Party and four other games, none of which matches up teams from the current preseason top 25; the latter sends Florida and Georgia to face Vandy and Kentucky, respectively, while Alabama and LSU get together for their annual grudge match. Again: not coincidence. 
12. History gets made when you expand to 14 teams. As part of the shell game necessary to make the 2012 and 2013 schedules work, Auburn wound up hosting Georgia in back-to-back seasons. This, in turn, means that the Bulldogs will play both of their traditional archrivals -- the Tigers and Georgia Tech -- in Athens, in the same season, for the first time ever. (Incidentally, Auburn fans aren't thrilled about playing the Bulldogs and Crimson Tide away in the same season, but after hosting both of them in 2013, fair's fair.)
13. Nothing stays the same, Part 1. Kentucky and Tennessee have played their season finale against each other every year since 1953 (2001 excepted). Not in 2014 -- the Wildcats will wrap up against Louisville, while the Volunteers will face Vanderbilt. Both teams at least to get a face a rival (of sorts), but will ti feel like the right rival?
14. Nothing stays the same, Part 2. It's obviously a much younger tradition, but many SEC fans have bemoaned the shift of Florida vs. Tennessee to Oct. 4 after years as a de facto kickoff to the SEC-on-CBS slate. (Of course, that little tradition was already set to go by the wayside, seemingly a victim of the Vols' lackluster past several seasons.)
15. More is expected of you on this matter, James Franklin. Though some of the SEC's nonconference scheduling for 2014 is yet to be announced, it will take some doing to beat out Vanderbilt for the dishonor of the league's weakest nonconference slate. The Commodores are usually unafraid of playing a quality game or even two outside of conference, but the 2014 schedule reads Temple (AAC also-ran), UMass (FBS newbie), Charleston Southern (FCS), Old Dominion (even newbier FBS newbie). Franklin has not shied away from talking up his Commodore program as possible long-term championship contender, and his results on the field have backed him up as well as could be expected (and then some). But backing out of two different Big Ten series in order to play the likes of the Owls, Minutemen, Buccaneers and Monarchs doesn't look like the scheduling decision of a program that truly believes itself capable of doing much more than scraping its way to a bowl game.
Let's pay some respect to a couple of overlooked teams in this week's college football ran...

Jones has been with the program since its inception for the 2009 season

SportsLine's computer model simulated every Week 13 rivalry weekend game 10,000 times with...
Mayfield grabbed his crotch and shouted expletives at Kansas on Saturday

The statue will go up in 2019 after Illinois completes its new football performance center

The junior injured his finger diving for the pylon late in the first quarter of the loss to...