No. 2 Oregon and No. 4 Ohio State will play out the first-ever College Football Playoff National Championship on Monday night in North Texas at AT&T Stadium, home of the Dallas Cowboys. Keep refreshing this live blog (click below) throughout the game for score updates, stats, highlights and whatever else we find around the web to enhance your viewing or gametracking experience.
12:15 a.m. ET: Urban Meyer called the championship a "life-changer" in his postgame comments with ESPN. Ezekiel Elliott finished the game with 246 yards and four touchdowns on 36 carries. Other stats that jump out immediately in the postgame: Oregon's 2-for-12 performance on third down, the tremendous balance (296 rushing yards, 242 passing yards) that was created Elliott's success and Oregon's worst team rushing performance since its loss to Stanford in Nov. 2013.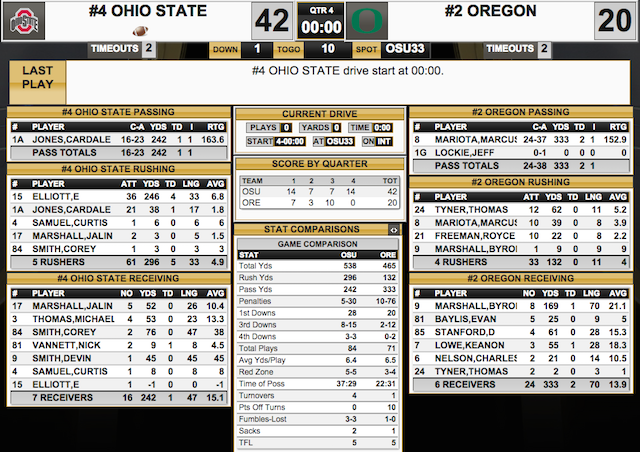 12:10 a.m. ET: That's it. Ohio State wins the first College Football Playoff National Championship, Joey Bosa rocks the trophy like a baby.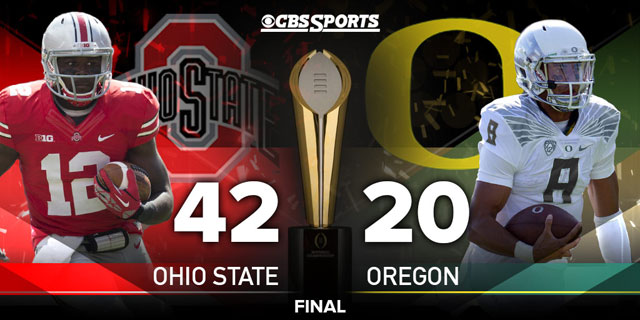 12:05 a.m. ET: As Ohio State strings together the first downs it needs to burn clock and the Ezekiel Elliott touchdown to ice the game, I feel comfortable calling this in favor of the Buckeyes. Eleven Warriors feels the victory coming and is happy to point out that Ohio State's defense has defeated all three Heisman Trophy finalists. Ohio State 42, Oregon 20, 0:28 4Q
#GoBucks pic.twitter.com/I6BNPzCngr

— Ramzy Nasrallah (@ramzy) January 13, 2015
11:46 p.m. ET: The days leading to Monday's College Football Playoff National Championship felt like a Super Bowl, but fans have turned up and given the title game a college football feel. According to game officials, more than 85,000 fans enjoyed the historic event. 
85,589 fans at #UOvsOSU today! #CFBPlayoff

— CFB Playoff (@CFBPlayoff) January 13, 2015
11:45 p.m. ET: A scary moment for Oregon as Marcus Mariota is knocked out of the game, but only for a play. Joey Bosa chased Mariota down and put a hit on the Ducks quarterback, which was not penalized. Jake Fisher didn't like the hit and ended up getting a personal foul for his retaliation, putting backup quarterback Jeff Lockie in a tough spot up against the Oregon goal line. 
11:28 p.m. ET: LeBron James has been active on Twitter from the game. Like the rest of the country, he's giving love to Ezekiel Elliott's record-breaking rushing performance. An Elliott touchdown extends the lead to two scores. Ohio State 35, Oregon 20 9:44 4Q  
That boi a BEAST!!!!!! #Zeke

— LeBron James (@KingJames) January 13, 2015
Which was appropriate since Elliott was doing LeBron James' celebration move after the touchdown run. 
PUSH IT REAL GOOD pic.twitter.com/NsDYu7FW8E

— Land-Grant Holy Land (@Landgrant33) January 13, 2015
11:20 p.m. ET: Ohio State is blowing by Oregon's defensive penetration using the same counter play with Ezekiel Elliott. Elliott ended the third quarter with a nine-yard touchdown run on the same play, just run to the left. Ohio State had 46 rushing yards to just 29 through the air on the touchdown drive, and Elliott is now over 200 yards rushing for the game. Ohio State 28, Oregon 20, End 3Q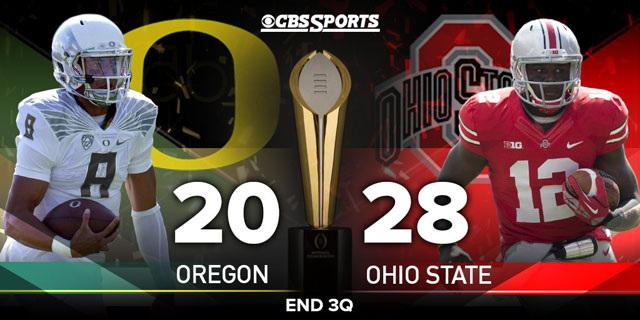 From earlier on the scoring drive, who do you think wins between Cardale Jones and a 310-pound nose guard? Oh yes that's right it is Cardale Jones. 
11:05 p.m. ET: Oregon's third quarter success continues with another turnover (Ohio State's fourth of the game) that leads to a short field goal from Schneider. The Buckeyes defense is doing a great job in the red zone, holding the Ducks to just 10 points off turnovers, but those opportunities have been just enough bring Oregon back into the game. Ohio State 21, Oregon 20 6:39 3Q
10:53 p.m. ET: Things are looking dangerously like the Rose Bowl after Oregon turned Ohio State's third quarter turnover into a quick seven points. Marcus Mariota found Byron Marshall wide open in the middle of the field for a 70 yard touchdown on the next play from scrimmage. Ohio State 21, Oregon 17, 11:23 3Q 
10:45 p.m. ET: What a crazy start to the second half. First Ohio State gets the ball down into scoring position with Ezekiel Elliott's legs (now up to 135 yards rushing) and one incredible scramble/Superman jump from Cardale Jones. 
Then, just as things were looking good for Ohio State, just when the Buckeyes were looking to pull away, the Ducks got another turnover. Urban Meyer is not happy. 
10:25 p.m. ET: Some stats to note here at the break. For starters, Oregon is off to one of its worst performances offensively on third down. Urban Meyer credited the Buckeyes tackling for helping keep the Ducks offense in check and scoreless for most of the first half. Turnovers, and Oregon's turnover on downs at the goal line, have kept the scoreboard from reflecting the offensive production on the stat sheet.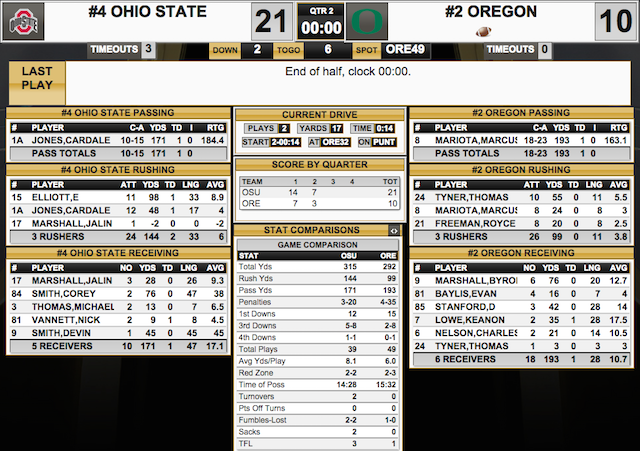 10:15 p.m. ET: Halftime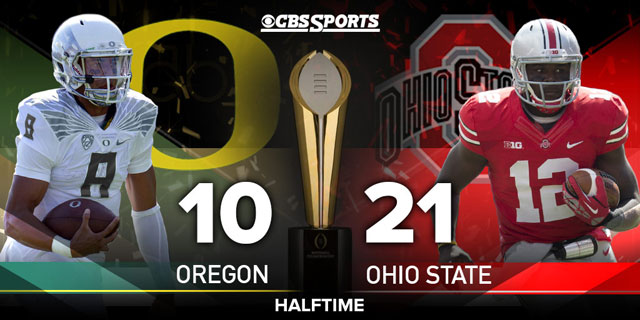 10:05 p.m. ET: After choosing to go for it on 4th down earlier, all eyes were on Mark Helfrich before his decision to kick a field goal on 4th-and-4 from the Ohio State nine-yard line. Helfrich sent Schneider out to take the chip shot field goal the Ducks have their first points the first drive of the game. Ohio State 21, Oregon 10 0:48 2Q
9:54 p.m. ET: The Cardale Jones fan club is filling up during this game. The 6-5, 250-pound quarterback shook off the Oregon pass rush to connect with Devin Smith on a 45-yard pass down the field then used a pair of quarterback runs to break into the end zone. Ohio State 21, Oregon 7 4:49 2Q
when cardale jones does that you can't really call it a quarterback sneak it's more of a quarterback quake

— martin rickman (@martinrickman) January 13, 2015
9:46 p.m. ET: Ezekiel Elliott continues to break off long runs and eat up huge chunks of yards against the Oregon defense. He's got 94 yards on just nine carries already, but the Buckeyes have lost the ball again after Corey Smith fumbled at the end of a long catch-and-run play. Oregon ball, still trailing 14-7. 
9:35 p.m. ET: Mariota connected with Byron Marshall twice as the Ducks got down the field quickly. Facing 4th and 3 from inside the five-yard line, Oregon decided to go for a touchdown instead of kicking a field goal. 
9:25 p.m. ET: The first quarter has come to a close in North Texas. According to ESPN Stats & Info, it was the first time Oregon has punted three times in the first quarter since 2009.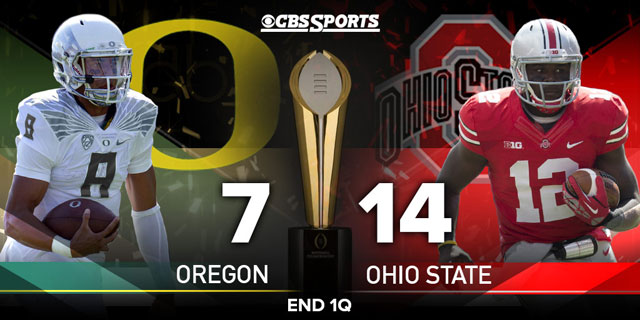 9:18 p.m. ET: First, Oregon's drive was halted by this brutal drop by Dwayne Stanford (GIF via SB Nation/ESPN). 
Ohio State took over with good field position thanks to Jalin Marshall's return and then got aided by a pass interference call on Oregon's Troy Hill. One Ezekiel Elliott run later, Cardale Jones connected with Nick Vannett for an Ohio State touchdown. Ohio State 14, Oregon 7 1:08 1Q
9:03 p.m. ET: Ohio State netted just 17 yards on its first drive, but then forced Oregon to punt and escaped its own end zone with a 26-yard third down toss from Cardale Jones to Corey Smith, then Jalin Marshall kept the Buckeyes alive with a conversion on fourth down. After Ezekiel Elliott broke free for a 33-yard touchdown run, the Buckeyes had marched 97 yards on 10 plays on the game-tying drive. Oregon 7, Ohio State 7 4:36 1Q
8:43 p.m. ET: Oregon came out of the game fast, with seven plays in the game's first two minutes, but also a little loose with the ball. The Ducks fumbled twice, apparently, but recovered one and the other was overturned after an official's review. Mariota then scrambled for a first down and broke free from pressure to toss a touchdown pass to Keanon Lowe. How did Ohio State's defense look? Well, they didn't force the Ducks into one third down on the entire drive. Oregon 7, Ohio State 0, 12:21 1Q
Mike Riley is giving live commentary on the game as part of ESPN's multi-channel coverage. The former Oregon State and current Nebraska head coach has had to deal with Mariota's tricks for three years, so here was his reactiont to the Ducks' quarterback making that touchdown play. 
8:25 p.m. ET: Kickoff coming in moments. CAN YOU FEEL IT?! Jim Tressel can feel it. He's tweeting in all caps about the Buckeyes. 
TIME FOR THE BUCKEYES TO WIN IT ALL!! YEA OHIO!!

— Jim Tressel (@JimTressel5) January 13, 2015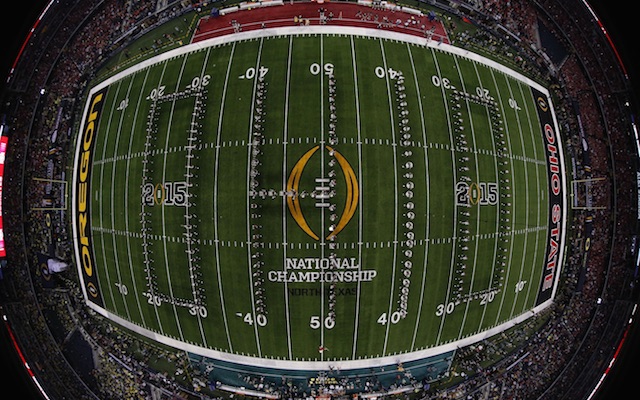 8:00 p.m. ET: Just 30 minutes until kickoff! If you missed the pregame show, Jimmy Kimmel showed up to provide a college football edition of his "Mean Tweets" segment from Jimmy Kimmel Live. There are a lot of ESPN personalities in the video, but also Florida State's Jimbo Fisher and Oregon's Mark Helfrich. 
7:30 p.m. ET: Hey look! Chip Kelly's in the house, along with Cris Carter, Dan Fouts, Jim Tressel, Mike Bellotti and many more notable ex-Buckeyes and ex-Ducks.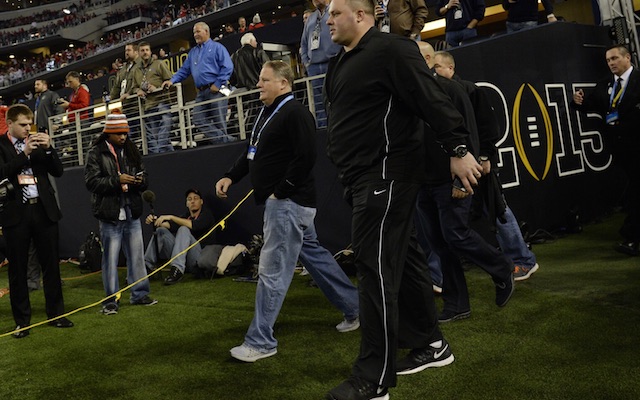 Spotted on @Univ_Of_Oregon campus. Even @EugenePolice is ready to #WinTheDay. #GoDucks!! pic.twitter.com/ON5YKvDVDV

— Hynes UO (@HynesUO) January 12, 2015
7:15 p.m. ET: Here's a cool note, via Sports Illustrated video producer Lee Fiener on Twitter. Tonight, ESPN is testing a pylon camera that will be available during replays. This is apparently the first time the pylon camera will be used in a FBS game and the plan is to develop it for the future. 
ESPN is testing a pylon camera. Will be operated throughout the game and available during replays. pic.twitter.com/Wk9b77Uv1X

— Lee Feiner (@lafeiner) January 12, 2015
6:55 p.m. ET: I heard folks complain about Uber's surge pricing on New Years Eve, but these price hikes might be even more opportunistic. Photos are floating around showing the parking prices for otherwise regular lots that happen to be near AT&T Stadium. 
Stadium Parking - $120. Surge pricing at its finest. pic.twitter.com/ZLeM9UJ1kN

— Jason Kint (@jason_kint) January 12, 2015
6:45 p.m. ET: Welcome college football fans! Chip Patterson here, getting set along with all of you for one of the most highly-anticipated national title games in recent memory. Not only do we have the conclusion of the first College Football Playoff, but a matchup between two of the sport's hottest teams. Forget concerns about rust with Oregon and Ohio State, as both of these teams looked great just 11 days ago in their semifinal victories. 
If you've been distracted by the NFL playoffs, shake off your own rust with some pre-game reading.